Bobby Liebling & Sonny Vincent from 'The Limit' will be joining The Zach Moonshine Show to to talk about the new album 'Caveman Logic'! We will be playing new tracks from the record, as well as many other brand new releases on the show! Show starts at 9pm est/6pm pst and the interview will happen around 10pm est/7pm pst. To join us, simply sign in to the site www.metaldevastationradio.com and click the chat & listen links!
NOW PLAYING
Click Here For Help Streaming On Chrome

Band/Artist: The Limit
Place of Origin: 
Album Title: Caveman Logic
Album Release Date: April 9, 2021
Record Label: Svart Records
Genre: Hard Rock
For Fans Of: 
Social Links: 
Lineup:
Vocals - Bobby Liebling (Pentagram)
Guitar - Sonny Vincent (Testors)
Guitar - Hugo Conim (Dawnrider)
Bass - Jimmy Recca (The Stooges)
Drums - Joao Pedro (Dawnrider)
Bio: 
More than a super-group, The Limit goes over the edge, to deliver real-deal, soulful Rock and Roll. Consisting of members of legendary Punk instigators The Stooges, the founders of Doom Rock Pentagram, legendary NYC Punk originators Testors and infamous Portugese metal band Dawnrider, The Limit break out from the foundations of heavy rock and defy all expectations, to show a new generation what doom and punk really means.
On new album Caveman Logic, Bobby Liebling, singer and main-man of Pentagram, one of the originators of early Doom Rock and an inspiration for generations of heavy rock fans, on vocals, gives the performance of his career, singing like his life depended on it. Sonny Vincent, enigmatic legend of the early NYC Punk scene with his band Testors, having been on the road with members of The Velvet Underground, lays down the guitar driven songs, his writing bearing all the hallmarks of ground-breaking Rock history in it's filthy DNA. Phenomenal bass playing from Jimmy Recca, ex- The Stooges, and Ron Asheton's New Order, gives The Limit the intense and world-class, speaker-destroying bottom end. Joined by Hugo Conim on Rhythm Guitar and Joao Pedro on Drums from Portugese band Dawnrider, The Limit fuses star-dust pedigree with an organic incendiary chemistry that's instantly raw and real.
A dream come true to those that know their Doom/Punk ABC, and a brand new history lesson for those that don't, The Limit brings the past right up to date on Caveman Logic, with an essential, burning passion at the heart of their songs. Seldom has a collaboration of well known stars in music sounded so vigorous and frenzied as The Limit's caveman-like roar.
The Limit is an astoundingly fresh and hot-blooded shot to the veins that heavy rock needs in this day and age. Conjured forth by stone-age pioneers, Caveman Logic goes to the heart of impassioned heavy rock and punk, to deliver the basic and vital elements often missing in so much of today's music. If you want primitive and straight to the soul primal rock, fresh from the grave and exhumed for a new unwitting future, look no further than Caveman Logic. This is it. This is as far as it goes. The Limit!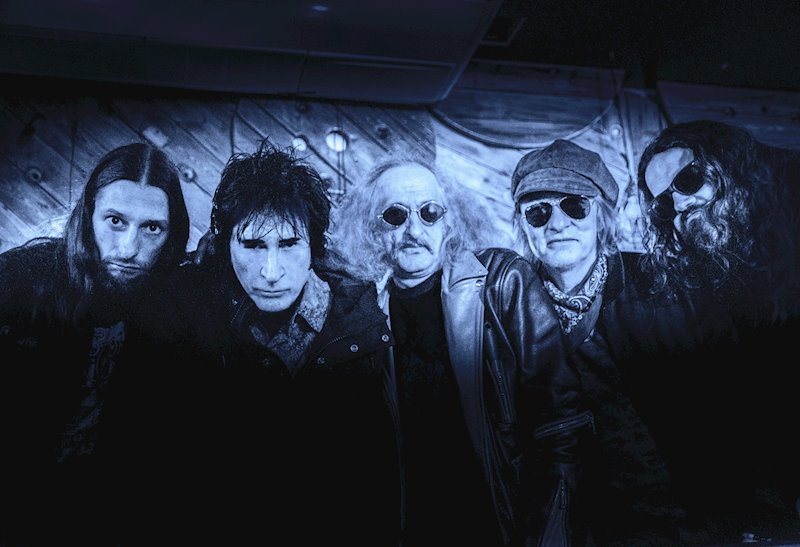 Attendees : 0