New Promo: Colony Drop - Brace For Impact  - (Crossover Thrash) - Nameless Grave Records
Release Date: 08/25/2023
FFO:  Iron Age, Power Trip, Black Breath, and High Command. 

Location: Seattle, WA
A screaming comes across the sky: Brace for Impact, the shredding debut album by Seattle, WA crossover thrashers Colony Drop. United in rebellion in the seedy underbelly of a technological megalopolis, the quintet strike like an assassin's blade—with speed, precision, and style. Written in hermetic seclusion with pugilistic discipline, Brace for Impact is a testament to the songwriting-first ethos that made metal great in the first place: catchy riffs, vocal hooks, blistering solos, no bullshit.
Though their sound is rooted in thrash, Colony Drop swears allegiance to no one genre or style. The group rejects contemporary metal's quantized tedium and pizza party purists' navel-gazing nostalgia in favor of a no-holds-barred approach. Instead, Brace for Impact celebrates its members' diverse passions. Stoner doom, D-beat crust, melodic death metal, classic prog, post-punk, NWOBHM, and Japanese "Burning Spirits"-style hardcore are some of the flavors Colony Drop brazenly explores in this concise 35-minute showcase of musicianship and storytelling.
Formed in 2019, Colony Drop built their sound around the shredding guitars of Benjamin Burton and Ryan Moon (TURIAN), whose complementary-yet-distinct solo styles hearken back to the tradition of dueling duos: Hanneman/King, Denner/Shermann, and even Downing/Tipton. The pummeling rhythm section of drummer Eric Harris and bassist Ari Rosenschein (STAHV) supports their fretboard pyrotechnics, hence the band's motto: "High Speed, Twin Lead."
Colony Drop is fronted by vocalist Joseph Schafer, whose electric growl delivers a litany of sci-fi nightmares and countercultural anthems inspired by the weird fiction of authors including China Mieville, as well as classic anime like Mobile Suit: Gundam, from which the band derives its name. This grandiose vision of the techno-apocalypse is reflected in Brace for Impact's bold cover art by Matt Stikker.
The result is a true album in the classic style: eleven knockout punches, each with its own distinct identity, each catchy enough to be a single. Together, they paint a kaleidoscopic picture of a mechanized future using sounds from rock's glorious past. As the title suggests, Brace for Impact is a clear statement of intent: Colony Drop is here to bring back the guillotine and watch your strongholds fall.
Check out this video on YouTube and subscribe!
Follow them on Spotify and add them to your playlists!
Support on Bandcamp!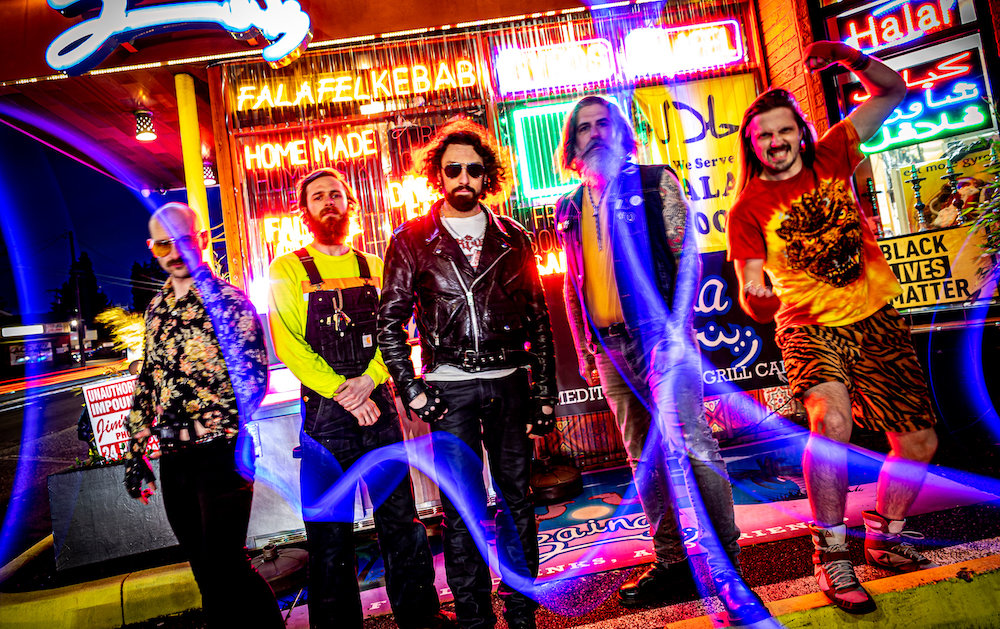 Follow the band at these link:
https://www.facebook.com/colonydropthrash
https://www.instagram.com/colonydropthrash
https://colonydropband.bandcamp.com/album/brace-for-impact
https://open.spotify.com/artist/25eDk8d26t4mTeabyqaK1R?si=f5MT1TN_TMyT7wUeFFFAUw
https://namelessgraverecords.com/
Nameless Grave Records
https://namelessgraverecords.com
facebook.com/NamelessGraveRecords/
OUT NOW:
NG032 Plague Bearer - Summoning Apocalyptic Devastation CD/LP
NG047 Veriluola - Cascades of Crimson Cruor CD/LP
NG052 Twisted Tower Dire / Cauldron Born - Knights of True Metal LP
NG055 Colony Drop - Brace For Impact CD/LP
COMING SOON:
NG057 Twisted Tower Tire - The Isle of Hydra CD/LP
NG058 Acerus - The Caliginous Serenade CD
NG059 Nekrofilth - Nganga CD
NG061 Helms Deep - Treacherous Ways CD/LP