Journey Into Darkness - Multitudes Of Emptiness - Reviewed By Decibel Magazine ! Check it out below!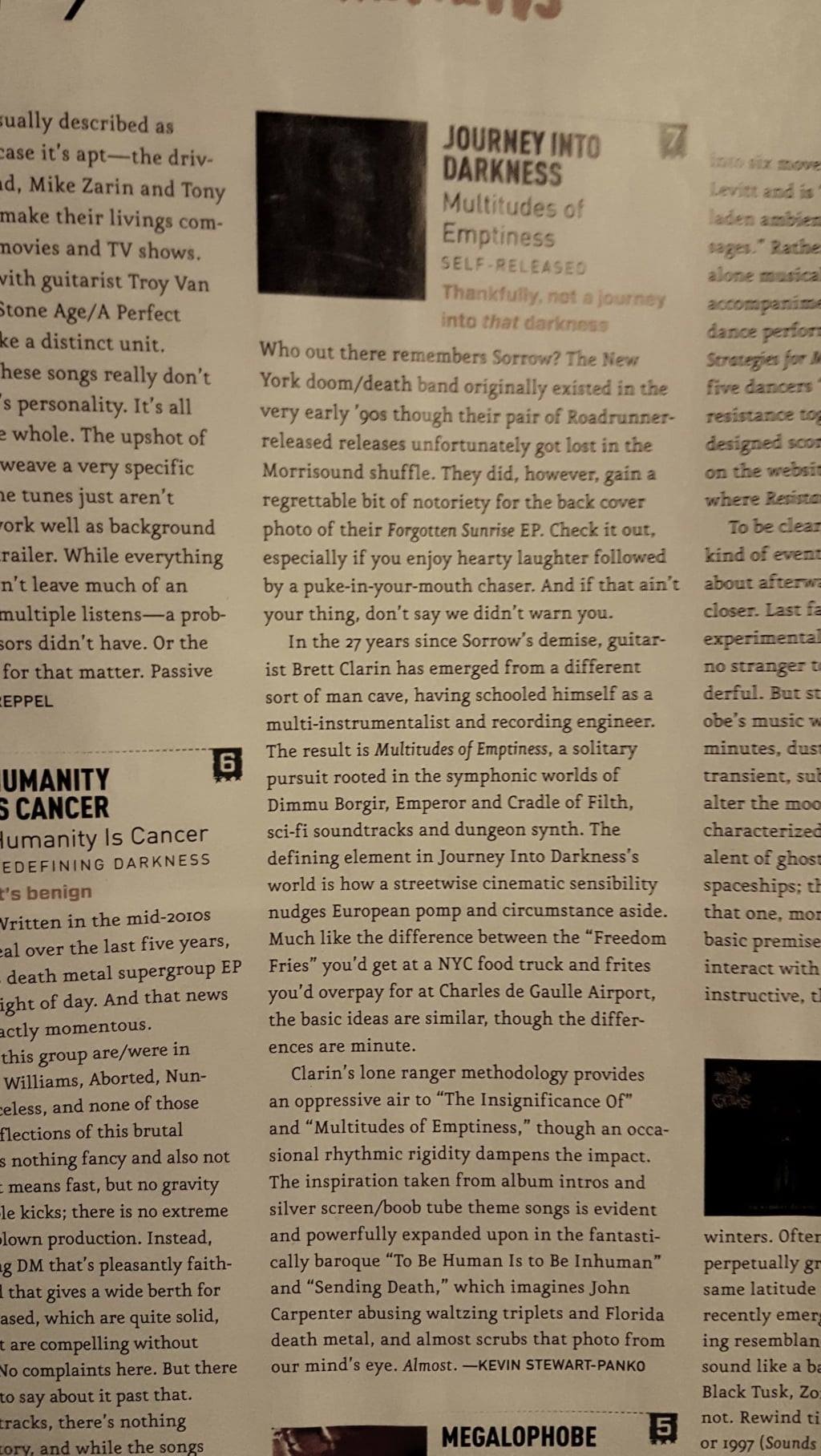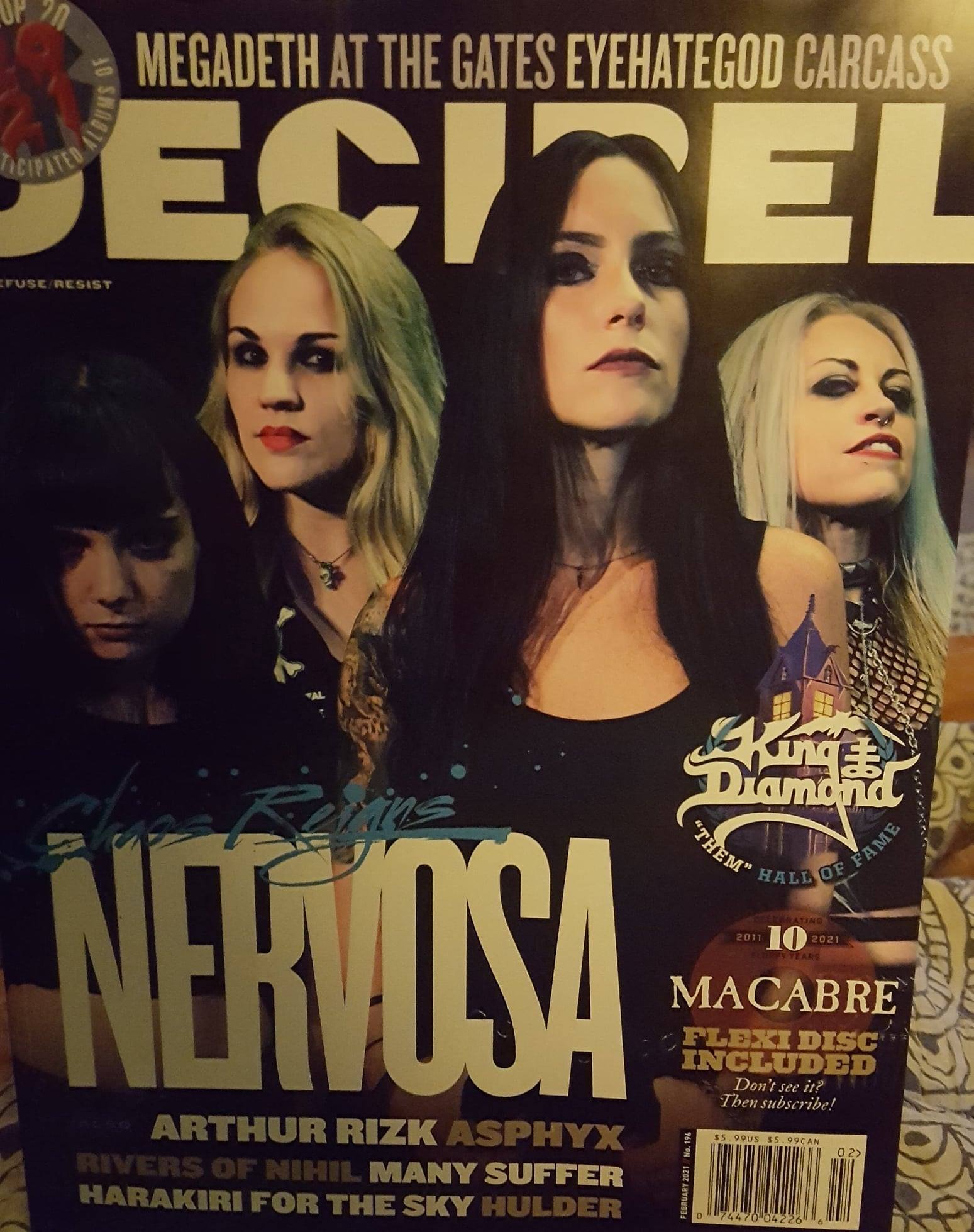 Journey Into Darkness is the solo project of ex-guitarist Brett Clarin from the death metal band Sorrow ( Roadrunner , 1991-1993). The music is a unique style of symphonic black death metal with occasional  interludes of dark synth . The music focuses on dark and sinister melodies all while maintaining heaviness and intensity.  
The new release "Multitudes of Emptiness" has eight tracks that will leave the listener floating in the vast emptiness of space and existence where nothingness prevails. Four songs are a unique style of symphonic black death metal and three tracks are dark interludes. The final song is a hybrid of the old synth style and the new heavy guitar style, an emotional instrumental that blends heavy doomy guitars with synths and orchestral parts. The lyrics are well thought out and will help draw the listener into the intensity and emotion of the music.  
After the Roadrunner death metal purge in the mid 1990s my band, Sorrow, called it quits. Inspired by the intros and interludes on extreme metal albums, I started Journey Into Darkness in the mid 90s as an all synth solo project. After releasing just one album "Life Is a Near Death Experience" the project was put on hold for quite some time. Resurrected in 2018 guitars and vocals were added to give new dimension and depth to the music. 
The result is a sound like no other. In keeping with the motivation that gave birth to Journey Into Darkness, all instruments on "Multitudes of Emptiness" are virtual. This allows for extreme flexibility in the sound and the music.  
" I have been involved with the death and black metal scene since its inception. Between 1987-1993 I played guitar in the death metal band Sorrow (formerly Apparition) that released two records on Roadrunner.  I went on to own a CD/record store and record label (None of the Above) during the 90s. Twenty years have passed, but my passion for extreme music never waned. "
 "Only $3 for album download, use code "MDR" on Bandcamp"
Lineup:
Journey Into Darkness - Brett 
"Multitudes of Emptiness" – scheduled release 7/28/2020 
Track List:
1. Into Nothingness (Intro) - 1:29
2. To Be Human Is To Be Inhuman - 4:20
3. Programmed to Die - 4:03
4. Desolation (Interlude) - 2:24
5. The Insignificance Of - 4:03
6. Sending Death – 4:04 
7. Intergalactic Space (Interlude) – 2:50
8. Multitudes of Emptiness (Instrumental) – 4:45 
All music, lyrics, programming, mixing and mastering by Brett Clarin
Session vocals by Jei Doublerice
Cover art by Johny Prayogi
Logo by Christophe Szpajdel 
Contact: mailto:jid@jidarkness.com 
Website: https://jidarkness.com/
https://journeyintodarkness.bandcamp.com/
https://www.facebook.com/JourneyIntoDarkness