Vocalists Who Played Drums in Their Early-Career Pt. 1
Not everyone prefers to become the front men of the band when they decide to try themselves out as musicians. However, many future vocalists started to make their first steps on the musical path by sitting behind the drum kit for a while. In this two-part segment we will review singers who started to express their love for music for such a key rhythm instrument as drums.
Till Lindemann
Before establishing himself as a frontman of one the world's quickest sold out bands Rammstein and Lindemann , Till would explore a number of various activities. He was an Olympic caliber swimmer. Such professions as carpentry and basket weaving were parts of his young and adult life. At some point he worked as a gallery technician, a peat cutter, and he also got a degree in pyrotechnics.
From 1986 till around 1992 Till would start to find time for musical rehearsals as a drummer with bands First Arsch and Feeling B . By that time, he already met most of his future bandmates from Rammstein.
It was Richard Z. Kruspe who oftentimes would overhear Till singing at work while weaving. Richard offered him to play in a new group. However, Till himself was very surprised hearing this compliment, since he never thought about the potential of his vocal abilities. But Richard was sure that he would make an excellent singer. Till didn't refuse the offer. In his interview in 1997 to Netherland magazine OOR he stated:
" I used to drum in a punk band that consisted of bass and drums. We used to work with guest-guitarists, usually Paul and Richard. We did a short tour where I changed instruments with the bassist in the encore. That was such a success that Richard insisted on starting a project in which I would sing. Other people joined the band but only when I left Schwerin for Berlin did it take serious form."
Marilyn Manson
Although Lindemann's friend Marilyn Manson had very short drumming experience, he did spend some time playing this instrument in the early days of his career.
Evidently, Brain Warner (before he became Marilyn Manson) started to like drums back in childhood. A ccording to mansonwiki "At the age of ten, a young Brian Warner was photographed in the make-up of KISS drummer."
During the era of the early, unreleased Marilyn Manson demo-albums, in March of 1993 he and Twiggy Ramirez formed a band Mrs. Scabtree . Manson played drums, while Ramirez played guitar and vocals with his girlfriend at the time Jessicka Addams (singer of Jack Off Jill ). Various interviews also state that the band also consisted of the members from several South Florida bands including, the Itch and Sister Venus .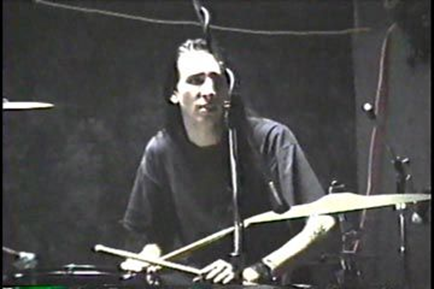 In their double interview in the December 1996 issue of Guitar World Manson revealed some details about that project:
"Right before Twiggy joined Marilyn Manson , we had two different side projects together. One was Satan On Fire , a fake Christian death metal band. Then we also formed another side project together called Mrs. Scabtree , where I played drums and Twiggy was the lead vocalist, dressed up like a black woman."
In spite of the fact that later Manson would only embrace a position of the singer permanently (and singer-guitarist occasionally), he would still make some minor drumming addtitons in the studio to almost if not every studio album.
Iggy Pop
According to the 2016 documentary Gimmie Danger , James Osterberg (Iggy Pop) live a part of his childhood in a trailer with his parents:
"I had a little bedroom… so the only place I could set up my drums was in the living room…All week and long, and every night after school. My drum set took out the entire living room. I had a lot of energy. I'd beat for hours… 'bom-bom-bom duba-duba-duba' the whole place is shaking! [Parents] never complained, but what they finally did do after about a year of that – they just gave me the master bedroom [laughs]."
Following his musical passion Iggy joined a high-school band The Iguanas to play drums. He stayed in the band up until he went to college. Iggy dropped out around 1966 and started to look for a job. He drummed for a number of remarkable local Chicago artists and got fascinated with their skills and artistism.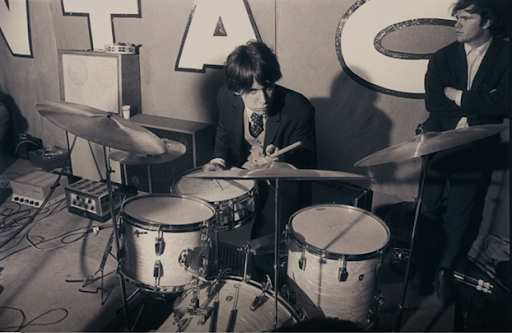 Summing up the final stage of his first band Iggy stated:
"I was doing fairly good and at some point, I lost respect for or faith in the group. And I thought it wasn't really itself. So, I decided to go where the real [chuckles] real people were doing the real deal."
" Eventually I just got tired of looking at someone's butt all the time [laughs]…Two best butts I ever played behind were Abdul Fakir… and Mary Weiss of The Shangri-Las …I realized drumming wasn't what I wanted to do. "
However, he would help out his future bandmate Scott Asheton (drummer) would ask Iggy to teach him basic things as double strokes, triplets. When they two, Ron Asheton (guitarist) and Dave Alexander ( bassist) got together at the party they would tell people that they play in the band The Dirty Shames. And the thing that has led them to creating a real band was informal meeting with the real musical group. Iggy recalls:
"At one point there was a trip we made to New York. We met some attractive girls… who said they had a band… and we drove to New Jersey to see these girls play in the basement… and they were very-very good. And they were much better than us [smiles]. And at that point we were shamed!"
It was one of the factors that motivated the four to start the series or rehearsals. Iggy took the position of vocalist and their fake band would later form into the real band The Stooges . Later in 2010 they would get inducted into the Rock & Roll Hall of Fame.
About the Author:
Zack Hargrove is a rock journalist and editor. His teammates from Essay Help are willing to provide professional assistance in writing a perfect resume in case you plan to switch jobs or careers. You can always find Zack on Twitter @zackhargrovejr .