[For fans of Death, Edge of Sanity, Pestilence]
PILE OF PRIESTS: new self-titled album OUT NOW
+ New Video 'Conjunction of Souls' ft. Adrienne Cowan (Seven Spires)
Denver, USA's Pile of Priests self-titled album is now available as of May 22nd via Extreme Metal Music, a subsidiary of Italy's Rockshots Records. For the album's release day, the band has unleashed a new lyric video for their track 'Conjunction of Souls' featuring guest vocals from Adrienne Cowan (Seven Spires).The band adds:
"Another go-getter track, fast and beefy riffs. Here we see Adrienne Cowan's guest female vocals show up for the first time, and alongside Evan's vocalis in the chorus. This track is to the point and guaranteed to give you the stank face."
YouTube
Dark and melodic, the progressive death metal album is a huge milestone for the band. The band acknowledges that it encompasses the style they have been striving to portray for a long time. The conceptual album takes place centuries ago in a fictional universe not unlike our own. The story is about an exiled prince who seeks to end the reign of his deranged father.
Meant to be listened from front to back with each song leading into the next, the band shares their expected reaction of the album:
"We believe fans will be surprised by certain elements of this record but ultimately very satisfied. There is something for everyone in this one; powerhouse vocals, sinister riffing, silky solos, harmonies to make your hair stand up, and some beautiful melodic passages."
"Pile of Priests" album order here:
CD https://bit.ly/PileOfPriests_CD
Digital: https://smarturl.it/PileOfPriests
The album was Mixed and Mastered by Dan Swanö at Unisound
Previous single:
'Bloodstained Citadel'
'Exile Unto Divination'
ABOUT:
Pile of Priests formed in October of 2009 in Denver, Colorado as a three-piece death/thrash metal band, and later developed more of a progressive death metal approach. Led by guitarist, vocalist, and composer Evan Salvador; the band focuses its lyrical themes on the heinous hypocrisies of organized religion and the eternal struggles of the human condition. The band has independently released one full-length album and two EPs, which they have toured for around the Western and Midwestern United States. Pile of Priests' self-titled sophomore album will be released on May 22nd, 2020 on Extreme Metal Music (Rockshots Records).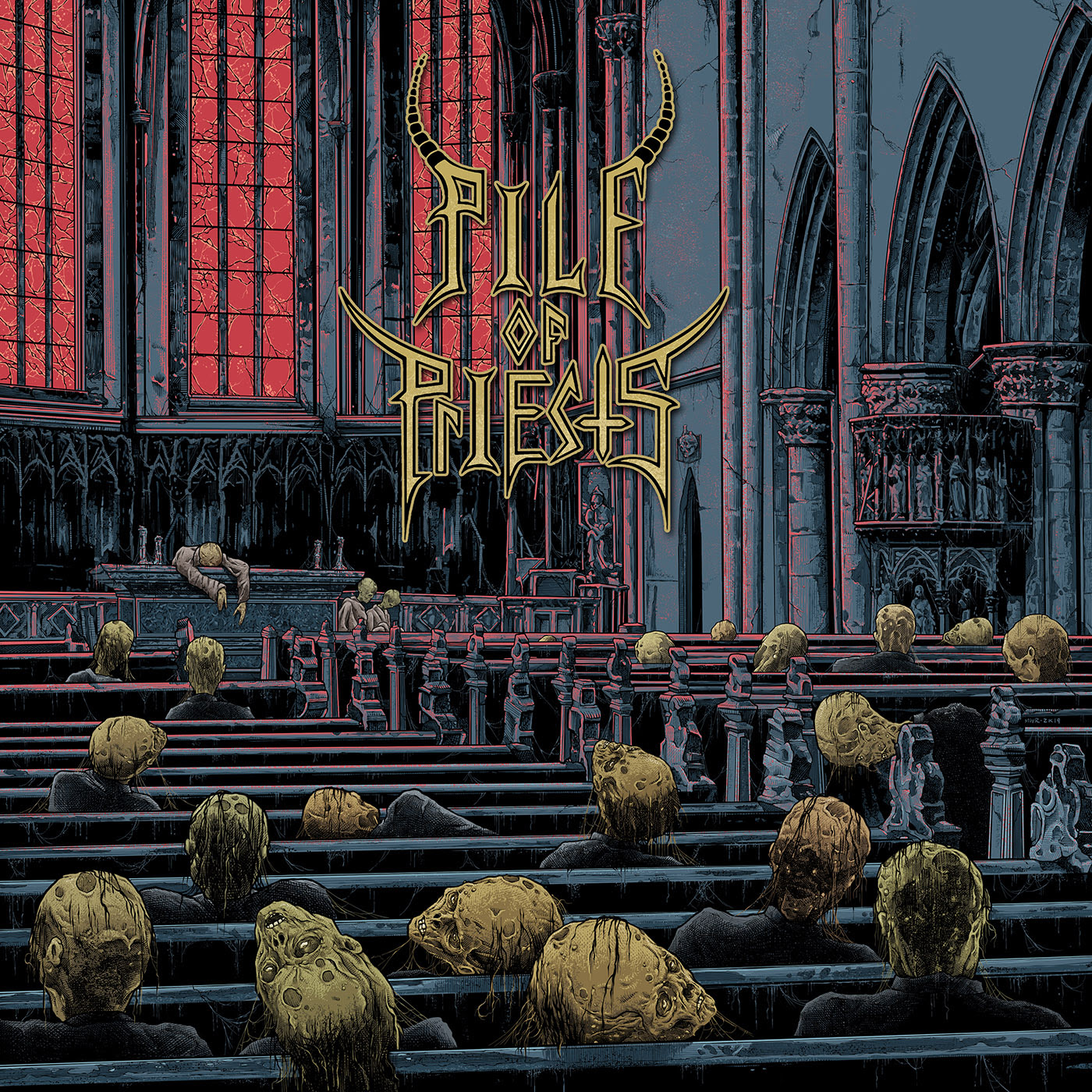 Track Listing:
1. Intro (1:28)
2. The Aversion (3:28)
3. Death of The Paragon (6:09)
4. Exile Unto Divination (5:17)
5. Conjunction of Souls (5:06)
6. The Threshold (2:22)
7. Deus Delenda Est (6:05)
8. Bloodstained Citadel (4:24)
9. The Restitution (8:36)
Album Length: 42:59
For more info:
Rockshots.eu 
Facebook.com/pileofpriests 
Instagram.com/pileofpriests 
 
- 30 - 
"Pile of Priests have delivered a nuanced and satisfying album that any fan of more complex Death Metal will want to get a hold of." - The Metal Crypt
"Everything the band does blends together perfectly, and from front-to-back each song flows into each other to tell a story about the hypocrisy of man and how we are all, essentially, failures in some form. What separates this album from the rest of the albums coming out this year is the fact that there's this overarching feeling of familiarity but so many modern techniques and interpretations of music are brought in that it feels fresh and spunky." Rating: 9/10 - New Transcendence
"there's a raw vigor to their music that a lot of their peers seem to lack. I think a lot of it has to do with the production; the guitar tone has some bite, and the vocals and drums pack a lot of punch, but they all leave room for that adventurous bass to cut through and breathe. It's hard to go wrong with this if you like melodeath." - Toilet Ov Hell
"For fans of technical/melodic death metal who enjoy a bit of storytelling intertwined with their brutal riffs, this album is certainly worth your attention." - Metal-Roos
"And now with their second offering Pile of Priests they truly carve their own path in today's death metal landscape with razor sharp attention to detail and nasty little hooks that set deep. This is an album that will appeal to a broad set of metal and heavy rock fans, it's broad and diverse without ever losing its vicious edge." - Nine Circles
"Denver's Pile Of Priests have been honing their craft of anti-organized religious themed death metal for over a decade now, and their upcoming self-title sophomore effort is the sum of all their parts. A concept album at it's core with the musicianship to back it up, I believe that any fan of metal will enjoy this record. And that album cover art? Phenomenal. " - Wicked Metal Review
"Bloodstained Citadel - Thunderous pounding drums are coming at us at 100 mph with a real point to prove and are delivering hit after hit of sheer unadulterated vengeful hits of monsterous proportions that make you stand back in awe, the shredding from the guitar assault is awesome in that it is delivering a six stringed attack of the senses that makes you hair stand on end, another reason to listen to these guys as the have certainly honed there skills with this offering." - Jace Media UK