Endlevel - Weekend War - Reviewed By wintertormentwebzine ! Check it out here at this link: http://wintertormentwebzine.blogspot.com/2023/03/endlevel-weekend-war-cdlpviolent-creek.html
Endlevel are a German band that performs a nice mix of thrashing death metal..Weekend War is the second full length featuring a intro and outro and nine songs of aggressive and catchy metal anthems.The guitars are played with a whirlwind of fast paced guitars that are played with skill.The guitarist does write and perform some memorable passages and some solo's are mixed into the music.The drums are performed with a nice mix of fast drumming parts and some catchy and memorable drum patterns.The vcals are a mix of old school death metal growls and traditional thrashy screams  both vocals styles fit Endlevel's style perfectly.Fans of catchy headbanging  thrashy death metal should defintly check out Weekend War today.      wintertormentwebzine
Release Date: February 24th, 2023
FFO: Legion of the Damned, Slayer, Cannibal Corpse, Municipal Waste
Location: Balingen, Southern Germany
Short Bio: Southern Germany has been a guarantor for strong metal bands ever since. Be it Destruction, Cypecore, Primal Fear, Fateful Finality, Traitor or Debauchery. The young savages of ENDLEVEL have now joined the ranks. Founded in 2011, in Balingen, at the foot of the Swabian Alb, Jonas Frey (drums), Ken Ratheiser (guitar), Robin Willkommen (guitar), Kai Bez (bass) and Robin Richard (vocals) have dedicated themselves entirely to the homage of death and thrash metal. With the first album "Time To Kill", which was released in 2017 and already Switzerland, Spain, Czech Republic, France and actually every conceivable corner in Germany were traveled and devastated. So it's not surprising that the guys were welcome guests at the Bang Your Head Festival, Burgbrand Open Air or the Metal Embrace Festival.
Now the guys are back with their second album "Weekend War" and start their second offensive. The 11 newly composed tracks contain everything that makes Endlevel so enjoyable. Thrashy riffs with a Death Metal twist, guttural vocals and high Thrash vocals, meet rhythmic finesse and entertaining lyrics - metalheads what more do you want? The corresponding artwork by Martin Chmelícek (Spasm, Gutalax, Insistent, Obscene Extreme Festival, among others) perfectly captures the march visually: Every track, full against the jaw, plus lots of beer and the weekend is still in your bones on Monday! The 11 tracks mill themselves with a carefree and at the same time brilliant production in your auditory canal that it's just fun. Christian Schäfer, who also worked for Fateful Finality or Doom Division, was responsible for the great sound. So if you like to mix your Death Metal with some Thrash Metal and you like bands like "Inhuman Condition", "Bolt Thrower", but also "Malevolent Creation" and a pinch of "Anthrax", you should put "Endlevel - Weekend War" on your turntable and have your chin massaged with one to 12 beers. The album is released on CD, vinyl and is available on all common streaming platforms.
Check out these videos!
The single "Unleash War" starts like the continuous fire of an MG 42! The associated and intelligently used blast beat passages, which appear specifically and in the right places, skillfully underline the marching direction. Short breathers and the skillful interplay of guitarists Willkommen and Ratheiser create an oppressive atmosphere, as if just before the first step onto the battlefield. Another treat is the guest solo by Simon Schwarzer (Fateful Finality), which is the perfect complement for "Unleash War" - so to sag the chain grease for your tank!
"Hangover From Hell" shows impressively why Endlevel not only feel at home in Death Metal, but also have to do their rounds in thrashy waters! This song contains all the ingredients that fans appreciate so much about Endlevel: Thrashy riffing, growls, lyrics with a wink and in addition a video clip of a normal party night ala Endlevel! Since the morning After will be like hell but with the right soundtrack not so bad -  open another beer and further headbanging is mandatory! Hell ain't such a bad place!
"Nuclear Inferno" shows Endlevel more from their thrashy side! With the intro riff alone they could have knocked on Gary Holt's door and he would have gratefully put it on the last Exodus record. In addition, the cleverly doubled vocals of Mr. Ratheiser and Richard, which gives the song even more variety - the short bass part and the breakdown are then the foam crown on the beer from the house Endlevel! In addition, one matching lyric video and we have a highlight, which is on the album "Weekend War" and will certainly be a fan favorite for upcoming live shows!
"Slaves To Instinct" comes around the corner as one of the rhythmic mid-tempo bangers of the album and immediately invites you to bang your head vigorously. The intelligently placed lead melodies, which are contributed by Mr. Ratheiser and Mr. Willkommen, pervade the entire song and let this not only by the catchy rhythm to an absolute banger, but cement this directly in your frontal lobes - Just can't fight nature and we're all "Slaves To Instinct"
Follow them on Spotify and add them to your playlists!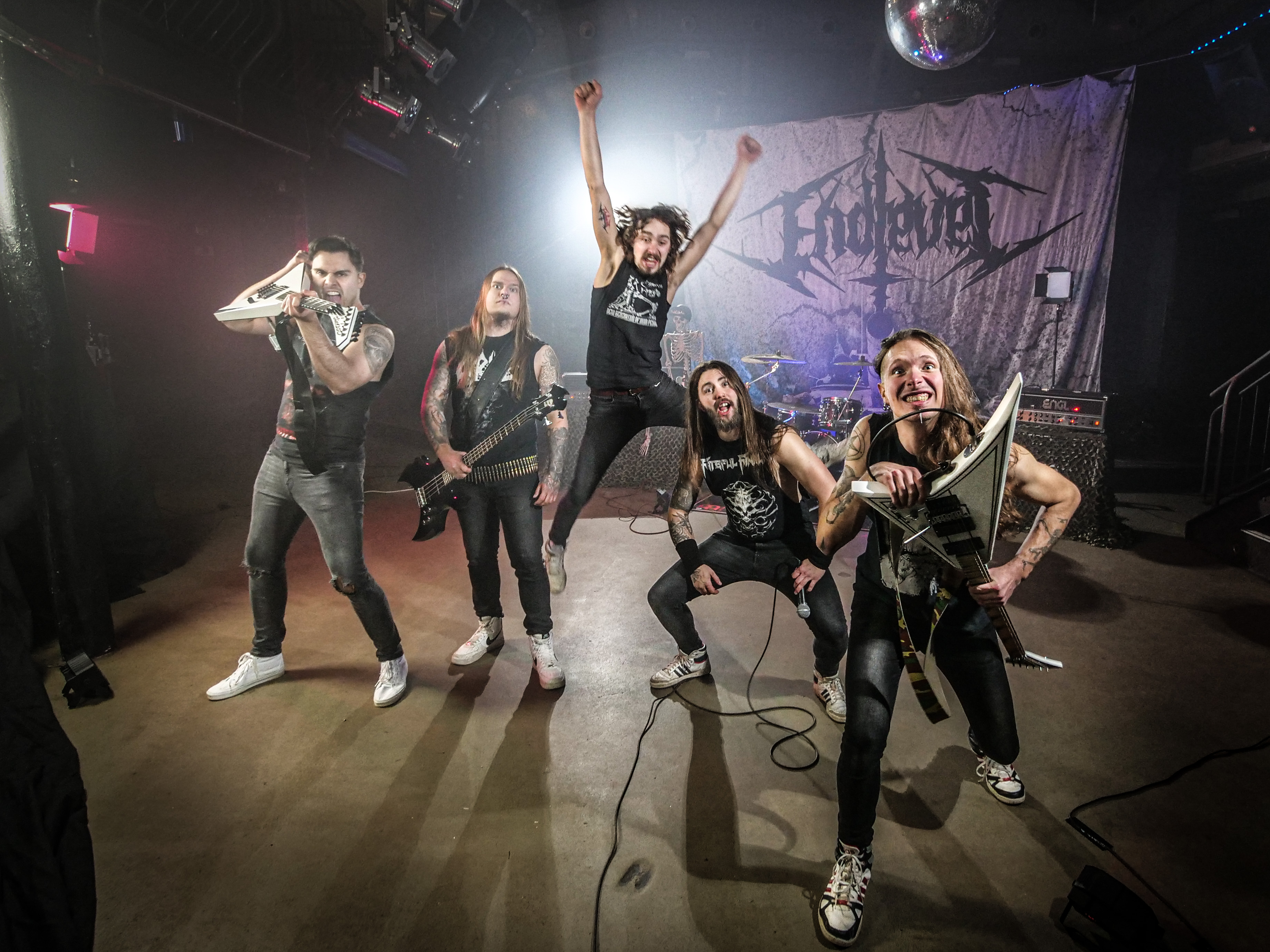 © Lorenz Kandolf / Violent Creek Records
Follow the band at these links:
https://youtube.com/@ENDLEVELBand
https://www.instagram.com/endlevel__official/
https://www.facebook.com/endlevelband
https://endlevel.bigcartel.com/
https://open.spotify.com/artist/1dGYVEbxNRm3MhAXzNo7XA
https://bfan.link/weekend-war