Brick By Brick - "Dismal Existence" - Reviewed By Metal Digest ! Check it out here at this link: https://metal-digest.com/2022/07/03/brick-by-brick-dismal-existence/
There is Hard Core and then there is New York Hard Core. With their "take no prisoners" approach, Brick By Brick has produced a powerful hybrid of HC and straight-up Metal. The album contains thick walls of driving and rip-gut guitars, raining anvils of contempt and disdain. Impassioned and unrestrained vocals are combined with a truckload of beat down attitude. Nothing pretty. No pretenses. Just thirty-seven minutes intended to blitz the mind and snap the neck…and maybe provide a little food for thought along the way. 
'Existence' starts with a track ("Evil Remains") featuring legendary Testament frontman, Chuck Billy. He isn't front and center, but the name recognition will certainly help garner some attention the band so richly deserves. Tracks like "Infiltrate" and "Can't Be Broken" conjure images of Pantera and COC. Some riffs approach Dimebag level. That's right; I said it. The "Infiltrate" outro of "Move, Strike, Stab, Fight!" is especially powerful. This track, along with several others, will elicit mandatory fists in the air. The album has a heavy theme of Groove Metal, but tempered with enough variation, so things never get stale.

A standout is the cover of the Sick of It All's "Just Look Around." Its message couldn't be more timely and the delivery is solid, menacing, and thought provoking. Overall, 'Existence' could use a little lyrical finessing here and there. And Ray Mazzola's monstrous vocal delivery, though highly effective, becomes a bit one-dimensional after a while. This is especially true when compared with the variation of song structures and tempos. Nitpicking aside, this album will kick every ass in the room…and the room will be better off for it. - Metal Digest
Release Date: February 18, 2022
FFO: Smash Your Enemies, Gloves Off, These Streets
Location: New York
NEW SINGLE! BRICK BY BRICK "LIAR, DECIEVER"
New York's Brick By Brick pulls no punches with their new single, Liar, Deceiver. Mike Valente bluntly describes Liar, Deceiver, "No ambiguity here, we put back-stabbers in their place".  And yes they do!  Brick By Brick lives by the Code - Honor, Loyalty and Respect and their music is a reflection of that. Liar, Deceiver appears on their upcoming full-length release, Dismal Existence, out on Upstate Records on February 18, 2022.  Dismal Existence is available on vinyl, CD and digitally on all streaming platforms through Blood Blast Distribution. 
Preorder Dismal Existence here:
https://www.upstaterecordsny.com/brick-by-brick
Check out the video here!
Support the band on Bandcamp!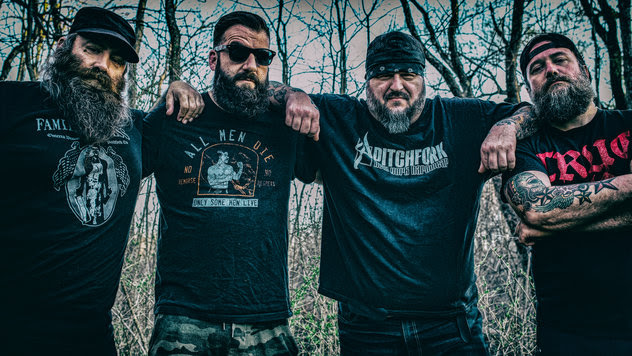 Photo Credit: Jim Wertman 
Born out of Troy, NY's infamous hardcore scene in 2004, but having attacked the scene seriously since 2015, BRICK BY BRICK have relentlessly cultivated their reputation as a hybrid hardcore and metal force. With influences ranging from Slayer to Agnostic Front by way of Black Sabbath and Sick Of It All. Having added Ray Mazzolla on vocals in addition to longtime members Mike Valente (Guitars), Andy Parsons (Bass), and James Muller (Drums) the band has a fresh new perspective and wicked intent.
Follow the band and label at these links:
https://www.facebook.com/brickbybrickny
upstaterecordsny.com
upstaterecords.merchnow.com
facebook.com/upstaterecords/
instagram.com/upstaterecordsinc/
twitter.com/upstaterecsny
upstaterecords.bandcamp.com