Emissary - 2021 Summer Tour EP - Reviewed By BATHORY ́zine ! Check it out here at this link: https://www.bathoryzine.com/2021/09/emissary-summer-tour-ep-review-by-varg.html
Today's review is of American Power Metal band Emissary's new EP.
Serving as an appetizer before their upcoming album later this year, the release features 3 tracks from their latest Summer Tour and their respective demo versions from 1994-95.
Combining classic Power Metal in the likes of Gamma Ray with the characteristic approach of USPM and a much more Heavy Metal direction than most bands of the genre, there are bits that may also remind the listener of Iron Maiden, although there is also an aggressive Speed Metal undertone as in any good Power Metal. Their melodic interludes between catchy choruses will surely also appeal to fans of Seventh Son-era Maiden, while the Power Metal roots are still there apparent. Collectors may be interested in these raw versions of "The Silent Treatment", "Crash & Burn" and "Ruler Of Defiance".
I recommend this album to fans of Power Metal, Speed Metal and Heavy Metal. My rating is of 8,5/10. - BATHORY ́zine
Release Date: August 25, 2021
FFO: Metal Church, Flotsam & Jetsam, Death Angel
EMISSARY REVEAL UPCOMING ALBUM TITLE, SUMMER TOUR WRAP UP, NEW MERCH, BANDCAMP PAGE LAUNCHED, AND NEW EP AVAILABLE NOW!
On Thursday August 5th, the West Coast Metal outfit known as EMISSARY returned to the stage in Oregon after a quarter century of silence and received what they called an overwhelming response when performing as direct support for the first night of Hard Rock veterans TESLA 's 2021 tour (prior to the pandemic halting future tour plans.) From the classic lineup, EMISSARY features frontman Jym Harris, drummer Eric Hoover, guitarist Tim Dahlen and bassist Peter Shawn Kinney. New guitarist Charlie Francipane ( TRICK, SURRENDER TO EDEN ) was recruited when Jon Holden parted ways with the band to focus on his main project, AMERIKAN FREAKSHOW earlier this year.
Harris, Dahlen and Kinney then attended the RUSTED METAL book signing in Portland, Oregon alongside members of HEIR APPARENT, GLACIER, Q5, NIGHTSHADE, LIPSTICK and others two days after their debut reunion show. EMISSARY can be found on page 122 of the Pacific Northwest's historical guide to Hard Rock & Heavy Metal music. Less than two weeks later, EMISSARY played an evening slot at California's REDWOOD METALFEST on August 21st, alongside dozens of other acts such as LICH KING, BLIND ILLUSION, SKITZO and MORDRED . The final show on the summer tour was in Oregon, headlining S2S SUMMERFEST in Central Point the next day.
EMISSARY's new studio debut titled " THE WRETCHED MASQUERADE " is planned for a late 2021 release via UNDERGROUND POWER RECORDS . The band says a deluxe 2 disc version of the album has been discussed, and a vinyl edition should drop sometime next year. The upcoming release features cover art by Donald Yatomi, known for his work with MEGADETH and TOURNEQUET among others. The band hopes to finish recording before sharing the stage with UK Heavy Metal Legends RAVEN in Portland, Oregon on November 9th, 2021.
Check out the limited Edition 6 track Summer Tour CD featuring three brand new recordings plus original demo versions of the same songs. No official release date is set for the full-length album, just sometime in 2021!
Check out this video!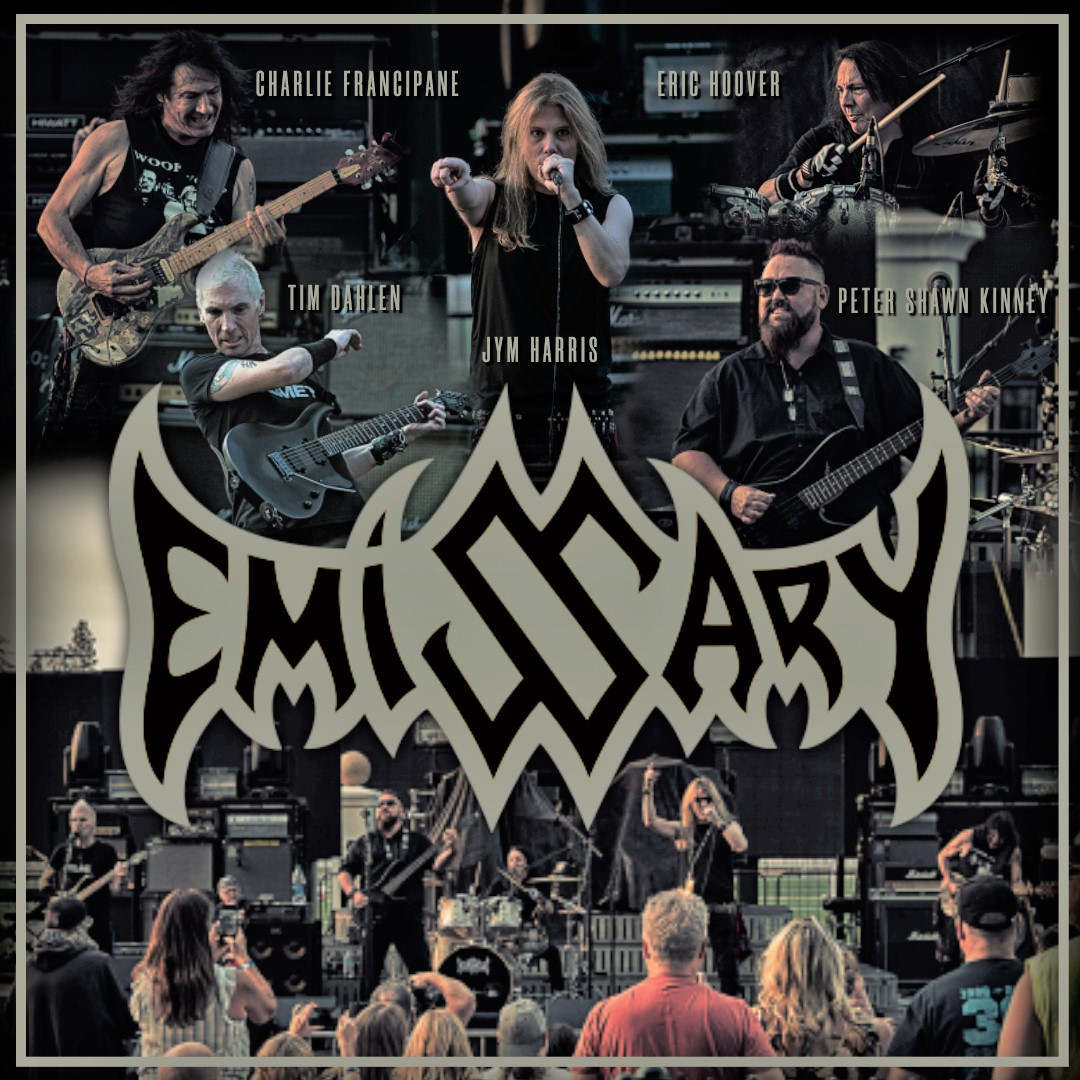 Follow the band at these links:
https://theoriginalemissary.bandcamp.com/releases
https://www.facebook.com/EmissaryMetalband/