WELICORUSS Announce Special 15th Anniversary Shows!
Symphonic Black Metal Lords WELICORUSS have announced their 15th anniversary shows, with special guests Purnama, Porta Inferi and Kazgaroth.
The band stated:
"Welicoruss will play 15th Anniversary Shows! 🎸🎸
Friends, this autumn, despite of coronavirus situation complicating concert activities throughout Europe and the World nevertheless, truly important outstanding events for all of us will happen - Welicoruss will have 15th Anniversry Tour in Czech Republic! Undoubtedly, this is a huge age, time during which band has gone through a lot, but nevertheless survived in endless battles for existence and brought 4 albums and more than 800 concerts in Europe and Russia! We are more alive than ever and ready to prove it in special live shows in 3 Czech cities - Prague, Brno and Ostrava! We`re inviting you to join those undoubtedly important events, also for the reason that our friends from Purnama, Porta Inferi, Kazgaroth and some others will come to support us and introduce their last releases! We will be gratefull for your supporting and sharing of this post everywhere!"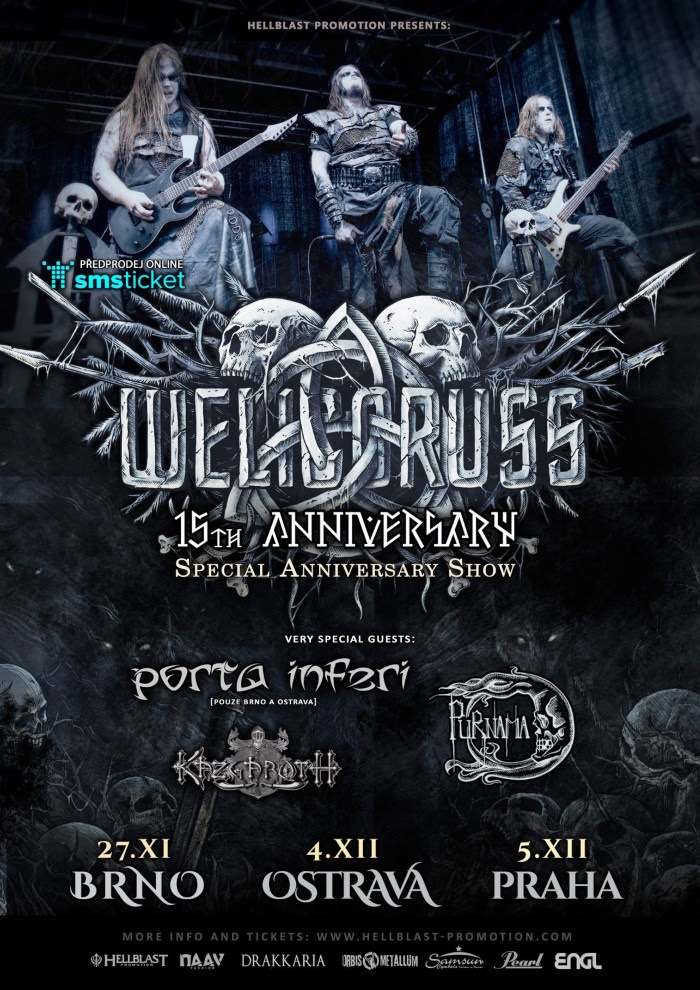 JOIN THE EVENTS:
Brno [27/11] - https://bit.ly/32n4cA5
Ostrava [4/12] - https://bit.ly/3jh7Dzf
Praha [5/12] - https://bit.ly/2FWA1Iv
--------------
WELICORUSS released their latest album "Siberian Heathen Horde" on March 27th, via El Puerto Records worldwide. 
Check out the video for "Making of …Siberian Heathen Horde", you can choose English, German, Czech or Russian subtitles, here:
Get your copy of "Siberian Heathen Horde" here – https://bit.ly/2UvYVlS
"Siberian Heathen Horde" tracklisting:
1. Spellcaster
2. Siberian Heathen Horde
3. Path Of Seductions
4. Frostbounded
5. Metaphysical (feat. Rob Carson from Xaon band)
6 Tree Of Nations
7. Crossroad of Life (orchestral instrumental)
8. The Prophecy
9. Hymn Of Lost Souls
Also watch the videos
'Siberian Heathen Horde':
'Spellcaster':
Symphonic Black Metal From The Coldest Depths of Siberia is what WELICORUSS (formed in 2005) have brought with them to us here in Europe. WELICORUSS appeared in Europe 4 years ago and they have already played all the biggest festival across the whole Europe and playing over 320 concerts. You will be absolutely stunned by their stage performance and imagery as they take you away on a journey far away to Depths of Icy Cold Siberia and back.
More information at:
BAND: https://www.facebook.com/welicoruss
MANAGEMENT: https://alphaomega-management.com | https://www.facebook.com/OfficialAlphaOmegaManagement