Former professional stock car racing driver, Michael Waltrip, has uploaded a throwback post on his official Instagram page, exposed a photo of himself with Mötley Crüe singer Vince Neil and Rob Zombie from Neil's overweight days.
We all know, Vince is working hard to lose weight and go on a fit body on Mötley Crüe's reunion tour. The manager of the band, Allen Kovac, also confirmed that both Vince and other band members were working to reach a fit body.
Vince Neil hopped to his Instagram page to show his overweight photo for the fans. Neil didn't give any detail about the picture. Although it is not clear where they are, we can guess that they are in a racetrack stadium.
Here's what Michael Waltrip captioned:
"Happy memories. My buddy @thevinceneil and his buddy Rob."
See the screenshot of the Instagram Stories photo below. You can also reach the original Instagram post below.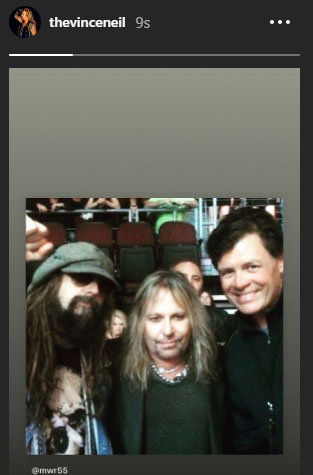 Back on December 28, Craig Reynolds, who is the drummer of American hardcore punk band Stray From The Path, has shared a recent update about his casual life on Twitter and mocked Mötley Crüe singer Vince Neil in a really interesting way.
Craig said that he had to update his face ID because of his overweight problem, and he referred Vince Neil while writing about that issue.
Click here to read the details.
Via
MetalHeadZone