In This Moment have released a lyric video for "Roots", a track from their forthcoming sixth album Ritual, out everywhere on Friday, July 21st. Watch the new clip below.
The band's sixth studio album will be released by Atlantic Records in partnership with Roadrunner Records and is available for pre-order now.
All pre-orders will be joined by an instant grat download of the album's first single, "Oh Lord", with additional instant grat downloads becoming available in the weeks leading up to the album's release. Exclusive pre-order bundles, which include custom In This Moment branded rosary beads, are available now at the band's webstore .
Produced by longtime collaborator - and multiple Grammy Award nominee - Kevin Churko (Five Finger Death Punch, Ozzy Osbourne), Ritual sees In This Moment pushing their inimitably dark sound forward with a provocative sense of pervading doom and metallic blues power.
Highlights include a dramatic reimagination of Phil Collins' classic "In The Air Tonight" as well as "Black Wedding," a walk down the aisle of musical madness that sees lead singer Maria Brink sharing the mic with legendary Judas Priest frontman Rob Halford.
"It's like we're going into the next realm," says Brink. "I had a conviction of feeling empowered in my life and with myself. I always write from a personal place, and I need
ed to share that sense of strength. I've never been afraid to hold back. Sometimes, I can be very suggestive. However, I wanted to show our fans that this is the most powerful side of myself and it's without overt sexuality. It's that deeper serious fire inside of my heart."
"When fans hear this, I want them to feel the music, whether they take away sadness, anger, or happiness," adds lead guitarist Chris Howorth. "As a kid, I remember listening to records and putting them on repeat over and over again. I'd love for the world to listen and absorb this as a piece of work."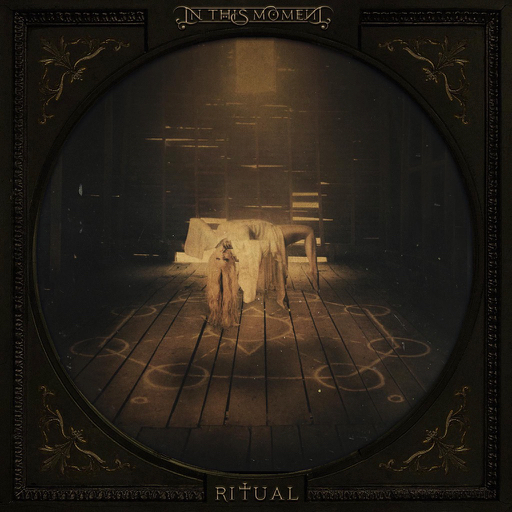 Ritual tracklisting:
"Salvation"
"Oh Lord"
"Black Wedding" (feat. Rob Halford)
"In The Air Tonight"
"Joan Of Arc"
"River Of Fire"
"Witching Hour"
"Twin Flames"
"Half God Half Devil"
"No Me Importa"
"Roots"
"Lay Your Gun Down"
"Roots" lyric video:
"Oh Lord" video:
"Oh Lord" live video:
Trailer:
In This Moment recently launched a video trailer (streaming below) for their upcoming summer tour dates. The and will launch a major North American tour, beginning June 20th at Peoria, IL's Limelight and featuring support by such like-minded bands as Motionless In White, Vimic, Little Miss Nasty, and Starset.
As if that weren't enough, In This Moment are also set for two exciting support dates, joining Avenged Sevenfold on June 19th at Mt. Pleasant, MI's Soaring Eagle Casino and Papa Roach on June 23rd at El Paso, TX's Streetfest.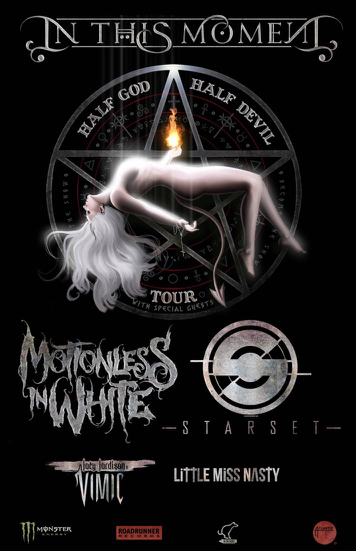 June
19 - Mt Pleasant, MI - Soaring Eagle Casino *
20 - Peoria, IL - Limelight %
21 - Memphis, TN - Minglewood Hall #
23 - El Paso, TX - Streetfest &
24 - Lubbock, TX - Lonestar Pavilion #
25 - Abilene, TX - Abilene Civic Center #
27 - Oklahoma City, OK - Diamond Ballroom %
28 - St. Louis, MO - The Pageant
July
1 - North Myrtle Beach, SC - House Of Blues
2 - Norfolk, VA - The Norva
3 - Lancaster, PA - Freedom Hall %
5 - Portland, ME - State Theatre
7 - Asbury Park, NJ - Asbury Park Convention Hall
11 - Rockford, IL - Coronado Theatre
12 - Cedar Rapids, IA - McGrath Amphitheater
14 - Mansfield, OH - Ink in the Clink
15 - Inwood, WV - Shiley Acres Farm ^
19 - Little Rock, AR - Metroplex %
21 - Corpus Christi, TX - Concrete Street Amphitheatre
22 - Dallas, TX - South Side Ballroom
23 - Midland, TX - La Hacienda Center
25 - Wichita, KS - The Cotillion
26 - Des Moines, IA - 7 Flags Event Center
28 - Madison, WI - Orpheum Theater
29 - Rochester, MN - Mayo Civic Auditorium
30 - Fargo, ND - Fargo Civic Auditorium
August
1 - Bismarck, ND - Bismarck Event Center
3 - Billings, MT - Shrine Auditorium
4 - Sturgis, SD - Ironhorse Saloon
5 - Lincoln, NE - Centennial Mall & M Street
* Supporting Avenged Sevenfold
# Starset Direct Support, No MIW
& Supporting Papa Roach
% With Vimic, LMN
^ No Vimic, No LMN
$ No Vimic