Casket Robbery - Photo Credit: Alex Krueger
The inaugural Tennessee Metal Devastation Festival, which took place at Beech Lake in Lexington, Tennessee last weekend, was a success.  The festival featured 12 underground bands from all over the country and over 30 local and regional vendors.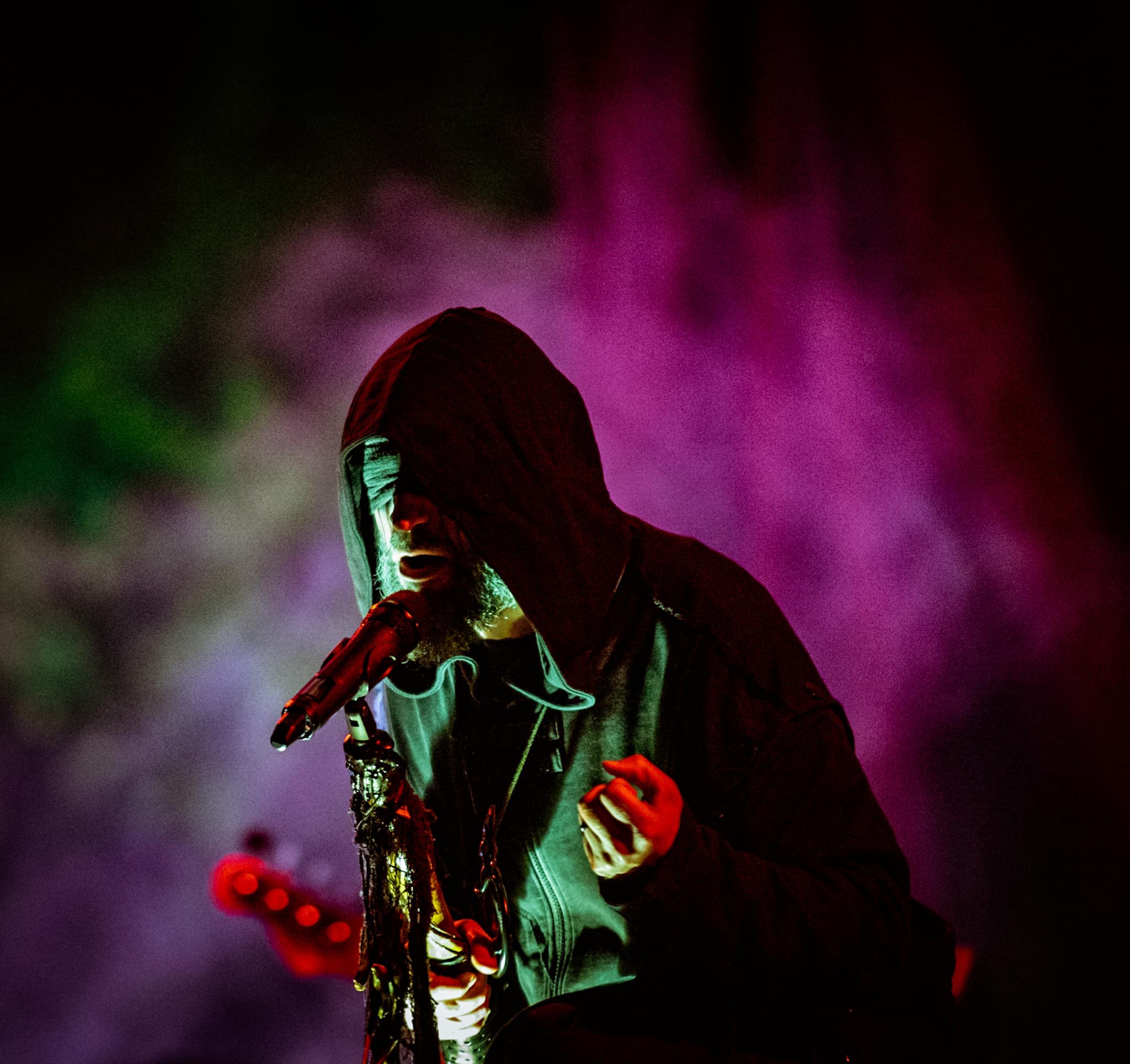 Summoners Circle - Photo Credit: BrittMae Photography 
Creating and bringing people out to a new festival can be a massive challenge, especially when it is held in a small, rural TN town and when all of the bands are considered "underground".  There were also many hurdles that the creators of the festival, Raven Moonla and Zachary Moonshine, had to overcome to put on this show. Booking a suitable venue was very difficult due to the push-back from the community, and once the venue was booked, a modern day "Satanic Panic" erupted and made headlines all over the world.  "It was certainly a battle every step of the way to pull this off", Raven Moonla stated.  "Some days, it almost seemed like too much and we wanted to give up, but we didn't.  These bands and the metal community mean so much to us, and that was and is worth fighting for."
Casket Robbery - Photo Credit: Lisa Adkins Photography & Marketing
Heavy metal bands and fans from the area are glad that Raven and Zach did not give up.  Approximately 1200 people came and went throughout the day and night at the festival, a number that far surpassed anyone's expectations.  Zach Moonshine shared, "The vendors were all amazing, and based on their feedback, food vendors sold out and art/craft vendors made a lot of money.  The bands all sold tons of merch and some even sold out very early on.  It was important to us that the bands and vendors had a successful day, and the fans who showed up certainly came prepared to shop and support.  We are so happy about that". The local economy also greatly benefited from the festival as well, with hotels being booked, and local stores, gas stations, and restaurants getting plenty of business from concert goers.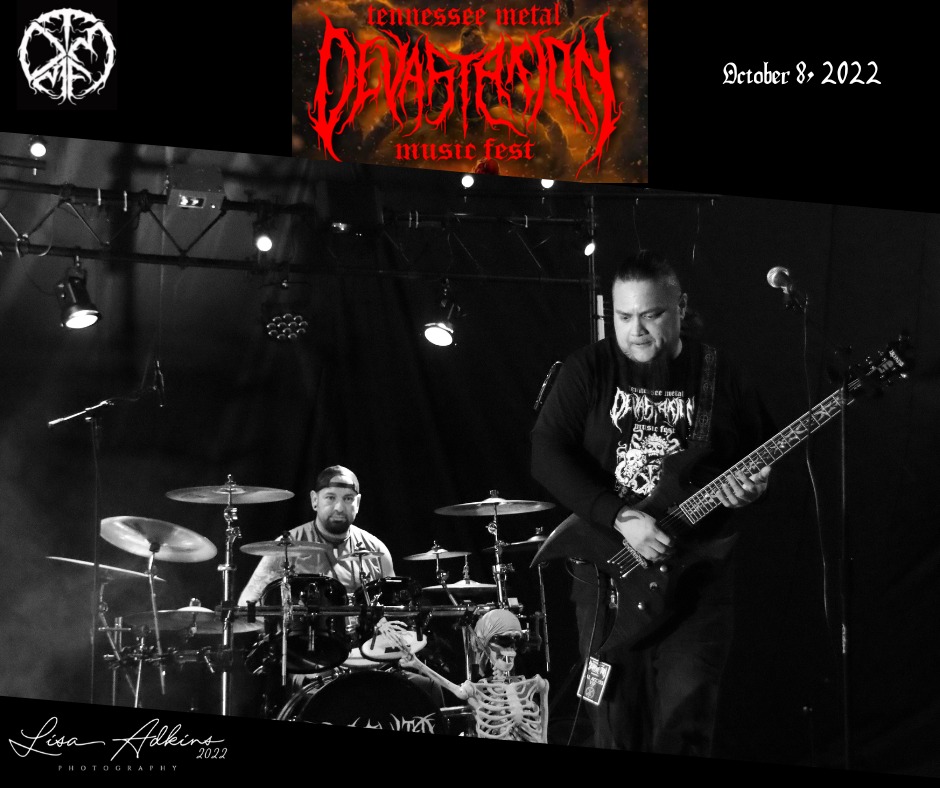 Deocculted - Photo Credit: Lisa Adkins Photography & Marketing
The feedback from those who played, vended, and attended the fest has been overwhelmingly positive.  People described the atmosphere of the festival as feeling intimate and like "one big family".  Zach and Raven said that this is the exact vibe they were going for when they organized the fest. "We wanted every single person there to feel like they were truly part of something special.  We hand-chose the vendors and bands, and we set up the festival so that all of the bands were able to mingle with the people and vendors.  That really made everyone feel special.  We even heard a teenager say that this fest changed his life, and that he finally felt like he was accepted and a part of something.  It still makes me emotional, "Raven said.  
Spillage - Photo Credit: Trish Vitacco Higgins
When asked about how they chose the bands for the Tennessee Metal Devastation Music Fest, Zach and Raven told us that they chose bands they were fans of and who they wanted to help.  "This music is our life, and it is our lifeblood.  We own Metal Devastation Radio and Metal Devastation PR, so we know thousands of underground and national bands.  It was difficult to choose, and I think that will always be tough for us, but we were already huge fans of every single band who played.  We are happy that we could introduce new fans to their music."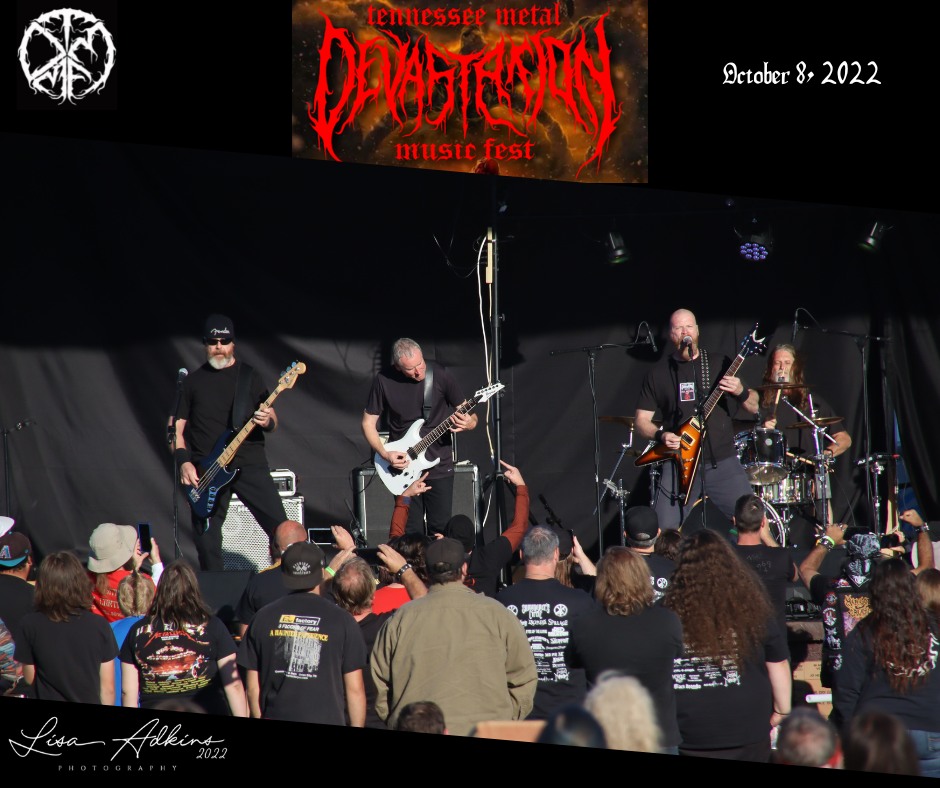 Eyes Of The Living - Photo Credit: Lisa Adkins Photography & Marketing
"Our festival model was very different, and I think that really paid off for everyone involved", Raven stated.  "We were told that our idea would not work, but we trusted our gut and our heart, and went for it anyway.  We were told that without a "mainstream" act, people would not show up.  We were told that not charging vendors or taking a percentage of the bands' merch sales was crazy.  We strongly disagreed with that."  Zach and Raven decided early on that they would allow vendors to set up for free and keep 100% of their profit.  All bands were allowed to keep 100% of their merchandise profit as well.  "If you love music and want to help these bands survive, you cannot take away their ability to make a profit," Zach said.  Raven added, "We hear horror stories of venues taking large portions of band and vendor profit from selling their goods, and we think that is disgusting.  We said from the beginning that we would not be those people.  We want to promote the growth and success of all of the bands and vendors, and that is why we stood firm on this."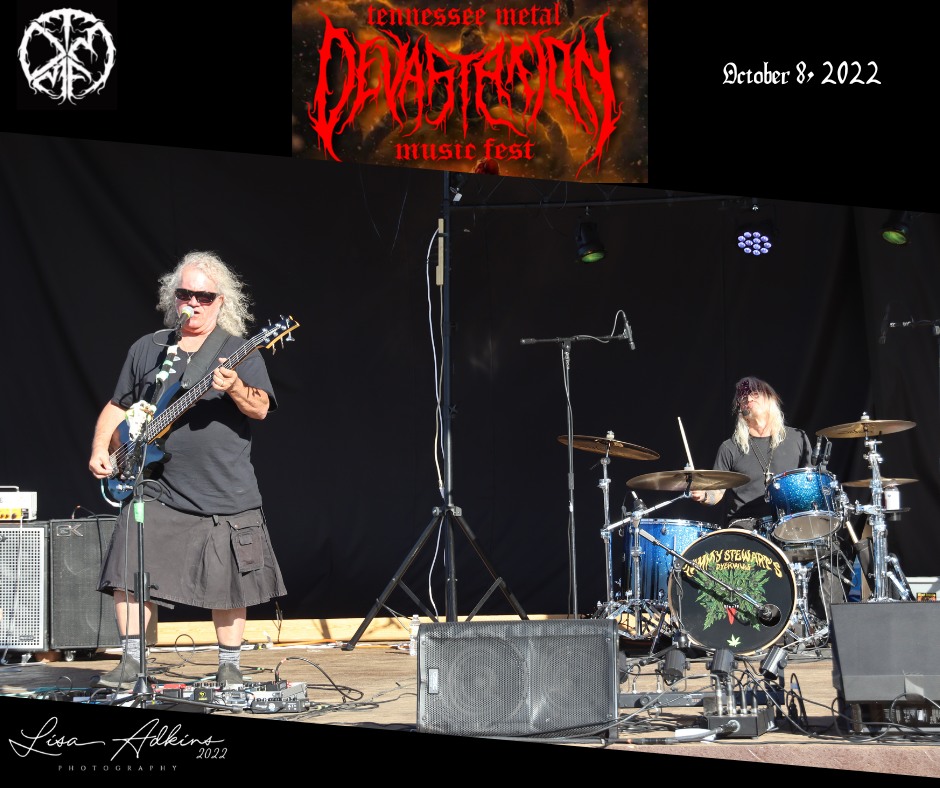 Tommy Stewart's Dyerwulf - Photo Credit: Lisa Adkins Photography & Marketing
 The couple also wanted to make sure that the event was affordable to anyone who wanted to attend. "We kept our ticket prices low; we provided free parking, we gave tickets away and we also ran several sales at 25% off and 50% off.  We sold tickets at the gate for those who needed to pay cash.  We even offered half-price tickets to anyone who wanted to attend the local Pride Fest as well as our festival.  We allowed people to bring their own coolers with food and drinks in case they could not afford to buy food at the event.  We are all about building an inclusive community, and we feel like we accomplished that.  We are super proud of that, too."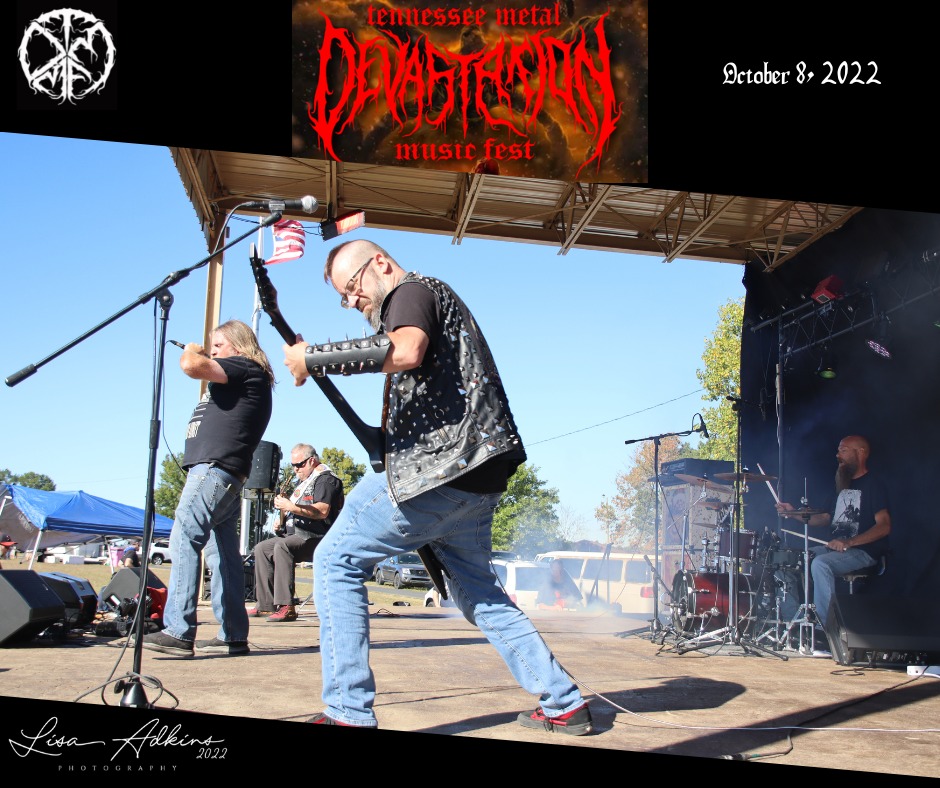 Gravehuffer - Photo Credit: Lisa Adkins Photography & Marketing
When asked if they plan to make this an annual event, Zach and Raven said, "absolutely".  "We put so much into this.  Time, effort, and our own money.  There were times when we questioned whether we made a stupid decision sinking everything into this, and it was scary.  We had no idea if anyone would even show up but standing out there and seeing a field full of happy people was overwhelmingly emotional for us", Raven stated.  The couple said that they are already getting resistance to booking the venue for next year, despite the event being successful and there being no issues as far as any disorderly conduct.  "This area will never be totally accepting of us, but this area is our home.  It feels more important than ever to keep bringing the music to the people here who want it, and we now know there are many people around here who want this music and this sort of event.  We hope to have the fest at the same venue in 2023, but even if we must change venues and towns, the Tennessee Metal Devastation Music Fest will be back to devastate West TN in 2023.  You can count on that."  
The Red Mountain - Photo Credit: Lisa Adkins Photography & Marketing
Sleuthfoot - Photo Credit: Lisa Adkins Photography & Marketing
Zach and Raven would like to thank Beech Lake and the City of Lexington for allowing the festival to be held there.  They would also like to thank all of the amazing bands who gave top-notch performances (links below); the amazing vendors; Richie Brannon (Knoxville, TN) for an amazing job on sound; Colton Hunt and Keith Yap of Hunt The Sound for an awesome job on stage management; Chris and Kelly Grant of Metal-O-Mania for emceeing the event and for their amazing support; Alex Wilson and Josh Belew for being the best stage hands/assistants; Phillip Coopey for an amazing job with lighting; Lisa Adkins Zaleski and Keith Zaleski of Lisa Adkins Photography for the amazing job at documenting the show; Danielle Farrow, Onyx Mortem, JD Wilkins, Kelly Pounds, Jeremiah Lee Keen and Aiden Keen for volunteering to help that day; all of the amazing sponsors who took a chance and supported this fest;  the City of Lexington Police Department for keeping us safe that day, and for not treating us unfairly because of the type of music we had there; Pops Music of Jackson, TN for opening early on a Saturday so we could get adapters; Guitar Center of Goodlettsville, TN and Memphis, TN for making sure we had awesome sound equipment; Burt Staggs for his social articles of support/media assistance; all of the media friends who shared and helped us promote; and last but not least, the amazing fans who showed up and made this an amazing event that will be remembered for years to come.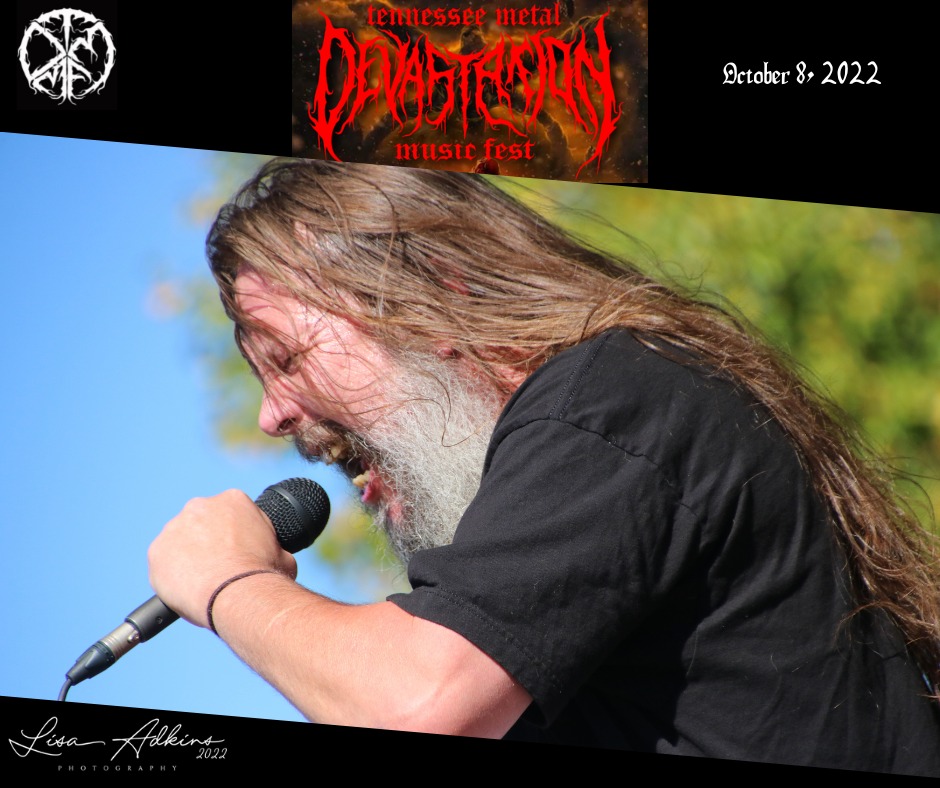 Devil Be My Judge - Photo Credit: Lisa Adkins Photography & Marketing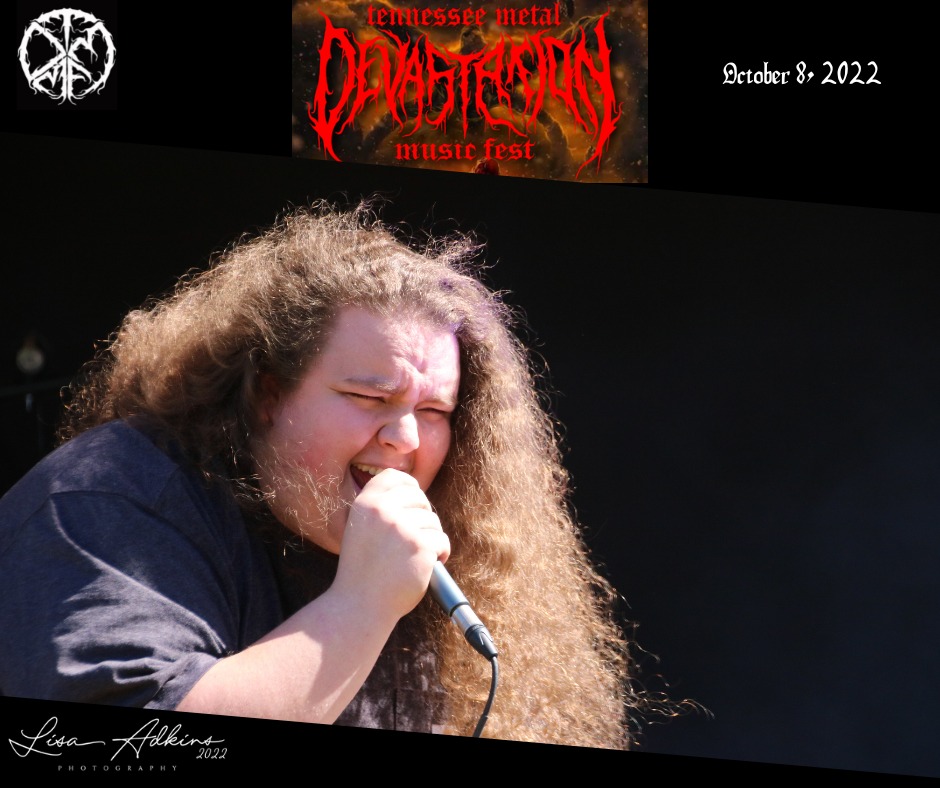 Forever Broken - Photo Credit: Lisa Adkins Photography & Marketing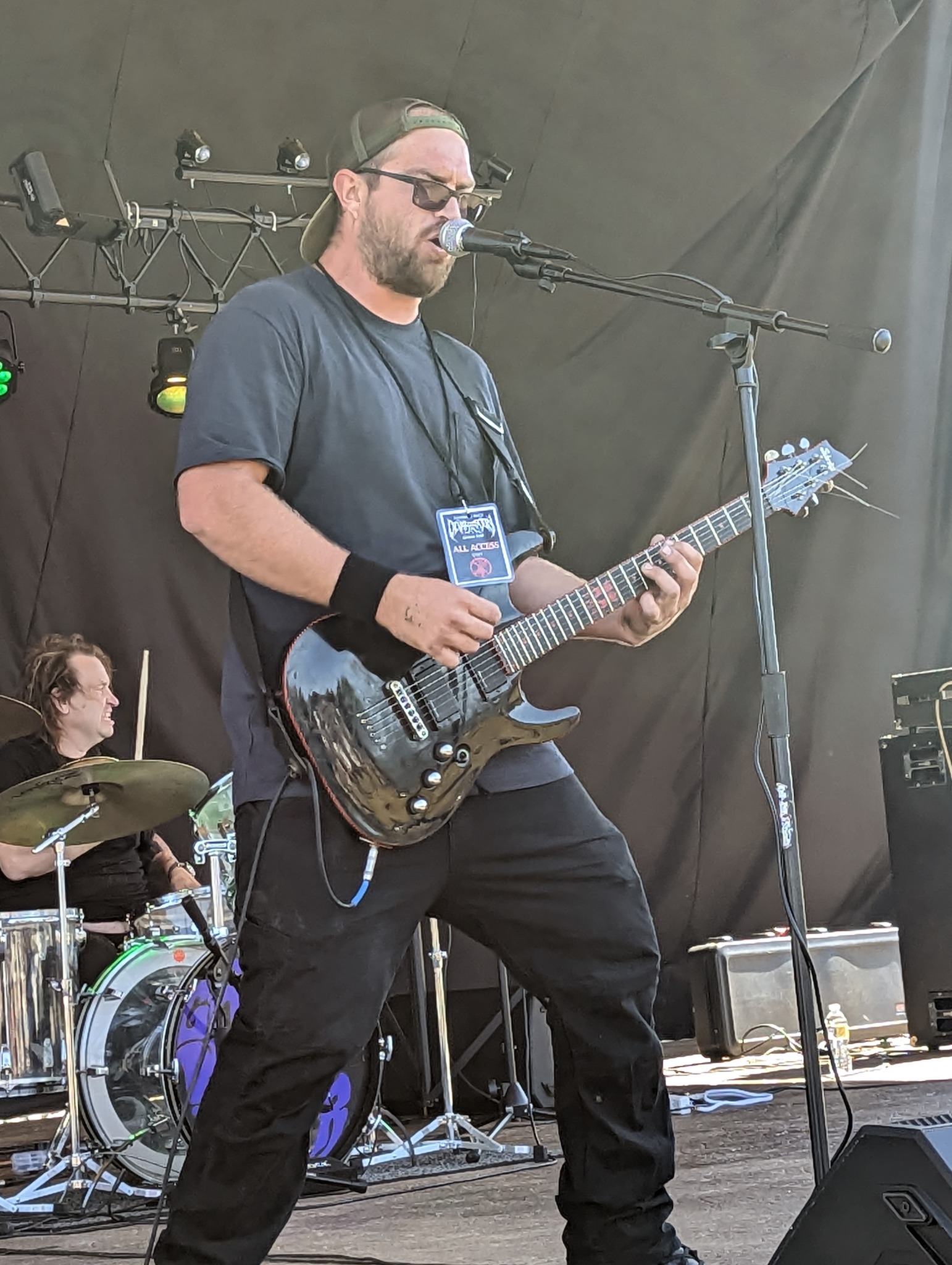 Grave Next Door - Photo Credit: Trish Vitacco Higgins
"Horns up, and we will see you in 2023!"



Follow the links:

Tennessee Metal Devastation,  https://metaldevastationradio.com/Metal-Devastation-Music-Fest
Summoner's Circle,  https://www.summonerscircle.com/
Casket Robbery,  https://casketrobbery.com/
Deocculted,  https://deocculted.net/
Spillage,  https://spillage-online.com/
Eyes Of The Living,  https://eyesoftheliving.com/home
Tommy Stewart's Dyerwulf,  https://tommystewartsdyerwulf.bandcamp.com/album/doomsday-deferred
Gravehuffer,  https://gravehuffer.bandcamp.com/album/necroeclosion
The Red Mountain,  https://www.facebook.com/THEREDMOUNTAIN/
Devil Be My Judge,  https://www.ftdmusic.com/p/devil-be-my-judge.html
Forever Broken, https://www.facebook.com/ForeverBroken2016
Sleuthfoot, https://www.facebook.com/Sleuthfoot
Grave Next Door, https://www.facebook.com/gravenextdoor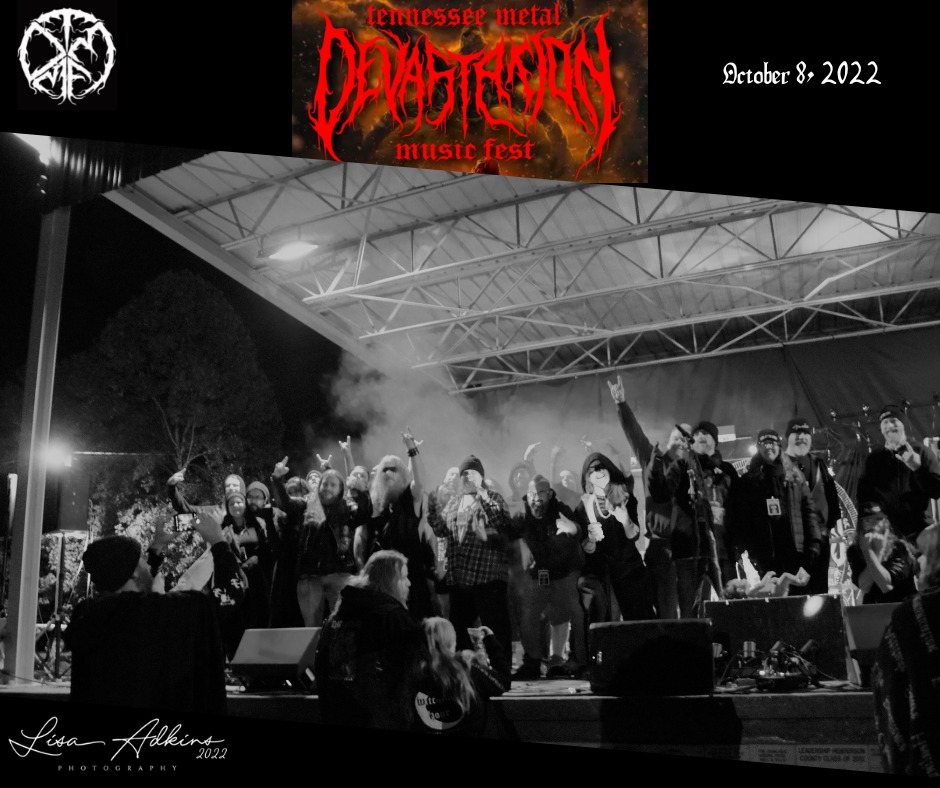 Group shot- Photo Credit: Lisa Adkins Photography & Marketing