METALOCALYPSTICK Fest Announces 2018 Line Up w/ Cabrakaan, DelDesierto, KOSM, Obsidian and more!
METALOCALYPSTICK, the Western Canadian festival that just doesn't celebrate heavy metal, but embraces the power of women in metal, punk and rock is proud to announce their 2018 line up being hosted in Lone Butte, BC at the Lone Butte Community Center during Canada Day weekend June 30th and July 1st.
This year's 2018 line up features headliners Cabrakaan, DelDesierto, KOSM, Obsidian and more!
Festival organizer Kaija Marie comments:
"This year's fest is an exciting one; we have back some festival alumni and some rad new ones from all over North America! We also have a few fun additions between sets. With the location still set in beautiful Lone Butte I ask you... What's more metal than partying on a volcano? You'll want to make it out for our 3rd annual female powered metal fest!"
Facebook Event Page: https://www.facebook.com/events/159748501272872/
Weekend and day passes available at http://metalocalypstickfest.rocks/tickets/
Metalocalypstick 2018 Line Up:
June 30th
Cabrakaan
Obsidian
Siren's Rain
The Vth Circle
Breaking The Silent
This Is The Silence
Heron
Disturb The Dead
Sugarwash
Crimson Caliber
July 1st
DelDesierto
Kosm
Anarcheon
At Dawn's Edge
Juliet Ruin
Forsaken Rite
Violent Betty
Opus Arise
Ophelia Falling
Syryn
In addition to the festival celebrating women in metal, METALOCALYPSTICK FEST gives back to the community by being a non-profit organization dedicated to raise funds and donating 100% of proceeds to local charities Girls Rock Camp, Vancouver Rape Relief and Women's Shelter, Earth Protectors plus sponsoring an independent band picked by Metalocalypstick Fest judges.
Festival Location:
Lone Butte Community Hall
5994 Hwy. 24
Lone Butte, BC
More info:
www.metalocalypstickfest.rocks
www.facebook.com/metalocalypstickfest/
Ride Share - www.facebook.com/groups/metalocalypstickfestrideshare/
About:
Formed in 2016 with the beautiful backdrop of the Canadian Rockies, METALOCALYSPTICK was created to present a unique experience within the Western Canadian metal community, a gathering of similar views, aspirations and musical taste. (similar to former mainstream music festival Lilith Fair.)
The festival was founded by Kaija Kinney of Vancouver's Anarcheon after researching a lack of female based metal festivals to apply her band to, Kinney took matters into in her own and decided to produce the event.
"This festival means the celebration of both sexes coming together and creating something amazing. People like to say women in metal aren't a big deal anymore and that we are all the same. I feel that is untrue, this is still a male dominated world and woman are still looked as lesser. I want to showcase all these bad ass ladies and celebrate the differences of men and woman rather than pretend we are all equal. Truth is we are different why can't we celebrate that?" says Kinney.
Previous Metalocalypstick festivals hosted female influenced metal bands from across Canada and the world such as Brazil's Nervosa (Napalm Records), Egypt's Massive Scar Era, Cabrakaan (Toluca, Mexico), Hollywood's The Maension, Valfreya, Scythia, Mortillery (Napalm Records), Van Halst, Dead Asylum, Juliet Ruin, Violent Betty, Omega Crom, Körperlose Stimme, Elysium Echoes, Solborn, Monarch Sky, Forsaken Rite, Anarcheon, Suspended, Sovereign Council, and Atmora.
2018 Partners:
Absolute Underground Mag
Asher Media Relations
Broken Neck Radio
Canada's Extreme Metal Radio
Exclaim!
Femme Metal Webzine
Metal Devastation Radio
Metal Master Kingdom
Pabst Blue Ribbon
Prairie Fire Events
PureGrainAudio
Pure Rock Radio
Whitelf Films
Women of Metal
--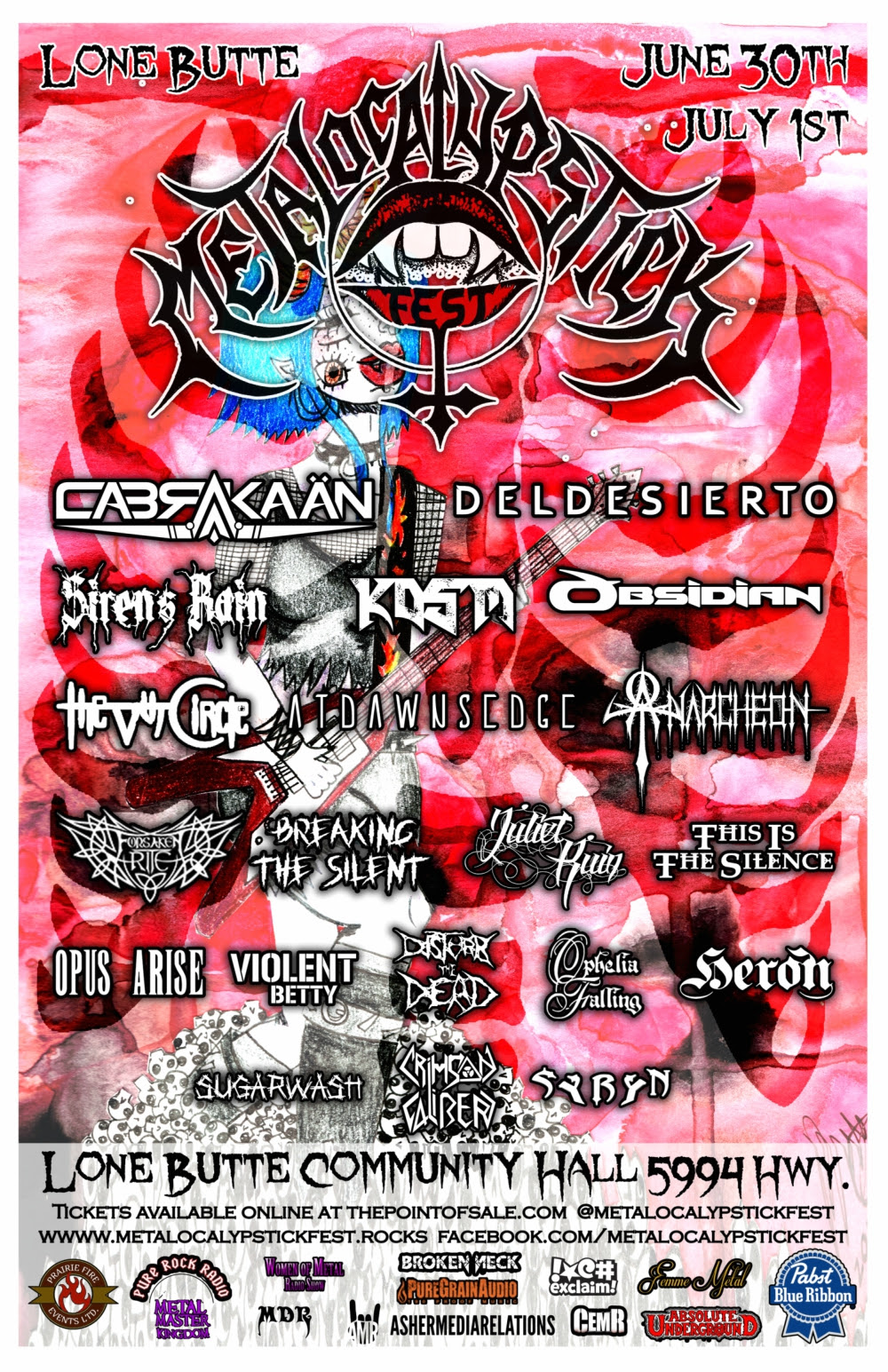 Metal Hammer Article: 
http://teamrock.com/feature/ 2018-02-14/meet-the-people- making-festivals-a-better- place-for-women

Free Download - Festival Digital Sampler of 2017 Performing Bands 
Metal Queens Vol. 1 -  https:// metalocalypstickfest.bandcamp. com/album/metalocalypstick- metal-queens-vol-1