Riveting Truth - Riveting Truth - Reviewed By Full Metal Mayhem! Check it out here at this link: https://lorenzvangore.wixsite.com/fullmetalmayhem/post/riveting-truth-mit-riveting-truth
Release date: November 13, 2020
Other releases of the band: So far only this EP and a single release. 
" Release date: November 13, 2020
Other releases of the band: So far only this EP and a single release.
How did I get to know the band: I would never have expected that Metal Devastation Radio would send something like that. Normally I sort out the garbage and what doesn't fit right away, but here I wanted to have fun.
How do I find the disc: Are you ready to let the Holy Spirit inside you? Neither do I, but let's listen to the stuff anyway:

THE PRISON (FEAT. DENNIS CAMERON) opens the disc and is one of two songs with guest musicians. Everyone can decide for themselves what to think of it. At the beginning we hear a frantic whisper, followed by a decent riff. Unfortunately it doesn't go on like this. Everything becomes too playful and the vocals are more suitable for a glam rock band. The voice is not bad, but I lack the harshness. You can see a glam rock singer rubbing a step on the microphone stand. The text doesn't give me anything either. They can keep all that goddamn shit. Let's move on to the next song.

STAND TRIAL (FEAT. REX CARROLL) starts off nicely dark and pounding. It fits better here. But I'm curious how they sound when they have no external help. The song itself isn't bad, but it's not good either. Rather absolute average. Hardly heard and already forgotten. Only at the church bell, which is annoying every now and then, gives him something of his own.

SKELETONS IN THE CLOSET starts with a very interesting bass line, from which a nice hard heavy metal intro develops. The voice sounds completely different here. Hoarse and dark, as if trying to imitate Lemmy. Fortunately, the tragedy doesn't last long and the vocals return to normal. But not for long. There is always a change. So without support, they're not much better either. The only thing I like about the song is the bass.

The intro of GIVE UP THE GHOST sounds like a bad metal vore band. Then the song races off and tries to build up hardness through speed, which seems rather embarrassing. Here I feel reminded of a bad cover band from Hatebreed or Disturbed.

Conclusion: You can confidently knock it in the bin. I prefer to invest the money for the CD in beer and cigarettes. Maybe there are some of my readers who like Christian Metal, I absolutely don't. At least not how they play the whole thing. Better bands like Sacrificium , if it has to come from the bright side. Who wants can do the music here:
" - Full Metal Mayhem  
New Promo: Riveting Truth - Riveting Truth - Roxx Records Release: 13 November 2020
On our eternal quest to bring you some of the best, the loudest and the boldest in Christian rock and metal to the front-lines Roxx Records is very excited to announce we have made our way in to Canada for this one. Please join us in welcoming RIVETING TRUTH to the Roxx Records line up.
RIVETING TRUTH is a Christian Metal band from Toronto, Ontario, Canada. Featuring members Dave Bentley out front (Vocals/Guitars) and Andrew Rudd (Bass Guitars) completing the line-up for Riveting Truth.
The two have played music together since the early '90's and released a nine song independent album with the band LEGACY in 1996. LEGACY played throughout southern Ontario and surrounding areas for several years opening for established bands such as Whitecross before taking a hiatus to pursue different career paths.

In 2017 Andrew and Dave created a new musical project by drawing from their musical influences of melodic groove heavy metal and RIVETING TRUTH was born.

The doubled-edged concept of the band name is that Jesus Christ is the riveting truth
(John 14:6) that can fasten the gospel to our heart, soul and mind.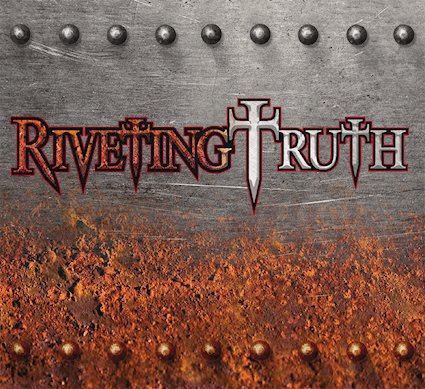 The band is excited to release their highly anticipated 4 song EP, which features guest solos from two of Christian metals most legendary guitar players Dennis Cameron (Angelica) and Rex Carroll ( Whitecross ).
We are very excited to share the debut single and lyric video from their upcoming self-titled EP.
"The Prison" is a straight ahead Power Metal song based on 1 Corinthians 10:13. A reminder that God gives us strength to overcome our temptations, and that He always provides a way of escape from the prison of sin.
The lyrics were written by Dave Bentley and the music by Andrew Rudd and Dave Bentley. The song features a stunning lead guitar performance by Dennis Cameron of Angelica fame.
Check out the single 'The Prison' and help us share this video for all to hear!
November 13, 2020 we bring you the debut 4 track self-titled EP on a limited edition CD pressing and we want the world to hear this one! So for a very short time until the release date you can secure your copy of the self-titled 'Riveting Truth' EP for the introductory price of only $7.77 only until our release date!
Visit www.RoxxRecords.com to preorder your copy today!