Band: ANTOLOGI
Country: Singapore
Album Title: Chronicles Of Catastrophes
Format: Audio CD
Date of Release: 30/06/21
Label: Vrykoblast Production
Check out this video of their new single!
Antologi is a Death Thrash Metal band from Singapore . Formed in mid 2009, the group was founded by then-guitarist Bob Shahid, guitarist Load Sham, drummer Remi Hamdi and bassist Adi Reaper.  Antologi went through several lineup changes over the years, with Load Sham and Adi Reaper as the only original members of the band that is left since it's inception. Since 2016, the band has comprised of Load Sham and Suhaimi Hanafi on guitars, Afique Romie on vocals, bassist Adi Reaper and drummer Eddie Fendi. Started out as a Heavy / Thrash Metal band, Antologi eventually went to play Thrash Metal and then became a Death Thrash Metal band.
Formation & Early Releases ( 2009 – 2012 )
The band was formed when former high school mates Adi Reaper, Bob Shahid, Remi Hamdi and Load Sham met up again after many years and decided to form a band as they shared a strong common interest in Heavy / Thrash Metal and began writing songs together. Yet to have a vocalist, auditions was held and eventually Ash Jasz was recruited to be the frontman.
In 2010, Antologi recorded a single title "Khazanah Hayat" and was recorded in Malay, Singapore's National Language. It was widely accepted by the Heavy Metal community in Singapore.
Early 2011, Ash Jasz left the band due to some personal matters. His position was filled up by Afique Romie former vocalist of Singapore Heavy Metal band called Rockvival. Antologi entered Studio 47 (Singapore) to record their 1st full length album in September 2011 and in April 2012 "Arah Perjalanan" was released. Consisted of 8 tracks of pure Heavy Metal. 
Couple of months after the released of the album, Bob Shahid and Remi Hamdi decided to leave the band due to work and family commitments.
Maruah CD Single (2012 - 2015)
Adi Reaper, Load Sham & Afique Romie decided to move forward with the band and replacements was found in a couple of weeks. Suhaimi Hanafi formerly of Dethmute and current member of Metalheadz join on guitars and Juraimi Mohd formerly of Sige-Sige & Ascend on drums. With this line up, Antologi went to play several gigs locally and also went to Pekanbaru, Indonesia to headline Pekanbaru Berisik 3 festival in 2013. At the end of 2013, Antologi headed to the studio and recorded a 2 tracks CD single title "Maruah" which contains 2 tracks "Maruah" and "Jeritan Di Gaza". In October 2015, Antologi was invited to performed at Daimonous Open Air, Bali Extreme Music Festival which was headline by Behemoth . Juraimi Mohd was unavailable for the gig and Wann Alip from the band Kraton session for Antologi on drums. In November 2015, Antologi also opened for Swedish band, Enforcer for their South East Asia Tour at the Substation, Singapore. After the Enforcer gig, Juraimi Mohd left the band due to personal reasons .

Berjuang ( 2016 – 2018 )
Searching for a replacement drummer, Adi Reaper had contacted a longtime friend, Eddie Fendi of former Death Metal band Castigate and Brutal Fear and current drummer of Vrykolakas . In April 2016 Eddie Fendi make his official debut as Antologi drummer during Sumatra Invasion Tour of Padang, Pekanbaru & Medan, Indonesia. Touring together with Antologi was Heremod ( Singapore's Black Death Metal band ). A compilation of previous singles and album title " Incursion " was also released during the Sumatra Invasion Tour and only for the Sumatran Metalheads. Continuing to play couple of gigs in Batam, Indonesia and also locally in Singapore in early 2017, Antologi started to write some new songs for the upcoming album. In early 2018, Antologi went back to Studio 47 to record "Berjuang" , 2nd full length album. Consisting of 8 tracks altogether also a cover of Postmortem "Waiting For The Funeral" the album was launch in November 2018. After the released of the album Antologi went to headline "RokanHulu Metal Fest" in Medan, Indonesia, "Freedom Ov Hell" gig at Jakarta, Indonesia and "Ready For Blood" Metalfest in Medan, Indonesia throughout 2019.
Pandemic & Chronicles of Catastrophes ( 2019 – 2021 )
Antologi went to Penang, Malaysia in March 2020 to performed for the 1st time in Penang at       
"Northern Brothers Ov Metal" Metal Fest with Inferno ( Czechia ), fellow Singapore's Black Metal band Majusiah & Symphony Jimbalang ( Penang ) and it turns out to be Antologi performance before the World hit by the CoranaVirus and most countries went into lockdown.
As the pandemic hits the whole world, Antologi took the opportunity to finishing up writing new songs for the new album and a total of 16 new songs have been written. In November 2020, Antologi once again entered Studio 47 ( Singapore ) to record the new album. Helm by producer Nizam Aziz (ex-Impiety) a total of 12 songs was recorded and the new album will be release by Vrykoblast Production ( Singapore ) on 30th June 2021. 1st Single from the album title "Blood In The Brain"  was released on the 20th May 2021 to the masses as an Official Lyrics Video on YouTube to great response.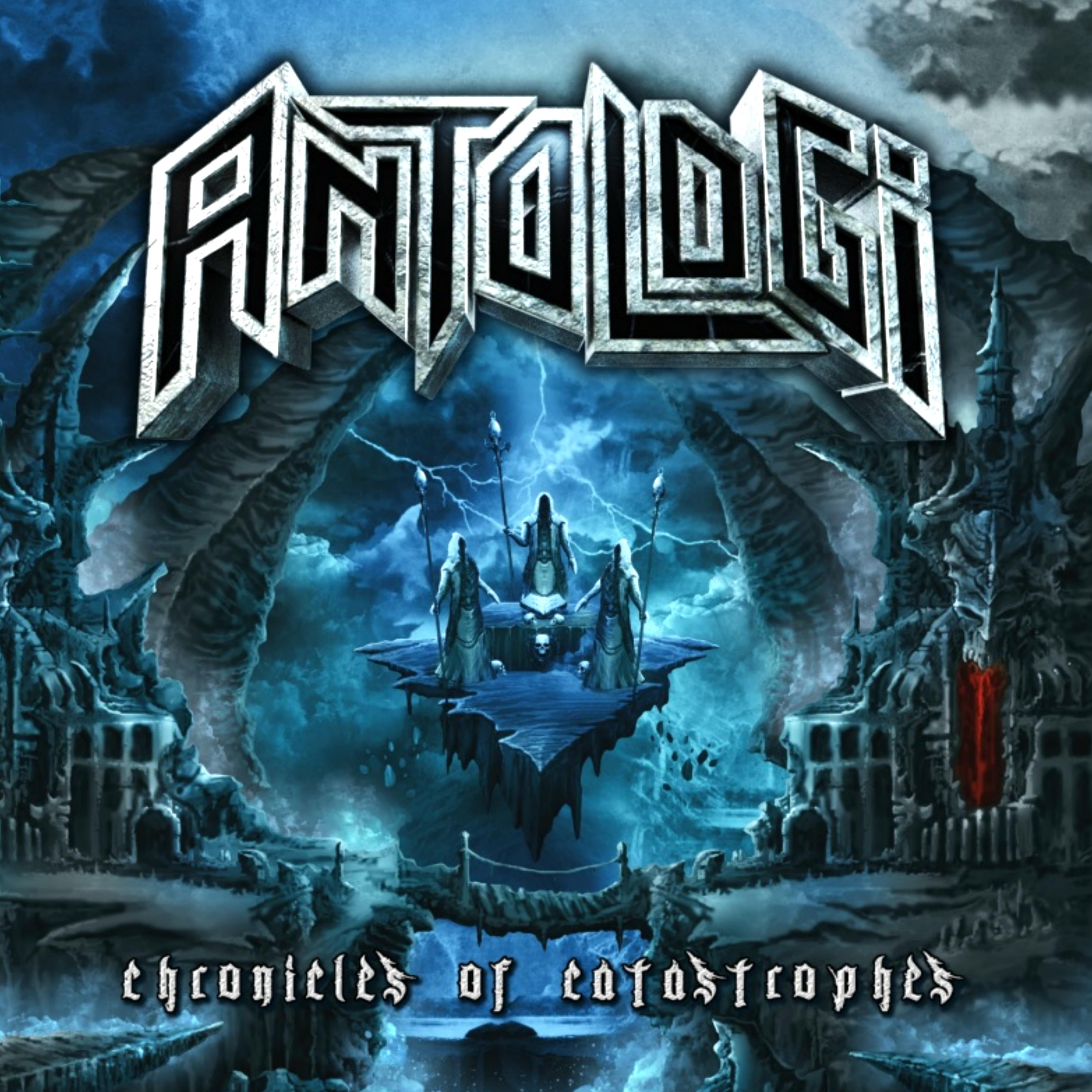 Current Members     Former Members
Afique Romie - Vocals    Ash Jasz  - Vocals ( 2009 – 2011 )
Suhaimi Hanafi - Guitars    Bob Shahid  - Guitars ( 2009 – 2012 )
Load Sham  - Guitars    Mohd Remi  - Drums  ( 2009 – 2012 )
Eddie Fendi - Drums    Juraimi Mohd - Drums  ( 2012 – 2015 )
Adi Reaper  - Bass
Session Member
Wann Alip  - Drums ( 2014 – 2015 )
Check out this live video!
Follow them at these links: 
Webshop: https://Vrykoblastproduction.bigcartel.com
Facebook:www.facebook.com/vrykoblastprod
Band Facebook: https://www.facebook.com/antologisg/
https://www.instagram.com/antologisg/
https://www.youtube.com/channel/UCweMrfTZ-s2Cid_j1VHGwOA/featured
https://www.metal-archives.com/bands/Antologi/3540399958