Rich from Day Of Doom will be joining The Zach Moonshine Show to talk about the new album "Epitaph of the Darklord"! We will be playing two brand new tracks from the record on the show! Show starts at 9pm est/6pm pst and the interview will happen around 10pm est/7pm pst. To join us, simply sign in to the site www.metaldevastationradio.com and click the chat & listen links!
Long Island, New York Death Metal titans Day of Doom have revealed their 5th Album, "Epitaph of the Darklord" artwork designed by Jesus Lhysta of Rotted Artist.
"Epitaph of the Darklord" will be released on October 31, 2019 on 3 Demon Records.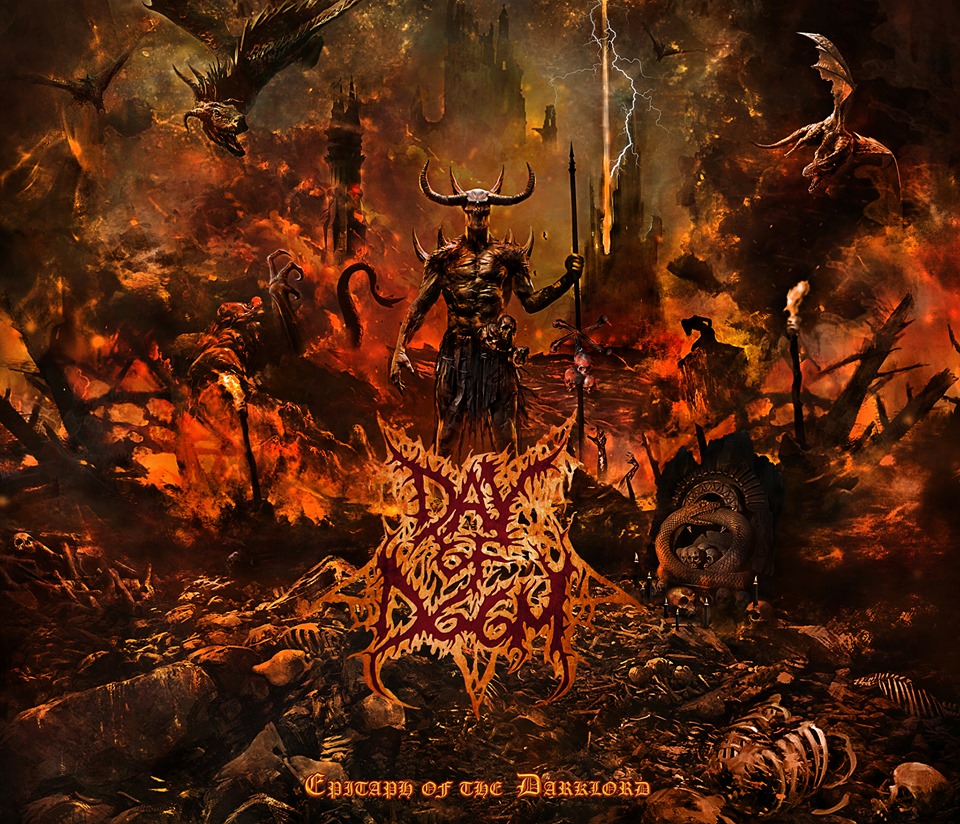 Day of Doom knew the artwork for "Epitaph of the Darklord" had to be the evil twin to the music they created. Day of Doom went on the hunt for an artist and there are so many amazing artist's around, it got crazy so they took a step back and that's when they were contacted by Rotted Artist ( Jesus Lhysta ). From the first glance of his art Day of Doom knew they had found the artist who would bring the Darklord to reality. Once they spoke that sealed the deal. Soon after the art concept was discussed and shortly after Day of Doom started getting ideas back and they were floored by what they saw. Rotted Artist ( Jesus Lhysta ) brought the Darklord and his domain to reality.
The new album artwork done by Rotted Artist (Jesus Lhysta ) captures the essence of evil on all levels of the extreme. The origins of the Darklord are revealed and led beyond the realms of the insipid. "Epitaph of the Darklord" will devour your lost souls. - Doug Randazzo
We have seen the end of day's and the new artwork done by Rotted Artist ( Jesus Lhysta ) shall make you feel it. Prepare for musical
hellfire - Sam Lara
Rotted Artist ( Jesus Lhysta ) created a visual that is the perfect complement to the musical insanity that is "Epitaph of the Darklord". Jesus is a talented, down to earth, very easy to work with person and we cant wait to work with him again. Now you can see the Darklord and his domain all in it's glory. You have been forewarned, the Darklord is coming. - Rich Hervey
Epitapth of the Darklord
Track Listing:
1. Epitapth
2. Darklord
3. Breed to Kill
4. God Defamer
5. Exterminating Angels
6. In Quenchless Flames of Hell
7. Cursed into Fire
8. Kingdom of Salvation
Attendees : 0