"Without Mercy" will be joining The Zach Moonshine Show to talk about the new album "Seismic"! We will be playing brand new tracks from the record as well as many other brand new releases on the show! Show starts at 9pm est/6pm pst and the interview will happen around 10pm est/7pm pst. To join us, simply sign in to the site www.metaldevastationradio.com and click the chat & listen links!
To join us, simply sign in to the site www.metaldevastationradio.com and click the chat & listen links!
NOW PLAYING
Click Here For Help Streaming On Chrome

Featuring guests Jeff Loomis (Arch Enemy, ex-Nevermore), Chris Broderick (Act of Defiance, ex-Megadeth, ex-Jag Panzer)
For fans of Cattle Decapitation, Meshuggah, Whitechapel, Pantera, Decapitated
Album Title: Seismic
Release Date: November 20, 2020
Label: Self-Release
Distribution: Bloodblast Distribution
Withoutmercyband.com | Facebook.com/withoutmercyband | Instagram.com/withoutmercyband | Youtube.com/c/withoutmercyband
Sales Links: The Disaster: https://backl.ink/142875744 | Album Pre-Save: https://backl.ink/142835912 |
PHYSICAL PRE-ORDER: Withoutmercyband.com
"Overall, two elements really struck me here…one was the level of intensity, and the other the level of musicianship from the band. How they can remain unsigned is a mystery to me. They play with such a tight synergy that it's almost like they can finish each other's sentences before they even open their mouth." - Metal Temple
STORY ANGLES / FUN FACTS ABOUT THE BAND
1. The vast majority of "Seismic"'s material was written and rewritten multiple times. Honed and tightened over tours and live performances, the band were unwilling to place "filler" to enhance anything. They came at this album with the best of everything they had after their inspirations were doing the same.
2. They tracked each piece of this record in different studios around Vancouver, BC. Drums were recorded at Monarch Studios, Rhythms, and Bass we're tracked at a hidden location, while vocals and solos were done at a 4th. This started out as a financial reason to separate the costs of recording but ended up playing a massive role in the sound and lyrical development of the record.
3. Guitarist DJ Temple runs a music academy in Abbotsford, BC where he and the drummer Matt Helie both instruct.
4. While on tour across Canada, Without Mercy played a show in Thunder Bay. The venue and promoter had technical issues that resulted in the set times running later than anticipated. The end result was being done after 3am. With a show the next night in Sudbury, Without Mercy decided to make the trek overnight at arrived at the venue, set up, and played the entire set before passing out on couches afterward. 
What the press has said:
"The thrash-stomp modes on "Worthless" ring like a head-on collision between DECAPITATED and BIOHAZARD with a dash of power metal thrown into the solo section. Alex Friis wrings his throat to huge extremes, hopefully leaving tissue intact as he hits agonizing squeals while throwing indictments against former band members — guess on your own who that might entail. DJ Temple's guitar work on "Worthless" is terrific.." (Mouchido EP 2016) – Blabbermouth

"Vancouver's Without Mercy is a prime example of how putting in a little bit of elbow grease can result in advantageous outcomes. The quartet play their brand of melodic, groove-laden death metal independently, but refuse to remain held back by a lack in the promotional and money machine backing departments. Over the course of a decade or so, the band has experienced the same highs and lows as most others, but their successes – which include a small handful of recordings, a bigger handful of tours, and appearances in video games – have been felt at a deeper clip because they've essentially managed everything themselves." (Mouchido EP 2016) – Decibel Magazine

"In a word, the music rips. And it also thunders, and punches so fast and hard that it's like a jackhammer-sized nail gun ramming bolts into concrete at high speed while the operator howls and shrieks for all he's worth, segmented by a start-stop breakdown that will give your skull a good rattling and lit up by swarming guitar flurries that are as fiery as the torches in the video (Burn)." (Mouchido EP 2016) – No Clean Singing
" the band live up to their name with each song on this 4 track EP going for straight for the throat; merciless aural violence and tight, technical proficiency melded with some serious might!" (Mouchido EP 2016) – Worship Metal

"Mouichido might only be a brief four songs and nineteen minutes long but, by the end of it, the Canadian death metal wrecking machine have left you in no doubt as to what they're about." (Mouchido EP 2016) – PureGrainAudio

"Right from the beginning you feel the weight and the immensity of Mouichido and one listen just doesn't do it justice. This is a re-release of previously recorded material with a new vocalist and even so, Without Mercy comes out swinging again and knocks it clear out of the park." (Mouchido EP 2016) – Cadaver Garden 

"possibly the most savage song to ascend from the depths of the west in a good long while." – Canadian Beats 
About:
WITHOUT MERCY are a Vancouver based death metal act that offers hard-hitting grooves paired with strong dynamics, each song catapulting the listener through pummelling riffing and virtuosic lead work. From 2018 into 2019 the band has been hard at work recording on their new album "Seismic" that raises their already impressive discography and songwriting to a new level. To elevate the band to new heights, WITHOUT MERCY worked with highly renowned producer Dave Otero (ARCHSPIRE, CATTLE DECAPITATION, ALLEGAEON) and brings further leverage and qualification to the new album "Seismic" with guest features from iconic guitarists Chris Broderick (MEGADETH) and Jeff Loomis (Arch Enemy / NEVERMORE).

In 2016 the band released 'Mouichido' (meaning 'repeat' in Japanese, a culture embraced in the band's ethos) The EP was critically acclaimed and also featured a guest appearance by CHIMAIRA vocalist Mark Hunter. The EP faced some significant setbacks that only served to strengthen the band, as such, guitarist DJ Temple offers
"The setbacks faced by the EP is the ultimate reason to never give up. Take the aggressive nature of the songs and allow the culture of the Japanese writing to envelop you in a way that will carry you through each track. Let this EP be the story that inspires you to push through something difficult and come out the other side a stronger and more experienced person."

Since the band's inception, WITHOUT MERCY have developed a growing following that has been built upon relentless local performances and touring across Canada, with the band performing over 200 shows in a short period, backed by performances alongside acts such as ABORTED, DEATH ANGEL, CROWBAR, SATYRICON and many more. The band's tenacity, growing profile, and intense musical prowess led to the attention of US agency Extreme Management Group, who established an international partnership with the band, placing WITHOUT MERCY alongside acts such as SUFFOCATION, CATTLE DECAPITATION, MISERY INDEX, and KRISIUN on the agency roster.

With a new album "Seismic" in preparation and growing interest in the band worldwide, WITHOUT MERCY are not only a band to look out for, but a band that will be contributing to the quality of modern death metal and the dynamism that the genre can offer.

"Seismic" is due out November 20th, 2020.
Discography:
2020 – Seismic – LP
2016 – Mouichido – EP
2014 – Reborn – EP
2009 – Without Mercy – LP
2007 – All Else Fails – EP
S
hared Stage with:
Cattle Decapitation, Satyricon, Crowbar, Unleash the Archers, The Convalescence, Neck of the Woods, Divinity
Tours and Festivals:
2016 – Loud As Hell Fest – Drumheller, AB
2016 – Armstrong Metal Fest
2014 – Loud As Hell Fest – Drumheller, AB
Music Placements:
ROCKBAND 3
Artist Endorsements:
EMG pick-ups
Ernie Ball
Dunlop
Album Title: Seismic
Release Date: November 20, 2020
Label: Self-Release
Distribution: Bloodblast Distribution
Track Listing:
1. Thunderbird (ft. Jeff Loomis) (4:53)
2. Abysmal (5:42)
3. Left Alone (4:00)
4. Wiindigo (4:55)
5. Disinfect The Soul (ft. Chris Broderick) (7:18)
6. The Disaster (3:52)
7. Possessed (4:04)
8. I Break The Chain (4:44)
9. Uprooted (4:58)
Album Length: 44:29
Album Credits:
• All songs performed by: WITHOUT MERCY
• All songs written by: WITHOUT MERCY
• Produced by: DJ Temple
• Mixed by: Dave Otero
• Mastered by: Dave Otero
• Album Artwork by: Brayden Eshuis
• Member of SOCAN
• Canadian Content (MAPL)
Album & Live Band Line Up:
Alex Friis – Vocals
DJ Temple – Guitars
Ryan Loewen – Bass
Matt Helie – Drums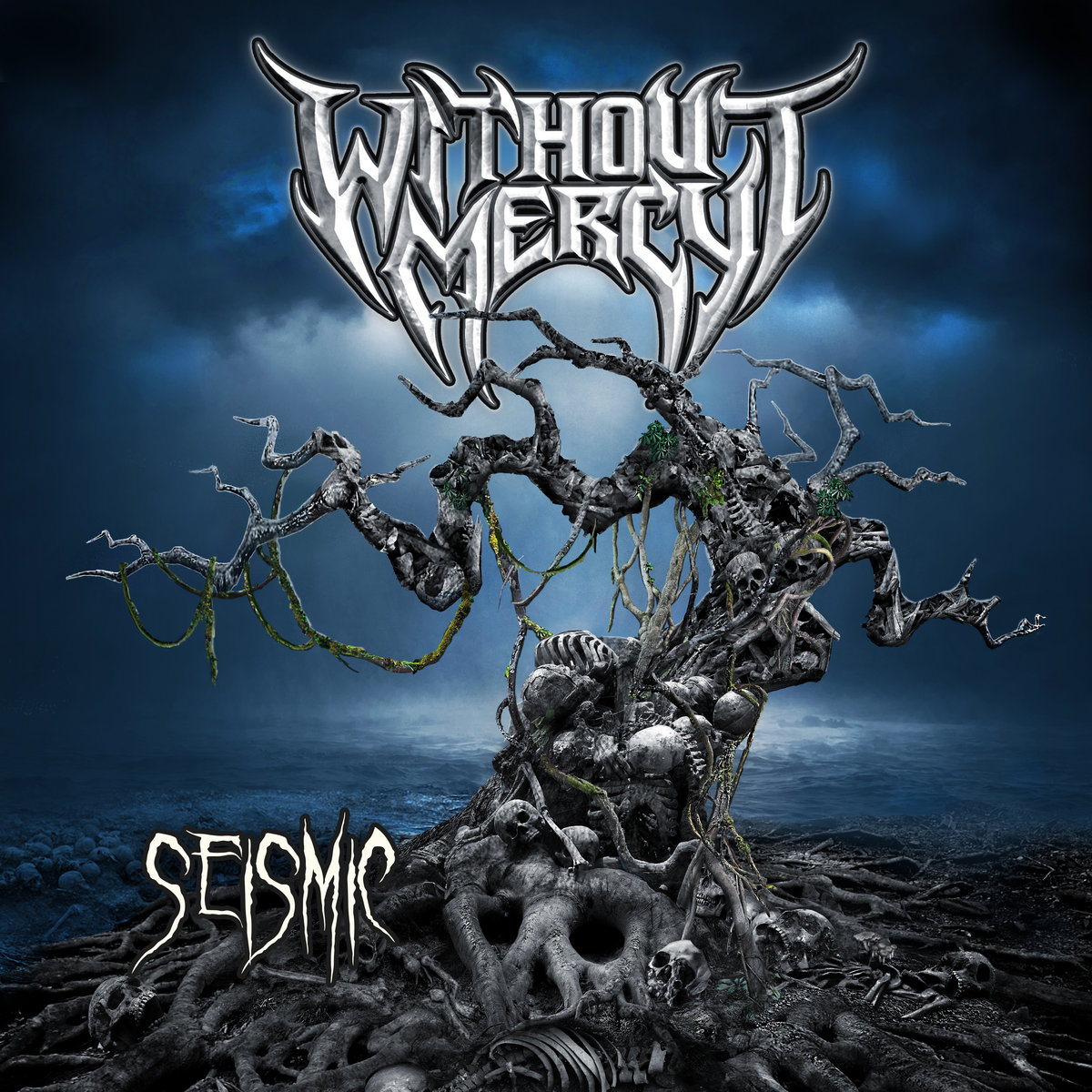 Attendees : 0