FIRE IN THE MOUNTAINS: Wyoming Outdoor Metal Fest Posts Full 2019 Lineup Including Wolves In The Throne Room, The Ruins Of Beverast, And More; Early Bird Ticket Presale Begins Tomorrow
Wyoming-based outdoor metal festival FIRE IN THE MOUNTAINS returns in 2019 with its largest lineup and gathering date. The lineup for this year's event has been finalized as special early bird ticket presales are posted.

Leading with a campfire pre-show on July 12th, the main events of FIRE IN THE MOUNTAINS 2019 are set to take place on July 13th and 14th. Now confirmed to headline the festival is iconic Cascadian black metal act Wolves In The Throne Room, who joins the diverse lineup also including a very rare US performance by German black/death/doom outfit The Ruins Of Beverast, the first-ever US performance by Scottish folk/black metal band Saor, sets from Blood Incantation, Slim Cessna's Auto Club, and much more. View the full lineup below.

FIRE IN THE MOUNTAINS 2019 Early Bird Full Festival Passes will be going on sale at $99.00 starting this Saturday, January 12th at 12 Noon MST at www.fitmfest.com, the preorder strictly limited to 200 tickets. Regular festival passes will be released in February.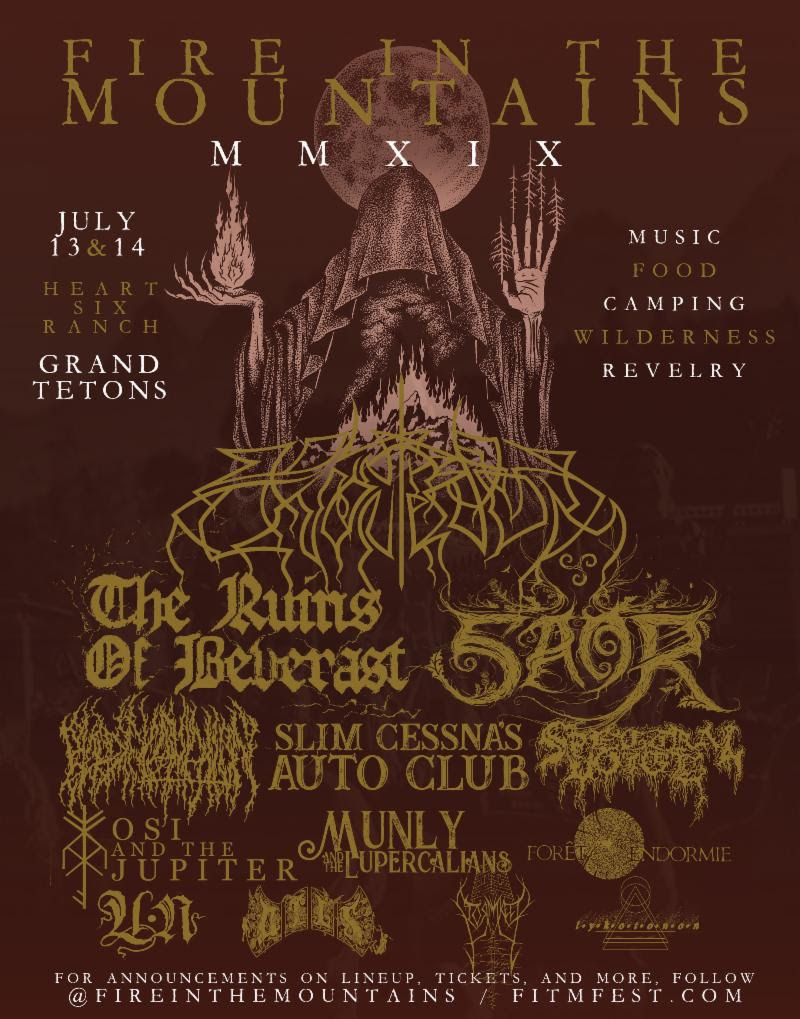 FIRE IN THE MOUNTAINS 2019 Lineup:
Wolves In The Throne Room
The Ruins Of Beverast
Saor
Blood Incantation
Slim Cessna's Auto Club
Spectral Voice
Osi And The Jupiter
Munly And The Lupercalians
Un
Ails
Foret Endormie
Stormkeep
Lykotonon

FIRE IN THE MOUNTAINS is a singular event, taking place in front of the Rocky Mountains' crowning jewel, the Grand Tetons just outside of Jackson, Wyoming. Getting its start as a rogue one-off show in the wilderness, the FIRE IN THE MOUNTAINS festival is now a multi-day event showcasing the live performances of some carefully curated bands performing on an outdoor stage directly in front of the Tetons, as the sun sets behind them. It is two days of music, art, and revelry nestled deep in the beauty of nature, providing an escape from the trappings and monotony of modern civilization both through the music on display and through the beauty and isolation the atmosphere uniquely provides.

Festival attendees can also camp at nearby Heart Six Ranch to eat, drink, and have access to sponsored hiking trips, whitewater rafting, backpacking, fishing, canoeing, horseback rides, and other outdoor activities during daytime hours preceding the musical performances in the evening.



https://www.fitmfest.com
https://www.facebook.com/fireinthemountains
https://www.instagram.com/fireinthemountains