LORDS OF THE TRIDENT Announce Tour Dates w/ A SOUND OF THUNDER + New Music Video "Death Dealer"
Top L-R Lords of the Trident Current Line Up
Master Hercule "Herc" Schlagzeuger (Lead Drums) | Baron Taurean Helleshaar (Lead Guitar) | Fang VonWrathenstein (Lead Vocals) | Asian Metal (Lead Guitar) | Pontifex Mortis (Lead Bass)
Photo Credit - Mary Sweeney
LORDS OF THE TRIDENT announce their first quest of 2019 will be for "The Metal, Spikes, And Chicken-Fried Steak Tour" with A SOUND OF THUNDER. The metal warriors will be performing four dates kicking off the first in Cincinnati on January 17th and wrapping up the crusade in Atlanta on January 20th. The tour is in support of LORDS OF THE TRIDENT's 7th studio album "Shadows From The Past" released this past August. Album stream can be heard on Bandcamp, Spotify, and Youtube along with their new music video "Death Dealer" here.
Vocalist Fang VonWrathenstein comments:
"Your LORDS are prepping for battle - and our friends A Sound of Thunder are joining in the fray! We're excited to escape the cold and bathe in the blood of our enemies in the South-East! Along the way we'll be joining forces with other worthy bands such as Mega Colossus, Automaton, Siegelord, and more! Bar your doors, shutter your windows, and prepare for a metal pillaging unlike you've ever experienced before!"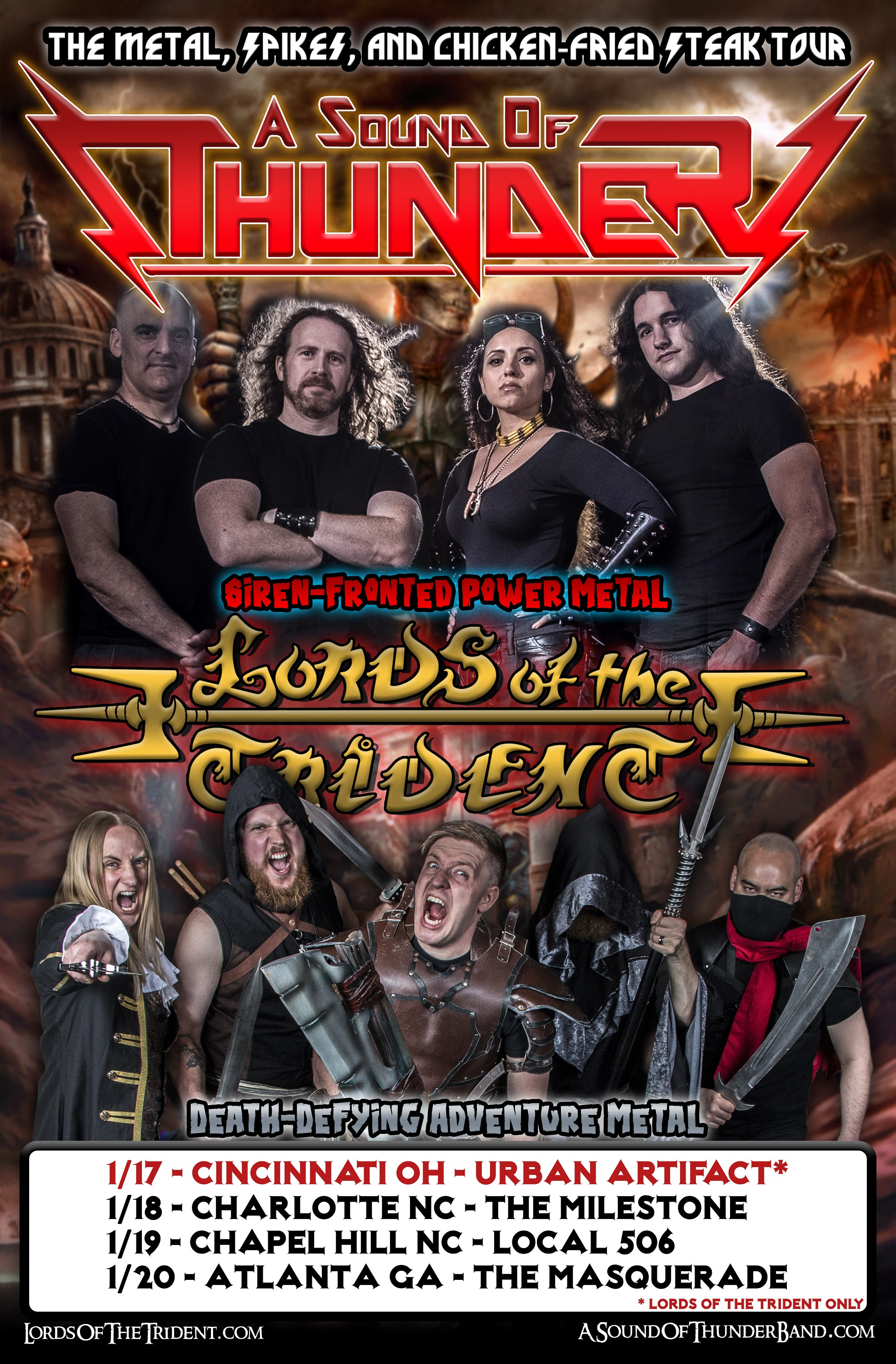 Tour Dates:
Jan 17 - Cincinnati, OH - Urban Artifact *(LOTT only)
Jan 18 - Charlotte, NC - The Milestone - info
Jan 19 - Chapel Hill, NC - Local 506
Jan 20 - Atlanta, GA - The Masquerade - info
In additional news, the band recently released their limited edition Blood Red Vinyl for "Shadows From The Past", which is a dual vinyl, 45RPM that comes with a Gatefold Booklet with artwork/lyric insert along with a 320kbps MP3 download card. It is exclusively available on the band's website here.
"This is our FIRST vinyl release, and we're incredibly excited to finally have this available! Fun fact: since this is the first press, instead of red dye, we used the blood of the unworthy who were slain at our concerts! Gives it a little extra touch!" says vocalist Fang VonWrathenstein.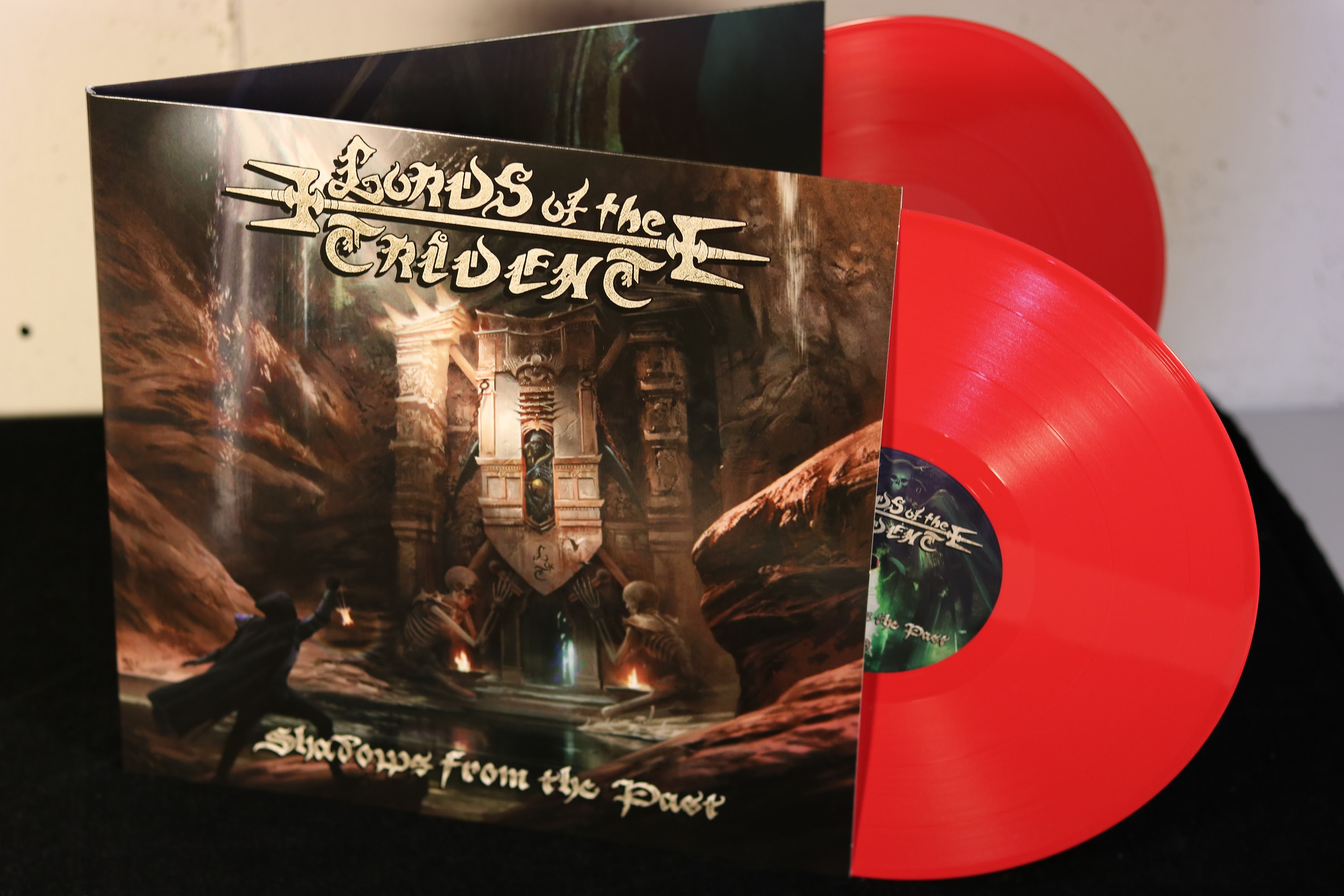 Digital stream and download of "Shadows From The Past" is available on the band's website here plus iTunes and Amazon.
For more info:
http://www.lordsofthetrident.com
http://www.facebook.com/LordsOfTheTrident
http://www.twitter.com/LordsOfTrident
http://instagram.com/lordsofthetrident
BIO:
Since climbing out of a volcano in 2008, shrouded in metal and ash, Lords of the Trident have gone to battle on many stages across the USA, playing and headlining a plethora of festivals and have an admirable arsenal of recordings in their inventory. The Lords of The Trident have released three full albums: "Death or Sandwich" (2009), "Chains on Fire" (2011), "Frostburn" (2015) , three EPs: "Plan of Attack" (2013), "A Very Lords of the Trident Christmas" (2014), "Re:Quests" (2015), and two live DVDs, along with numerous compilation singles.
Their live shows include medieval costumes, pyrotechnics, confetti cannons, guitars set ablaze, and of course, excellent technical musicianship that challenges the standard for how live music should be experienced. Citing influences such as Iron Maiden, Scar Symmetry and Judas Priest, and embracing lyrical themes inspired by great battles, conquests, dragon-fighting, virtual reality, and out-of-control robots Lords of the Trident dish out face-melting power that is enjoyed by fans of all races and classes.
- 30 -
"Overall this album keeps the fighting spirit alive and well! The band is tight, the sound and production quality of the album is solid; The Lords Of The Trident is truly a band on the rise, and there is no question as to why."- OVERDRIVE Music Magazine
"This is some solid power-metal, along the lines of Kamelot, complete with soaring, technical leads with just a dash of prog...I love me some gallops, and this track (Reaper's Hourglass) is chock-full of them. Drummer Master "Herc" Hercule Schlagzeuger boasts impressive stamina, following the gallops on the guitar throughout the entire song while holding down solid snare and cymbal work." - Gear Gods
"Shadows From The Past is a fun and well-executed power metal album." – Heavy Music Headquarters
"Lords of the Trident epitomize the spirit of USPM on "Death Dealer," with fast and exciting riffs, strong tenor vocals, and a healthy dose of fantasy nerdery." – Toilet ov Hell
"I think Lords Of The Trident could be a welcome addition to the European festival circuit, bringing fun and great music. This is a entertaining album, musically very enjoyable, lyrically funny and a good production. Time for Lords Of The Trident to sail the European shores." - Lords of Metal
"Melody and harmony drive Lords of the Trident sonically – and this is prime US traditional metal for those who love the genre and want something new to treasure." - Dead Rhetoric
"Lords Of The Trident has the uncanny ability to fuse both power and groove into their heavy metal. Bang your head, do windmills if you still have the hair to do so, or tap your toes, the Lords have their heavy metal rock groove going." - Dangerdog Music Reviews