Thunderbird Divine and Salt of the Earth Records Reveal 'Magnasonic' Album Art and January 11th Release Date With Promo Video for "Djinn Au Jus"
Philly's psychedelic space hippy enclave, Thunderbird Divine, has set an official domestic release date of January 11, 2019, for its debut album, Magnasonic, with Salt of the Earth Records. The offering is a 30-plus-minute exploration of riffs and psychedelia, featuring custom art design by the band's bassist, Adam Scott.
"The inspiration for Magnasonic's artwork stems from classic optical and psychedelic line art," Scott explains. "It then evolved to the stargate space exploration of graphic symbolism, which we feel reflects the music's loud vibrance."
Connecticut-based Salt of the Earth Records, home to releases by Earthride, When the Deadbolt Breaks and Atala, is enthusiastic about this upcoming release.
"Everything about this album is beautiful, focused and original," says Scott Harrington, president of Salt of the Earth Records. "From the instrumentation, songwriting, performances and recordings to the sacred geometry in the art direction, everything about Magnasonic speaks to the depth and talent of Thunderbird Divine. This will set the bar for bands to come."
Advance orders for Magnasonic start December 7, 2018, at www.saltoftheearthrecords.com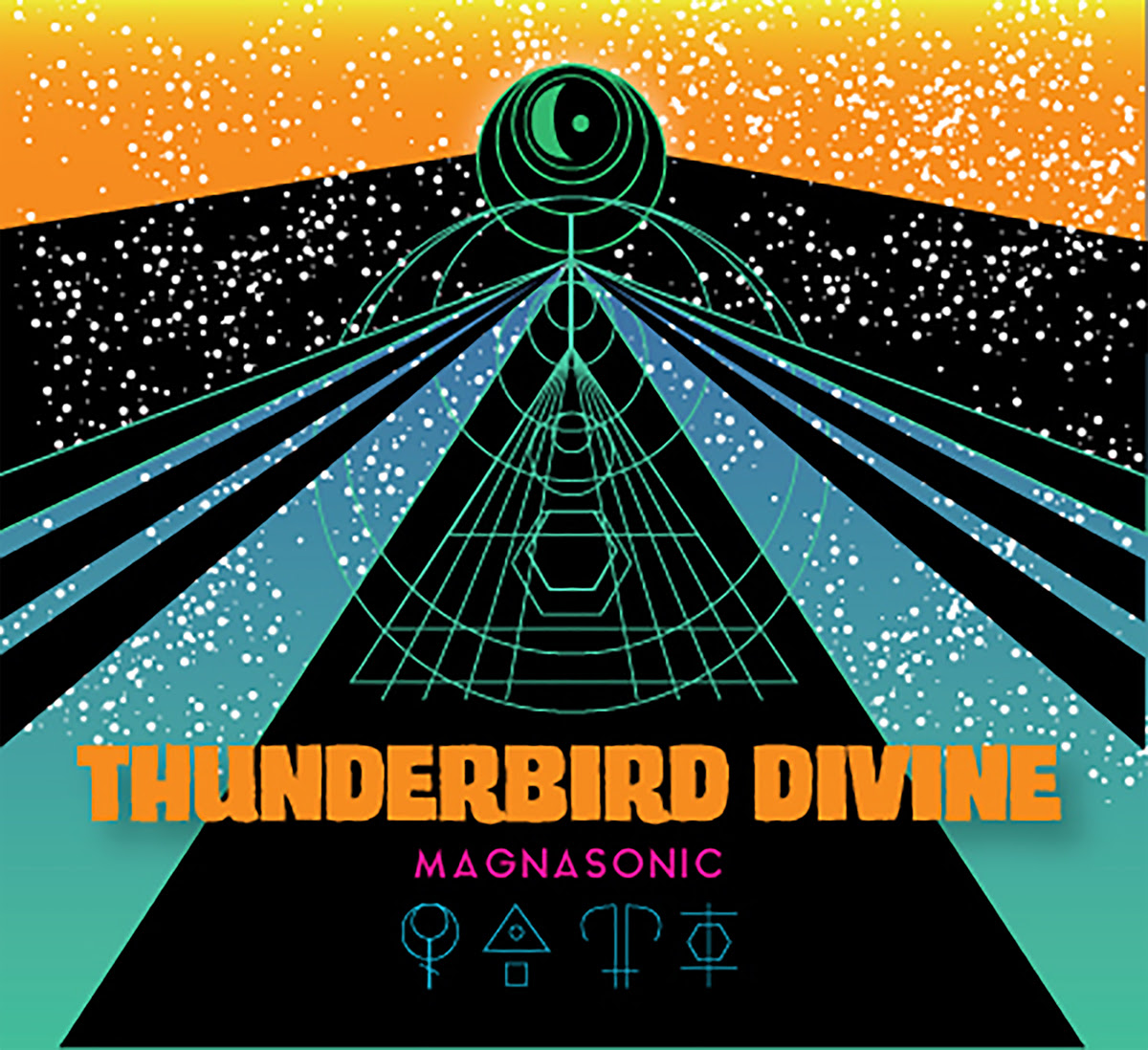 Magnasonic - Track List:
1. Qualified
2. 'Til Shiloh*
3. Bummer Bridge
4. The Devil's Hatband**
*features additional vocals by Kermit Lyman III of Sheena and Thee Nosebleeds
**features additional vocals by Andy Martin of Clamfight


Produced by the band and recorded at both Ted Richardson at TedAudio in Philadelphia and Charles Newman (who also mixed the album) at Cottage Sounds Unlimited in Brooklyn, 'Magnasonic' shows the quartet, which coalesced in March of 2017, is not willing to be pigeonholed as a strictly stoner/doom rock band. Featuring Adam Scott on bass and guitars, Flynn Lawrence on guitars and additional instrumentation, Mike Stuart on drums and percussion and Erik Caplan on guitars and various instruments,Thunderbird Divine went for an unexpectedly broad tonal variety with 'Magnasonic'.
"A first record is often considered a band's mission statement," Caplan says. "We feel a lot of bands' first releases set the tone for their careers as heavy, funky, trippy, fast or sludgey, and once they do that, any deviation from the initial sound can be perceived as false or a slacking in its rock responsibilities. We wanted come out of the gate with something diverse but representative. We wanted to leave ourselves with plenty of sonic options for the future."
Layered with unlikely elements like marxophone, electric sitar, piano and a variety of synths, Thunderbird Divine is unlikely to be stylistically shackled in upcoming releases.
"This album pulls out a lot of stops and frees us from genre limitations," says Stuart. "After this debut, our next record could be total Motorhead worship, and anyone who hears this one first should be able to hear how we got there. Not that we'll necessarily do that, but it's certainly an option."
As with the band's previous press releases, Thunderbird Divine once again offers listeners a non-album track with a promotional video. The band's newest video track, "Djinn Au Jus," is an unconventional pairing of early '90s R&B with '70s arena rock instrumental explorations. The self-recorded song was set to video by drummer/percussionist Stuart.
"The story continues here," Stuart explains. "We're moving forward; onward and upward. We're setting the tone for Magnasonic with these short songs and videos."
Thunderbird Divine - "Djinn Au Jus" -
Non-Album Track Video
Upcoming Live Dates:

Nov. 30, 2018 - Philadelphia, PA (w/ High Reeper, Green Meteor, Ritual Earth)
Mar. 20, 2019 - New York, NY - ODE TO DOOM (w/ Geezer, The Ancient Stone, TBA)
May 3-5, 2019 - Jewett City, CT - New England Stoner & Doom Fest 2
What they're saying:

"I don't know what the hype is ultimately going to be like for Thunderbird Divine when it comes to their debut album, Magnasonic, but I do know that the record resides in its own niche of psych-informed classic stoner and sludge rock, and I do know that there's more going on with it the more one listens. It's been on my list of most anticipated albums pretty much since the band announced they'd gotten together last year as formed by members of Philly-based outfits Skeleton Hands and Wizard Eye." ~ JJ Kozcan - The Obelisk
MORE:
Facebook: https://www.facebook.com/thunderbirddivine/
Instagram: https://www.instagram.com/thunderbird_divine/
YouTube: https://www.youtube.com/channel/UCR8Nd9t0jf_8LfiWG7A7T8Q
Salt Of The Earth Records: www.saltoftheearthrecords.com/