Happy 5 Year Anniversary MDR, You Have Been Listened To Now Over 2 Million Times!
What a crazy strange trip this has been so far in the world of heavy metal internet radio! Five years ago, my wife and I decided to start this station Metal Devastation Radio! For those of you that were with us back then, you might remember I had a show on another radio station called MHR for a few years prior to MDR.  
Things were not going so great at that station as it was not as inclusive in my opinion as a radio station network should be, to put it plainly and not go into the full story as that is a long one. But for many reasons we felt it was time to move on and break out and create our own home for metal bands, metal fans, PR and underground labels to showcase the best of the underground with the mainstream mixed in.  
At first, we had the idea to include many other radio stations into what we hoped would be a network to share, discover and learn from each other. That idea fell apart fast as many of the other stations seemed to despise us and hate on us as we gathered fans and they soon jumped ship. So, we decided we would focus on our own network and help the bands, PR and labels that wanted the help and together we began to build what is now known as Metal Devastation Radio.  
We built a networking website that goes far beyond just radio itself and we have reached the farthest corners of the earth promoting and interviewing bands from all over the globe! With a full-on metal social network embedded in our website and our massive reach on social media we used blogs and other tools to decimate the world with metal! 
MDR has had the amazing opportunity to interview bands and legends like Doro from Warlock, Cradle Of Filth, Goatwhore, Six Feet Under, Megadeth, Eyehategod, Corrosion Of Conformity, Morbid Angel and soo many more! 
We have helped bands and artists in the underground like Methane, Tribulance, Gravehuffer, Jason Aaron Wood, and many more reach massive audiences with our reach! 
MDR has been repeatedly showcased as one of the top metal stations on Stream Licensing's Website! We have earned the opportunity to be media sponsors at some of the biggest metal festivals around the globe and we have built some very strong relations with some of the biggest names in heavy metal PR! 
Today we celebrate 5 years and as I sit here and look at these statistics of what we have done for the metal community over just the last 5 years alone, I am literally mind blown! 323,546 metal heads have now tuned in to MDR 2,033,166 times from 207 countries all over the planet! Our website with the blog and social media built in which is still fairly new, built in Jan 2017 has now reached 1,140,400 views from 328,630 metal heads all over the world! Our Facebook page has been liked 38,702 times and reaches thousands weekly. Countless groups on Facebook controlled by our staff reaching thousands more. Thousands of followers on Twitter and Linkedin interacting with daily posts from Metal Devastation Radio's Blog! In just 5 years we have done this much and I look forward to the next 5 years of devastation with all of you and all of the metal heads we shall meet on our way!  
This image below shows the total listeners 323,546 tuned in 2,033,166 times from 207 countries!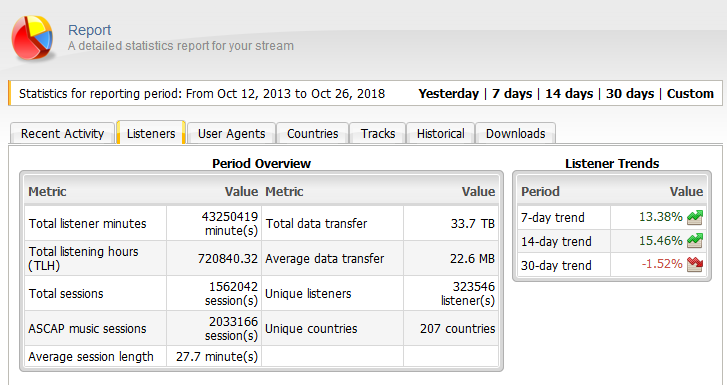 This image below shows the top ten countries by listening numbers!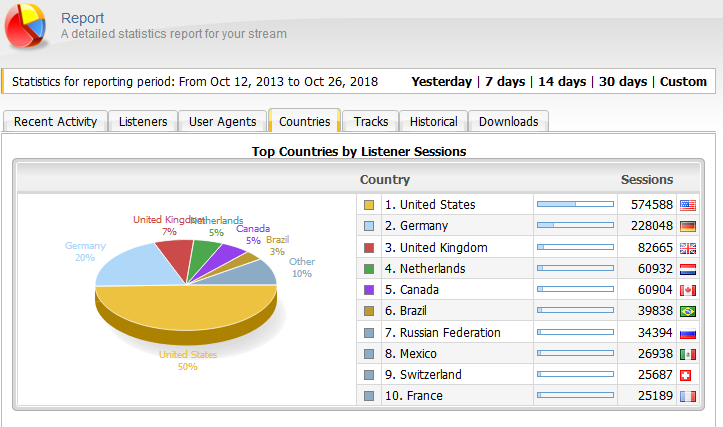 This image below shows the Google stats on our website since it was built in 2017!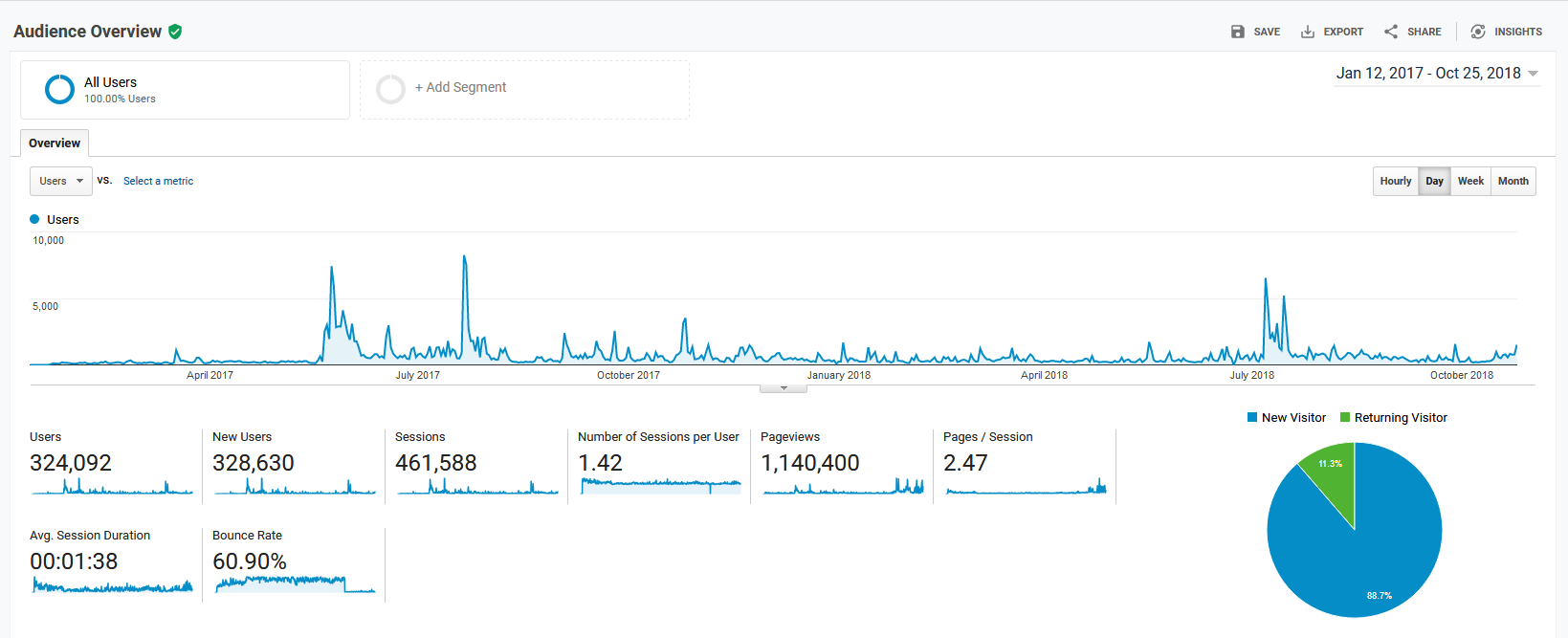 Tonight on my show i will have a beer with you guys and girls and toast our accomplishments! Cheers motherfuckers!