October 25, 2018 – Los Angeles, CA - Fresh off a coast-to-coast tour with Exmortus, the "face-melting shred" quartet IMMORTAL GUARDIAN – whose recently-released debut album, "Age Of Revolution," was praised by MetalSucks as "seriously epic symphonic power metal" – will support guitar legend Marty Friedman (Megadeth, Cacophony) on a month-long American tour that kicks off January 23 in San Diego, Calif. The complete itinerary appears below.

To both celebrate the upcoming shows and salute Friedman's influential work with fellow guitarist Jason Becker in the pioneering guitar duo Cacophony, IMMORTAL GUARDIAN founding guitarist and keyboardist Gabriel Guardian has posted a new "dual shred" video in which he performs on the two instruments simultaneously. Check out his rendition of Cacophony's "Speed Metal Symphony" at this location:
Last month, IMMORTAL GUARDIAN released their debut full-length, "Age Of Revolution," via M-Theory Audio. The label has just launched a pre-order for a limited-edition vinyl release of the album, which is on sale now on Bandcamp and in the M-Theory webshop.
In recent weeks, Gabriel has toured extensively both with IMMORTAL GUARDIAN and as a guest member of PowerGlove. While on the road with the latter band, he had emergency appendicitis surgery before a show in Portland, Oregon but was back on stage again the following night. ("I'm now missing an organ, but at least I still have my keyboard," he joked at the time.) As anyone who saw IMMORTAL GUARDIAN live last month can attest, Gabriel has fully healed and can't wait to return to the road to spread the shred alongside Friedman.
"Going on tour with Marty is definitely an honor," Gabriel says. "I have been admiring his guitar skills since I was a kid. A dream come true to share the stage with one of today's greatest players. The band and I are very excited to bring the new music to new cities we have never played before, so this is an all-around great experience for us to proudly be a part of."
Hailing from the same state as guitar greats Dimebag Darrell and Stevie Ray Vaughan, IMMORTAL GUARDIAN proudly fly the flag of musical innovation and virtuosity for the Lone Star State. Over the past few years, the group has released two acclaimed EPs, "Revolution Part I" (produced by Roy Z of Halford/Bruce Dickinson fame) and "Super Metal: Edition Z," that showcased a full-frontal assault of anthemic melodies, technical rhythms, furious shred and high-flying vocals by Brazilian vocalist Carlos Zema (ex-Outworld).
In support of their EPs, the group has made jaws drop on stages in not only their home state – where they've performed alongside some of the biggest names in metal, including Judas Priest, Dragonforce, Kamelot, Symphony X, Sonata Arctica, Slayer, Metal Church, Soilwork and Steve Vai – but also abroad in countries such as Brazil and Russia, and during high-profile performances at ESPN's X Games, South By Southwest and the Fun Fun Fun Fest.
In addition, Gabriel has developed an extensive following on YouTube, where his unique dual-instrument covers of classics by the likes of Iron Maiden, Pantera and Guns N' Roses have garnered hundreds of thousands of views. His virtuosity was also recently showcased on the MTV program "Amazingness."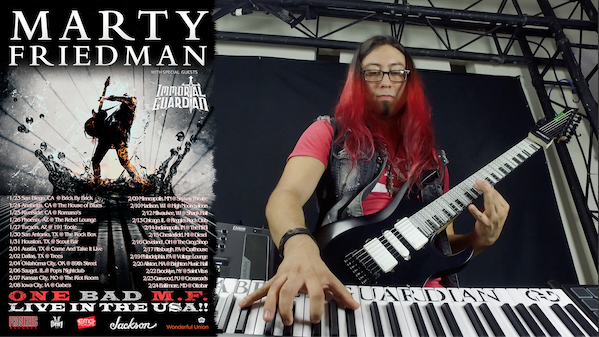 IMMORTAL GUARDIAN live (w/ Marty Friedman):
1/23 San Diego, CA – Brick By Brick
1/24 Anaheim, CA – House of Blues (Parish Room)
1/25 Riverside, CA – Romano's Concert Lounge
1/26 Phoenix, AZ – Rebel Lounge
1/27 Tucson, AZ – 191 Toole
1/30 San Antonio, TX – Rock Box
1/31 Houston, TX – Scout Bar
2/1 Austin, TX – Come And Take It Live
2/2 Dallas, TX – Trees
2/4 Oklahoma City, OK - 89th Street
2/6 Sauget, IL – Pop's
2/7 Kansas City, MO – Riot Room
2/8 Iowa City, IA – Gabe's
2/9 Minneapois, MN – Studio B at the Skyway Theatre
2/10 Madison, WI – High Noon Saloon
2/12 Milwaukee, WI – Shank Hall
2/13 Chicago, IL – Reggie's Rock Club
2/14 Indianapolis, IN – The Hi-Fi
2/15 Detroit, MI – Diesel Concert Lounge
2/16 Cleveland, OH – Grog Shop
2/17 Pittsburgh, PA – Craft House
2/19 Philadelphia, PA – Voltage Lounge
2/20 Boston, MA – Brighton Music Hall
2/22 Brooklyn, NY – Saint Vitus
2/23 Garwood, NJ – Crossroads NJ
2/24 Baltimore, MD – Ottobar

IMMORTAL GUARDIAN is:
Carlos Zema - Vocals
Gabriel Guardian - Guitar/Keyboard
Cody Gilliand - Drums
Thad Stevens - Bass

Websites:
www.ImmortalGuardian.net
www.GabrielGuardian.com
https://www.facebook.com/igmetal
https://www.facebook.com/gabrielguardianmusic