Brazilian-Hearted Heavy Metal:
NOTURNALL conquer the globe with a new video single and an international release
of their album Cosmic Redemption;
Start of UK tour supporting metal legend Paul Di'Anno!
A Brazilian storm gloriously races towards the world: NOTURNALL is at the heart of the matter! This vivid power metal band is known for its restless touring through international grounds and highly inventive stage performances. Swinging back and forth between melodic, groovy and impressively dynamic music, the band displays expert levels at their instruments, moving close to the sound of Angra and Symphony X – albeit in a heavier package.
Countless prominent musicians of the metal community have already collaborated with this untamed Brazilian force: Michael Kiske (Helloween, Unisonic), Mike Portnoy, James Labrie (Dream Theater), Russell Allen (Symphony X, Adrenaline Mob), Michael Romeo (Symphony X) and more. Among the myriad maneuvers to be witnessed by the audience were 360 degree spinning drums moving fully upside down, exotic pole-dancers in zombie costumes and an entire magic show conducted by a professional magician. Completing the spectacle, the band is well-known for eruptive stage moves, stage dives, mosh pits, powerslides and a signature plastic ball, free to play with for the audience. Better even: Fans who love all of the above, can take it back home in their pockets, as NOTURNALL are one of the few acts who make it all available on DVD – a fan-exclusive btw, which can only be bought at their shows for now. NOTURNALL is currently  in the middle of a World Tour, by the end of which the band will have played in over 100 cities, 20 countries and on 5 continents.
But NOTURNALL have another ace up their sleeves: They will be rocking the stages with none other than Paul Di'Anno (Ex-Iron Maiden) on the route from Europe to Australia! Di'Anno has been going through a rollercoaster of setbacks in his life but the incredible love for metal connected the Brazilians to him while the international community helped him to get back on track. This wintertime will certainly be filled with classy stage performances from NOTURNALL and Di'Anno.
Right now, NOTURNALL are ready to delight the fans even more with the new video-single Shallow Grave from the upcoming international release of their album Cosmic Redemption. Luckily, the composition turned out to be an absolute crowd-pleaser, before it almost didn't make it on the album. Behind the scenes of this composition lies a tragic story, as the band explains: "Shallow Grave talks about artist struggles and abusive relationships where you give your all for your art and get very little back in return and you'll probably end up forgotten and buried in a shallow grave."
Inside a picturesque cave, the video tells a powerful tale marked by guitar virtuosity, a huge drum sound and traditional heavy metal riffing. Unfolding the drama, the vocals move from a soft longing to a charismatic rock sound. NOTURNALL picked their longest song as one of their favorites and reveal: "We had an amazing time shooting this video in a place called Caverna do Diabo, which translates to 'The Devil's Cavern', such a breathtaking and otherworldly environment, with a lot of humidity and bats flying over our heads all the time." 
The international release of Cosmic Redemption marks a pathway for NOTURNALL into global  metal territory. On the CD, 13 magnificent tracks, including features from renowned artists, such as James LaBrie, Mike Portnoy (Dream Theater) and others, deal with the cosmic turns the world takes – on the micro level as the struggles of individuals, as well as on the macro level in the shape of corruption and battles in society. The term Cosmic Redemption represents the objective for each human to grow as a person and leave the world as a better place than it was. The album was written during the disruptive time of the pandemic and motivated the band members to keep going. Cosmic Redemption is digitally out now – everywhere! The physical release will follow on November 24, 2023. Make sure to get your copy of this legendary, meaningful album:
Get Cosmic Redemption by NOTURNALL now via
https://orcd.co/cosmic_redemption
Tracklist CD Cosmic Redemption:
1. Try Harder
2. Reset the Game
3. Lie to You
4. Shallow Grave
5. Shadows (Walking Through) (feat. Orchestra by Michael Romeo)
6. Cosmic Redemption
7. Scream! For!! Me!!! (feat. Mike Portnoy)
8. O Tempo Não Para (feat. Ney Matogrosso)
9. Take Control (feat. David Ellefson)
10. The Great Filter
11. Never Again (Bonus Track)
12. Hey! (Live Bonus Track feat. James LaBrie)*
13. Scream! For!! Me!!! (Live Bonus Track feat. Mike Portnoy)*
*Digital release will feature bonus track Shallow Grave (Edit) instead.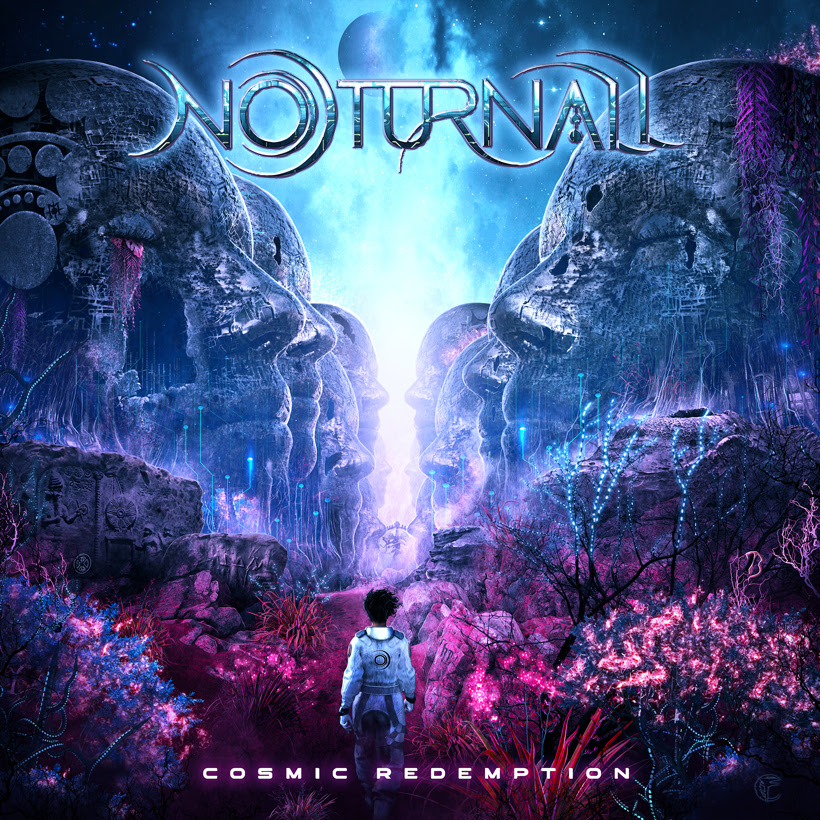 ABOUT NOTURNALL
NOTURNALL. This is the name of the young group that, in less than 10 years on the road, is already considered one of the biggest and most important bands in Brazilian Heavy Metal history.
Starting in 2014, the band's brief but intense history brought some legends of the Brazilian metal scene together that left their marks on worldwide renowned bands, such as Shaman, Angra and Project46. They also have in their line-up legendary North American guitarist Mike Orlando, who sold hundreds of thousands of album copies with ADRENALINE MOB and was listed a Top 100 guitar Player Of All Time and also a Top 10 Superstar Of The Year 2008 by Guitar Player Magazine.
Iconic concerts, bold tours, thrilling music videos and guest appearances by Heavy Metal legends from all over the world, such as Michael Kiske (Helloween, Unisonic), Mike Portnoy, James Labrie (Dream Theater), Russell Allen (Symphony X, Adrenaline Mob), Michael Romeo (Symphony X), Edu Falaschi, among others, consolidate the band as a true jewel of Brazilian Heavy Metal.
In 2022, after almost 2 years away from stage, NOTURNALL started the year with a nostalgic concert in SESC 24 de Maio, presenting classic songs. They also released their fourth studio album, entitled Cosmic Redemption, showcasing the band's best shape and also featuring very special guests: guitarist MARTY FRIEDMAN and bassist DAVID ELLEFSON (both former MEGADETH), founding SYMPHONY X guitarist MICHAEL ROMEO, the internationally renowned prog metal drummer MIKE PORTNOY (DREAM THEATER, THE WINERY DOGS, SONS OF APOLLO), who previously toured with the band and appeared in the video for their single SCREAM! FOR!! ME!!!, as well as Brazilian MPB legend NEY MATOGROSSO.


Confirmed TOUR DATES 2023 + 2024
Check back for tour date updates here:
https://www.bandsintown.com/a/11390720-noturnall
EU + UK 2023
Nov 21 – Newcastle, Trillians Rock Bar, UK
Nov 22– Edinburg, Bannerman's, UK
Nov 23 – Edinburg, Bannerman's, UK
Nov 24 – Troon, Winterstorm Festival, UK
Nov 25 – Bradford, Nightrain, UK
Nov 26 – Blackpool, The Waterloo Music Bar, UK
Nov 27 – Crumlin, The Patriot, UK
Nov 28 – Crumlin, The Patriot, UK
Nov 29 – London, Underworld, UK
Dec 01 – Weston Super Mare, The Electric Banana, UK
Dec 12 – Athens, Gagarin 205, Greece
Dec 3 – Thessaloniki, Principal Club Theater, Greece
Dec 5 – Diest, Hell,  Belgium
Dec 8 – Doetinchem, Café de Engelenbak, Netherlands
Dec 9 – TBC, Germany
Dec 10 – TBC, Germany
Dec 11 – TBC, Switzerland
Dec 13 – Padova, Hall, Italy
Dec 15 – Caselette, Civico 25, Italy
Dec 16 – TBC, France
Australian Leg 2024
Jan 16 – Perth, Australia
Jan 17 – Hindmarsh, The Gov,  Australia
Jan 18 – Brisbane, The Zoo, Australia
Jan 19 – Saint Kilda, Prince Bandroom, Australia
Jan 20 – Sydney, Australia
Latin American Leg 2024
Jan 27 – São Paulo, Brazil
Jan 28 – Sorocaba, Brazil
Jan 30 – Curitiba, Brazil
Jan 31 – Pomerode, Brazil
Feb 01 – Criciuma, Brazil
Feb 03 – Porto Alegre, Brazil
Feb 04 – Pelotas, Brazil
Feb 06 – Santa Maria, Brazil
Feb 07 – Caxias do Sul, Brazil
Feb 09 – Chapecó, Brazil
Feb 10 – Cascavel, Brazil
Feb 11 – Londrina, Brazil
Feb 13 – Bauru, Brazil
Feb 14 – Presidente Prudente, Brazil
Feb 16 – Araçatuba, Brazil
Feb 17 – S. J. Rio Preto, Brazil
Feb 18 – Uberaba, Brazil
Feb 20 – Goiânia, Brazil
Feb 21 – Brasília, Brazil
Feb 23 – Palmas, Brazil
Feb 25 – Imperatriz, Brazil
Feb 27 – Teresina, Brazil
Mar 02 – Fortaleza, Brazil
Mar 03 – Mossoró, Brazil
Mar 05 – Natal, Brazil
Mar 06 – João Pessoa, Brazil
Mar 07 – Campina Grande, Brazil
Mar 09 – Recife, Brazil
Mar 10 – Maceió, Brazil
Mar 11 – Aracaju, Brazil
Mar 13– Salvador, Brazil
Mar 15 – Vitória da Conquista, Brazil
Mar 17 – Montes Claros, Brazil
Mar 19 – Governador Valadares, Brazil
Mar 21 – Vitória, Brazil
Mar 22– Campos, Brazil
Mar 23 – Rio de Janeiro, Brazil
Mar 25 – Barbacena, Brazil
Mar 26 – Belo Horizonte, Brazil
Mar 27 – Poços de Caldas, Brazil
Mar 29 – Franca, Brazil
Mar 30 – Ribeirão Preto, Brazil
Mar 31 – São Carlos, Brazil
Apr 02 – Campinas, Brazil
Apr 03 – S.J. dos Campos, Brazil
More dates to be announced soon.
https://noturnall.com.br/en/
https://www.instagram.com/noturnall/
https://www.facebook.com/noturnallband
https://open.spotify.com/intl-de/artist/7xRCuSBEiVCIJWCSIYQ7Ni