Release Date: October 20, 2023
FFO: CANDLEMASS, SAINT VITUS, PENTAGRAM, REVEREND BIZARRE, CATHEDRAL
Location: Chile
Label: Witches Brew
In the summer of 2010, Fernando Opazo (FernanDOOMer) created MARCHAFUNEBRE as a solo project to satiate his need to make classic Doom. Fuelled by topics such as occultism, anti-christianity, nonconformity, death, magic and despair, the first compositions were completely immersed in Doom Metal, in its purest, traditional and epic state, having as main influences bands such as CANDLEMASS, SAINT VITUS, PENTAGRAM, REVEREND BIZARRE, CATHEDRAL among others.
During very cold and rainy days of winter 2010, the "Hymns Of The Final Holocaust" demo was recorded with FernanDOOMer doing all vocals and instruments. It was subsequently released by Peruvian label Morbid Legion Records in November that year. It is considered a cult record within the Doom Metal underground to this day! In order to play some live shows in 2011, FernanDOOMer recruits Octavio Zuñiga on bass, Ricardo Cabrera on guitars and Manuel Acevedo on drums.
In 2012, the band went on a standby state for an indefinite period of time, during which FernanDOOMer was in charge of composing new music which would be part of the band's first LP. In 2014 the EP "Under Will" was recorded with the line up of Ignacio (guitars), FernanDOOMer (vocals/guitars), Octavio (bass) and Rodrigo (drums) and later released in 2017 by Chilean label Australis Records. A promo rehearsal, with the same line up minus Octavio who was replaced by Daniel Perez Saa, called "The Middle Of The Night" would follow in 2019, released by Alcoholic Distro.
Forward to the year 2022 as the band releases their first official full length, "Veil Of Death", first independently on their Bandcamp and later on Peruvian label Gate Of Horror Productions. This masterpiece contains 5 cuts of pure heavy Doom sound! In 2023, as the band plans to embark on their first European tour, they join forces with German label Witches Brew to release the European version of "Veil Of Death" on both CD and LP.
Support them on Bandcamp!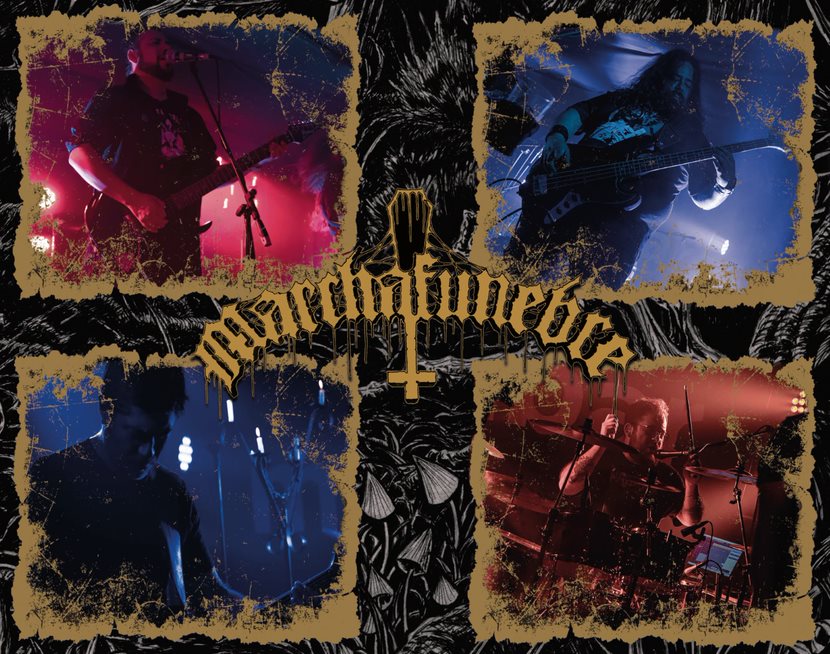 Follow the band and label at these links:
Facebook: http://www.facebook.com/pages/Marchafunebre/250455704970156
Instagram: https://www.instagram.com/marchafunebredoom/
Facebook: https://www.facebook.com/witchesbrewthrashes
Instagram: https://www.instagram.com/witchesbrewthrashes/
Bandcamp: https://marchafunebre.bandcamp.com/music
Bandcamp: https://witchesbrewthrashes.bandcamp.com/music