The Casket Kids - SHI - Reviewed By Powerplay Rock & Metal Magazine ! Check it out here at this link: https://powerplaymagazine.co.uk/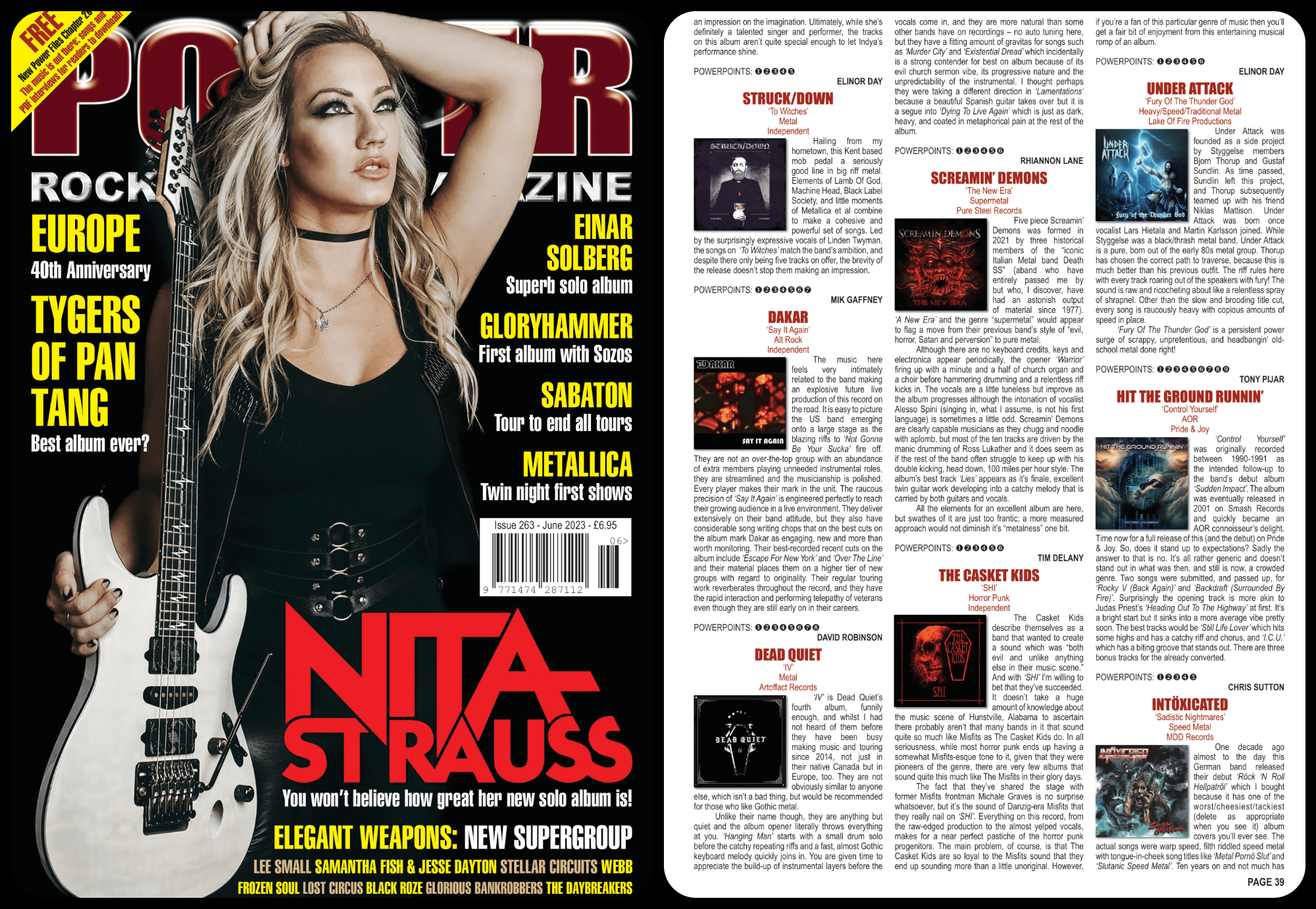 Release Date: May 9, 2020
FFO: Misfits, TSOL, Pentagram
Location: Huntsville, AL.
Brother Christian and Bradley wanted to create a band merging together horror, punk, rock n' roll, and heavy metal to create a sound both evil and unlike most others in their local music scene. Gaining a following quickly in their local arenas, they battled their way through the local bar scene and into bigger and better venues with their high energy and dark stage presence, playing to crowds of many different sizes from 10s to 1000s. They have been compared often to Misfits, Mourning Noise, Pentagram, Ramones, Fear, Venom, and Black Flag.  After overcoming many obstacles they have collectively survived just about anything that could be thrown at a band to stop it. And don't plan to give up anytime soon, a band doesn't make it this long without determination, that TCK has in spades. Through their years they have shared the stage with heavy hitters like the original punk band A Band Called Death, Blitzkid, Michale Graves, Koffin Kats, John Christ of Danzig, Argyle Goolsby And The Roving Midnight, Nim Vind, Random Conflict, Cancerslug, and others soon. The Casket Kids have a track titled Midnight on a soundtrack to the film Overtime directed by Mario Covone, named best comic/graphic novel writer in the U.K. In 2016. The TCK merch spread includes shirts, stickers, patches,buttons, posters, and cds. The band have a few write ups in indie zines such as Gad-Punk, Vinyl Lollipops, Catalepsia-Zine, and a promo ad in Rue Morgue.
TCK have songs included on several compilations including:
Horror Punks USA: Stand With Ukraine
8Up Records: Virginia Is For Vampires
The Birmingham Punk Rock Art Show Comp: The 1st 5 Years
Music Of Horrorpunks.com: Vol. 4

The Casket Kids have a debut full length album titled SHI, an acoustic album titled This Machine Kills Humans currently out, and are in the studio recording their next album titled Black Miasma.

And this is only the beginning…
Check them out on YouTube!
Follow them on Spotify and add them to your playlists!
Support them on Bandcamp!
Also available on Apple!

Members: 
Bradley Ace on bass 
Paul DuPont on guitars
Brennan Song on drums
Christian Youngblood on vocals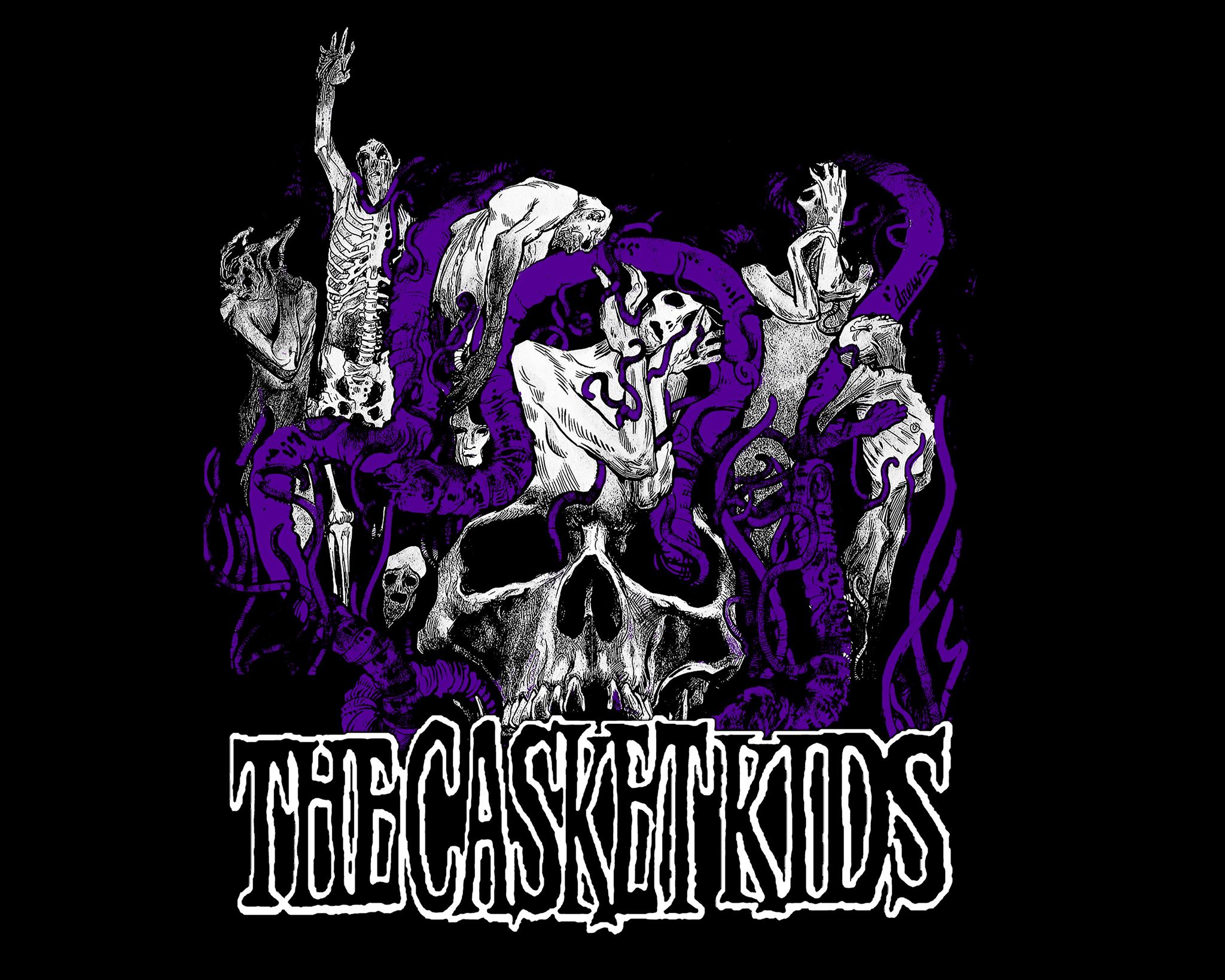 Follow the band at these links:
Instagram: https://www.instagram.com/thecasketkidsofficial/
Facebook: https://www.facebook.com/TheCasketKids13
https://thecasketkidsofficial.bandcamp.com/album/shi
https://music.apple.com/us/artist/the-casket-kids/1512543804
https://thecasketkids.bigcartel.com/
Booking Contact: 
Christianyoungblood13@gmail.com