Termination Force - Netherworld EP - Reviewed By jennytate ! Check it out here at this link: https://jennytate.wordpress.com/2023/03/21/termination-force-netherworld/
Powerfully titled Termination Force is a melodic thrash/power metal band, featuring sci-fi thematics, inspired by traditional 80's/90's metal, mostly from America and Germany. Founded in 2021, TF is composed of current members of T oledo Steel and Desolator. Based in Southampton, UK, they now present their newly released EP, 'Netherworld'.
After The Fall – A low, penetrating rumbling intro's, leading into a fabulous power scream. Riffs fitting right in. A straight out classic metal refrain. An intriguingly flexible vocal edge. A sound adaptable to rock opera, with the surrounding accompaniments to match. Very dramatic theatricality. Short, but effective.
Termination Force – Low bass line opening, this time, accompanied by a spacey, sci-fi vocal and an evil laugh. Then into a full on power metal section. Impressively held vocal tone. Rumbling on, into a traditional speed metal sound. A very natural inclination to this genre's clearly evident. Lots of melody. As much light as darkness. Drums injecting gathering tension, towards the end, then another skilfully held vocal note. Effortless.
Target Locked – Drum hits intro. Into a rhythmic structure, with a very apt siren sound. Continuing with that old school speed/power refrain. Very decent group anthems slot right into this arrangement. Brilliantly held vocal tones, again. Everything here just fits, so cohesively, in perfect sync. More sirens and a rushing riff refrain. Climbing up to that vocal finale. Faultless.
Heart Racer – Active drum fills open. Riffs joining in, with quality melodies. Catchy chorus. Showcasing a particular skill for those built-up vocal scales. Notably melodic and just a very intuitively channelled sound. Riffs exciting and adding plenty of screech. Definitely a contagious chorus). Great closing echo, steering into the skid).
Netherworld – Booming drum beats and slightly darker bass line intro. Rhythms hit, right from the start. Bringing it up and down, with consummate ease and panache. Edgy vocals. Conveying the themes, enthusiastically and engagingly. Effectively utilising contrast between backing anthems and lead vocals. Lowering the tone, 3/4 in, in a very Maiden-esque way. Again, holding those tones so naturally and capably, right to the end, with that final definitive note).
Overall – An easy one to big up, 'Netherworld' may well sound derivative, to some and perhaps even contrived, but it doesn't matter, regardless. Cos it hits exactly the right tone, in every respect, while delivering all the right ingredients, making for an enjoyably escapist, uplifting listen, well worth returning to, repeatedly. Say what you like about cliches, but 'Netherworld' has hooks galore and ultimately, proves TF know how to rock.
10/10 ********** jennytate
Release Date: 02/12/2022
FFO: Savatage, Hallows Eve, Metal Church
Location: Southampton, UK
Short Bio: TERMINATION FORCE is a thrash / power band from UK. Sci-fi themes combined with catchy solid riffs and powerful vocals. Featuring members of current established metal bands Toledo Steel and Desolator. Formed in 2021 out of a love of under appreciated late 80's / early 90's melodic metal predominantly from the USA and Germany.
Check out this video!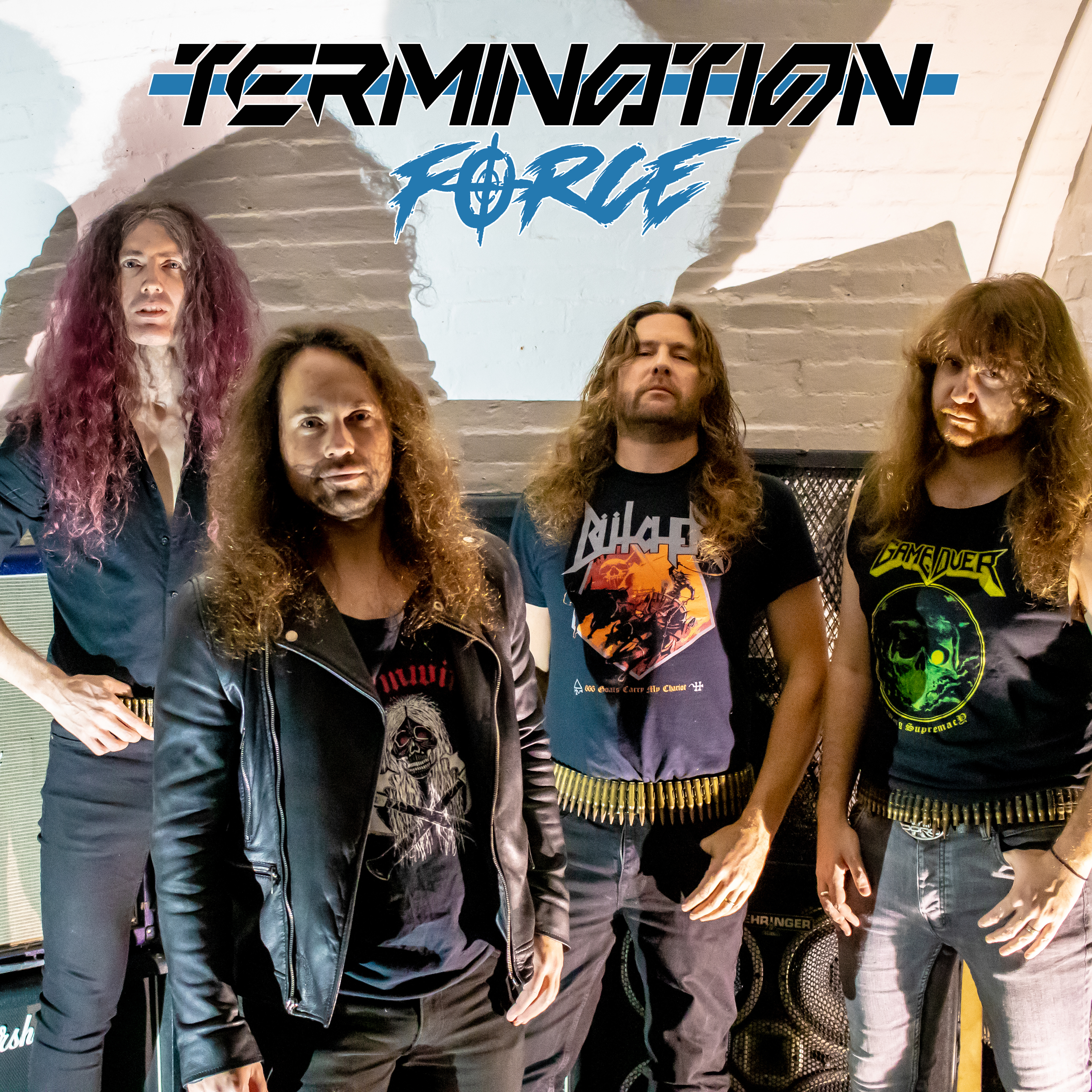 Follow the band at these links:
https://terminationforceuk.bandcamp.com/releases
https://m.facebook.com/terminationforce/
https://www.instagram.com/terminationforce
https://m.youtube.com/channel/UC4Zhe0opQx90Tgh8FFiggxw
https://open.spotify.com/artist/0nXRPKgn2SQMUP0ALE7Mxs