RIG TIME! (USA) - Reborn - Reviewed By Tuned Up ! Check it out here at this link: https://www.iamtunedup.com/rig-time-reborn/
I'll never forget the first time I saw RIG TIME! My ska band was playing a DIY festival in Fort Wayne. It was one of those days where everyone in the room was either playing in a band, watching the merch table, or helping with the festival. As disappointing as these shows might seem, there's a sort of camaraderie that forms between the acts, almost like a group of painters sharing what they've been working on.
RIG TIME! had already grabbed attention with their impressive merch booth, which included a combo TV/VCR playing some 80s movie (Cannonball Run maybe?). But when they took the stage, jaws dropped. The husband-wife two-piece seemed unassuming at the merch booth, but on stage among the eponymous rigs—drummer/vocalist Bryan Fleming's massive kit augmented by synths and samplers and Rebecca Fleming's seven-string guitar run through a pedalboard that would make most shoegazers blush and an array of enormous amp cabs—they became monsters.
Their new EP, Reborn, captures every detail of the monstrous heaviness I experienced that day (and every other time I've seen them since).

RIG TIME! plays with a passion that seems to exist at the center of all heavy music. Their palette uses broad strokes of hardcore, straightedge punk, doom metal, thrash, sludge, and even moments of industrial. These genre lines often feel so rigid and tribalistic—just imagine Minor Threat fans and Cult of Luna fans mingling at a party—but here, those sounds weave effortlessly, concerned only with making the heaviest noise possible.
At least that's their only sonic concern—lyrically, RIG TIME! wears their ethics on their sleeves. The record is filled with benedictions to clean living, DIY ethics, and a fierce passion for all-ages shows. The end of "Manifesto" plays a sample of a frontman going on a diatribe about bar shows, ending with the line, "Rock and roll shouldn't be dictated by clubs that want to sell drinks." On the crushing "Clean," Bryan recounts the deaths of his father and brother at the hands of suicide, asserting his own commitment to live a better life than the example he was shown, screaming, "I will remain clean" over a dissonant guitar line.
It's impressively heavy stuff—both sonically and lyrically. Its gravity is strong enough that it twists time around itself, feeling much longer than its fifteen minutes, sort of like a musical version of that planet in Interstellar where each second that passes is a full day on Earth. Potenetial spoilers for Interstellar. But Reborn is more than worth getting lost in time for. It's a massive statement that cements RIG TIME!'s place in the heavy DIY scene.
Reborn is out July 29th through State of Mind Recordings. - Tuned Up
Release Date: July 29, 2022
FFO: The Acacia Strain, Left Behind, Twitching Tongues, Xibalba, Candlemass, Kublai Khan, Korn, Integrity, Disembodied, Division Of Mind, Dystopia
Order link: https://linktr.ee/RIGTIME
Location: La Crosse, WI
To be "Undeniable" is the objective and axiom that RIG TIME! irrefutably has avowed since their inception. Formed in Wisconsin, they quickly began touring relentlessly, performing coast to coast in 42 states and counting, executing a fierce live performance with precise and fearless transitions, always at astonishingly vulgar decibels. These two performers exhibit the mass of a full band aura as they implement a complete Vocal/Guitar/Bass/Drums/Synth performance without backing tracks, never suppressing their magnitude of raw energy and emotion through sincere lyrics and colossal stage presence.
Check out this video!
Boldly infusing primal ferocity and solid reverence for groove, RIG TIME!'s self-described "Wisconsin Heavy" sound draws influence from hardcore, doom, nu metal and other models of extreme music. Their dedication to innovation, carving their profoundly honest and unparalleled contribution to the heavy music world, is imperative. The highly anticipated follow up to 2017's full length "War" will be released in 2022 via State Of Mind Recordings.
Vocalist/Drummer Bryan W. Fleming heaves malicious power from behind the kit, scowling with every word retching from his diaphragm, while rendering strong in the pocket grooves and doom-laden analog synth soundscapes to reinforce the impact.
Guitarist/Bassist Rebecca Fleming enforces a cataclysmic onslaught of riffs through her unique live setup, devastating the listener with vast atmosphere, agile application and thoughtfully calculated compositions.
Outburn Magazine declared "...offers relentless rhythms with industrial precision as well as a smart beat changing sensibility" and "...guitar is mean, saturated and dogmatically singular.", also noting "...for fans of earlier, angrier Godflesh ."
New Noise Magazine said, "Puncturing their blend of sludge and hardcore – with a tight embrace on powerviolence – the band kicks fast and dirgy tones, manifesting unbridled hatred." and likened RIG TIME! to heavyweights Xibalba and Harm's Way .
In their ascending conquest of performances for the masses, they have pledged a true respect for the arts by only performing at all ages events, to raise awareness about the importance of live music being obtainable to everyone and its vitality to the rejuvenation of the music scene. This allegiance to the "All Ages or Nothing" movement has stood unyielding since their debut, gaining proponents in solidarity.
Follow them on Spotify!
Support them on Bandcamp!
They have shared the stage with: Integrity, King 810, Rotting Out, 200 Stab Wounds, Kublai Khan, Oceano, Internal Bleeding, Spite, Orthodox, SeeYouSpaceCowboy, Enterprise Earth, Within The Ruins, Filth, The Last Ten Seconds Of Life
Tour History:
https://rigtimeband.com/tour-history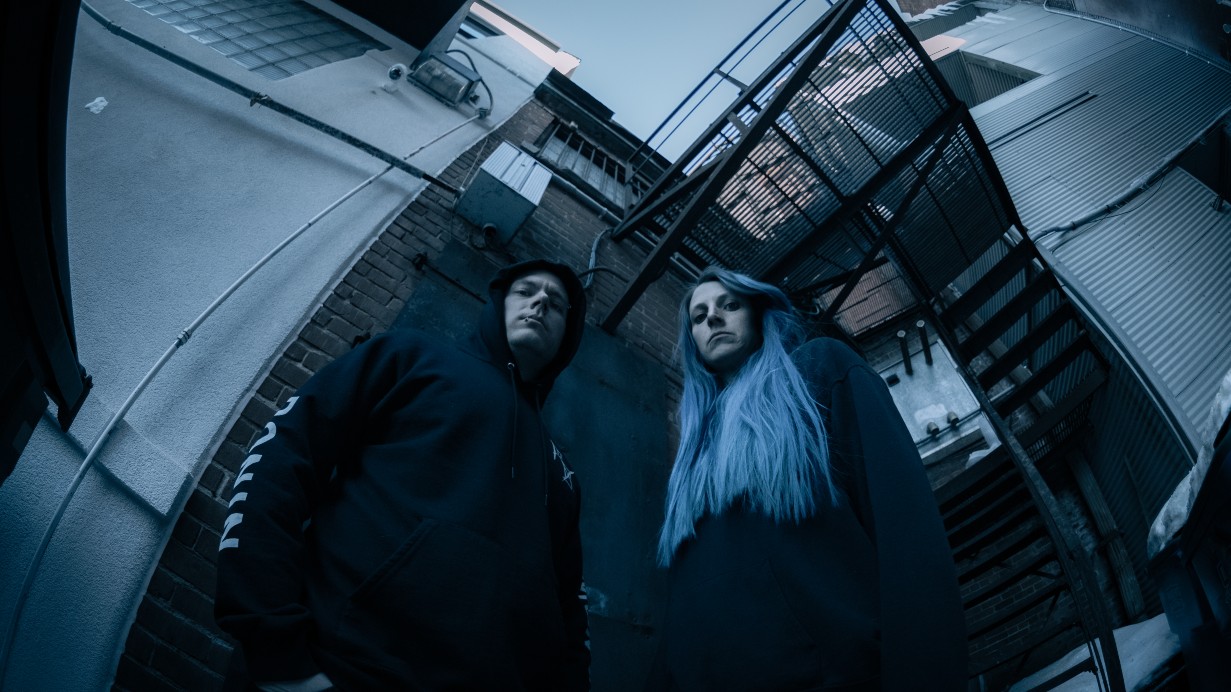 (Photo Credit: NO CHAINS VISUALS)
Follow the band at these links:

http://www.rigtimeband.com
https://linktr.ee/RIGTIME
https://www.facebook.com/RIGTIME
https://www.instagram.com/rigtimeband
https://twitter.com/rigtimeband
<a href="https://www.tiktok.com/@rigtimeband" target="_blank" rel="nofollow">https://www.tiktok.com/@rigtimeband
https://www.snapchat.com/add/rigtimeband
https://www.facebook.com/HardcoreOnTourPODCAST
https://rigtime.bandcamp.com
https://www.youtube.com/channel/UC4nzgM2bCam3yO5TIASkmTQ/featured
https://open.spotify.com/artist/0YBgRw4mXIHKwO1QAiDyBo
https://music.apple.com/us/artist/rig-time/1120835186
https://tidal.com/browse/album/232427491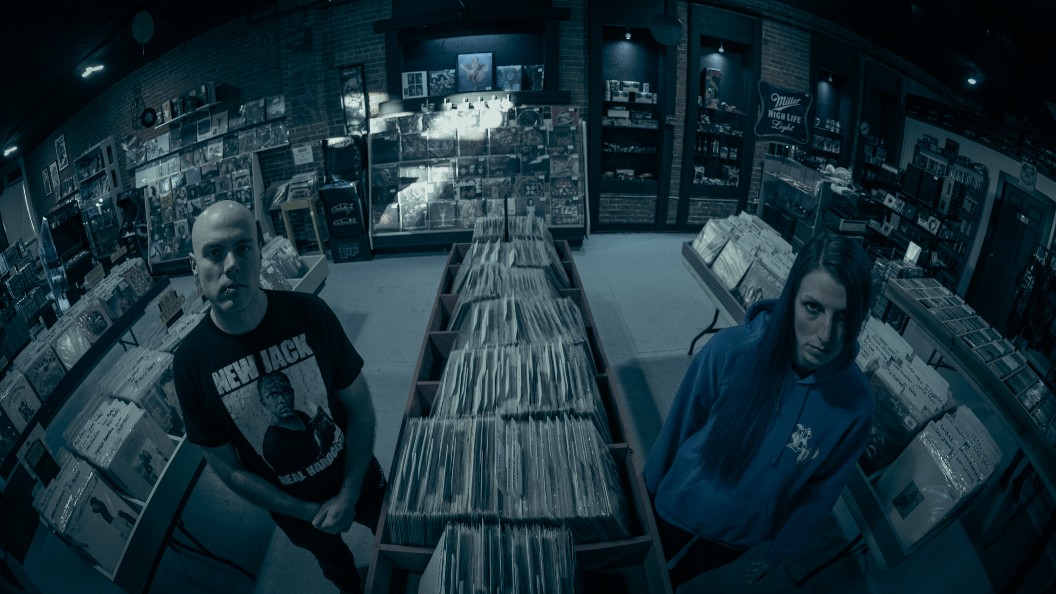 (Photo Credit: NO CHAINS VISUALS)
Also check out these features below!  
Metal Sucks: https://www.metalsucks.net/2016/06/29/unsigned-unholy-mountaineer-rig-time-absinthius/
Outburn Magazine: https://twitter.com/rigtimeband/status/959953173556457472/photo/1
New Noise: https://newnoisemagazine.com/reviews/review-rig-time-war-2/
New Noise: https://newnoisemagazine.com/premieres/video-premiere-rig-time-backstab/
Wonderbox Metal: https://wonderboxmetal.com/2017/10/22/rig-time-war-review/
All About The Rock: https://allabouttherock.co.uk/rig-time-war/
SkullsNBones: https://skullsnbones.com/rig-time-proven-war-album-review/
Mosh Pit Nation: https://www.moshpitnation.com/rig-time-war/
IdiotEQ: https://idioteq.com/sludgy-hardcore-duo-rig-time-covers-halloween-by-the-misfits-joins-state-of-mind-recordings/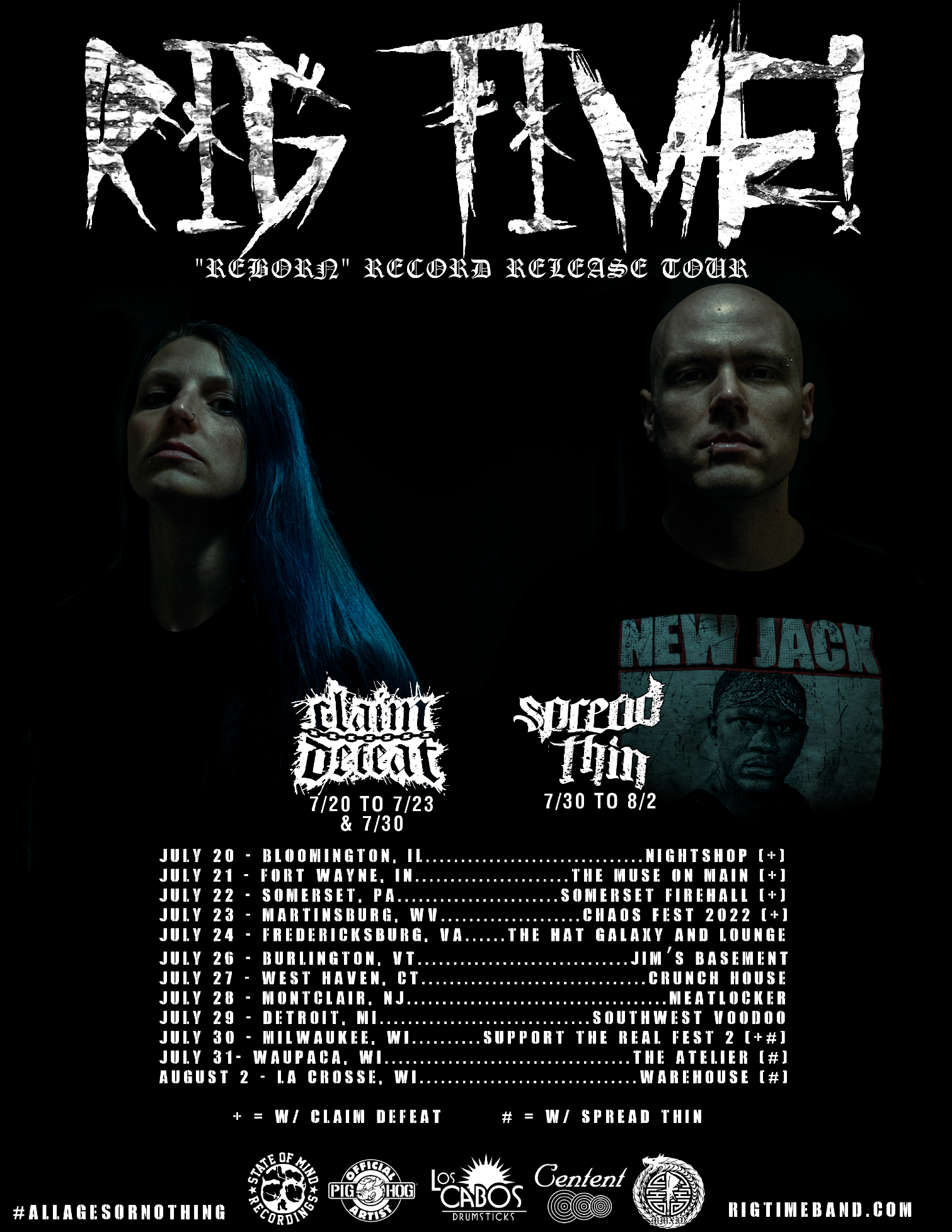 UPCOMING SUMMER TOUR DATES:
July 20 - Bloomington, IL - Nightshop (+)
July 21 - Fort Wayne, IN - The Muse On Main (+)
July 22 - Somerset, PA - Somerset Firehall (+)
July 23 - Martinsburg, WV - Chaos Fest 2022 (+)
July 24 - Fredericksburg, VA - The Hat Galaxy and Lounge
July 26 - Burlington, VT - Jim's Basement
July 27 - West Haven, CT - Crunch House
July 28 - Montclair, NJ - Meatlocker
July 29 - Detroit, MI - Southwest Voodoo
July 30 - Milwaukee, WI - Support The Real Fest 2 (+ #)
July 31- Waupaca, WI - The Atelier (#)
August 2 - La Crosse, WI - Warehouse (#)
+ = w/ Claim Defeat
# = w/ Spread Thin