SINSATION - Children Of The Night - Reviewed By Jenny Tate ! Check it out here at this link: https://jennytate.wordpress.com/2021/12/09/sinsation-children-of-the-night-alligator/
'Children Of The Night/Alligator' (available now), is the new single and video from vampiric metal quartet, Sinsation.
Fate brought Sinsation together, at the 2019 Zombie Prom. Creating a potent concoction of signature sounds, from a combo of influences, including Motorhead, Slayer, Joan Jett, Halestorm and Avatar, the result is an explosively electrifying hit of heady rock.
With the infamous Jaxxrock managing the band, they were already set for success, rapidly realised, by a performance at the renowned Viper Room, Hollywood and a win at Metal Meeting, Arizona. Several singles followed, with associated videos. They soon signed deals with TerrorCrew Productions and Artillery Music Group AMG.
A forthcoming EP's in the works, along with another couple of videos, plus eventually, a concept album.
Always creating heavier, metallic assaults, Sinsation are set to take on the world.
Sinsation are endorsed by: Solar Guitars, Felton Guitars, In Tune Guitar Picks, War-Core Pick Ups and Schroeder Cabs.
Children Of The Night/Alligator – Low bass rumble intro's, leading right into a classic sleaze rock riff refrain. Very Halloween-esque stuff! Its punky, a little bit hard core and damned easy to get hooked on. That male/female vocal combo's a really strong touch. Ace heavy riffs, taking you right back to 90's hard rock. Bliss). Some fabulous riff peaks, throwing in slight nu-metal aggression and all the energy and atmosphere of American Terror. Just stacked with red-hot metallic power! Ending on an alligator's roar – perfect touch. That's a class act, right there and a memorable one, at that. Visuals matching the audio strength and efficacy. This hits hard.
10/10 ********** - Jenny Tate
Release Date: August 30, 2021
FFO: Avatar, Halestorm, Joan Jett
Sinsation are a vampiric metal band like no other. These gothic madmen met playing in different bands  at the Zombie Prom in 2019 and rapidly came to realize that the dark spirits of the universe wanted  them to work together. They quickly assembled a stellar lineup out of the creative primordial ooze of  the local scene and crafted a sound that reflected the influence of their sonic heroes ranging from  classics like Motorhead and Slayer to rock gods like Joan Jett by way of modern masters Avatar and  Halestorm. This rapidly developed into a style that was wholly their own.  
Managed by the one and only Jaxxrock, Sinsation quickly saw success, playing the legendary Viper  Room in Hollywood and winning the Metal Meeting in Arizona. At the same time they started to  release singles with videos, even through the madness of the coronavirus pandemic. This slew of  successes lead to endorsements by Solar Guitars, Felton Guitars, InTune Guitar Picks War-Core Pick  Ups, and Shroeder Cabs. It also earned them a deal with TerrorCrew Productions and Artillery Music  Group AMG who seek to help the band grow through their next few steps towards vampiric ascension.  
Now, the band is gearing up to film another pair of music videos to help their promote their upcoming  EP. However, this is only just starting to lay the groundwork for a concept album to come. This is all  happening as the band continue to get heavier and lean into crafting pulverizing and face melting good  times. With big things on the horizon and a legion of triumphs in the rearview mirror, none will be able  to slow the mighty Sinsation. All that's left to do is join their undead horde and watch as these thrashers take on the globe!
Check out these videos!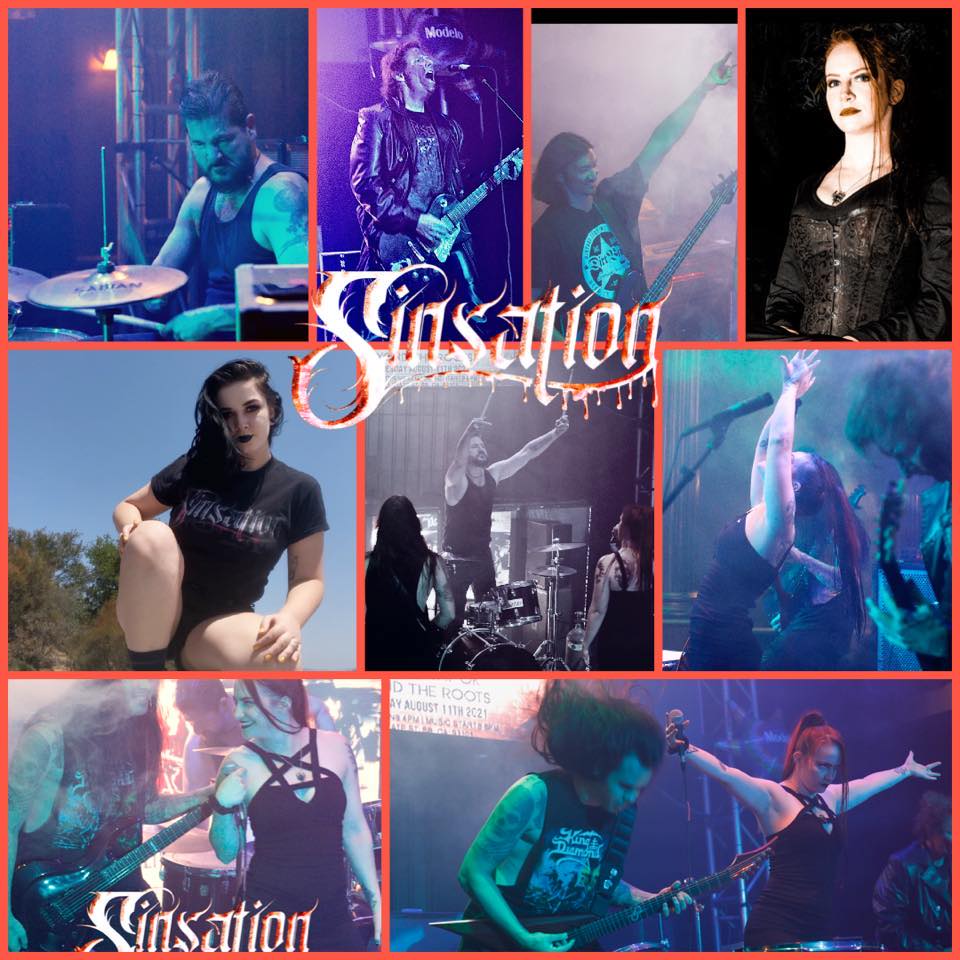 LINE-UP:
Hannah Rebel - vocals;
Austin Shadowsill - guitars;
Sammy "Fearce" Mcpherson - guitars and backing vocals;
Billy "The Beat" Brown - drums.
Check them out on Spotify and add them to your playlists!
Follow the band at these links:
https://www.facebook.com/psychoalligator/
https://www.youtube.com/channel/UCmt1cGYYftjFki__NQ9R0Vw
https://www.instagram.com/sinsation_official/
https://open.spotify.com/artist/7zkNESiCUt0wzQsSwKzTrS
https://twitter.com/SinsationO