Canadian MetalFest LOUD AS HELL Reveals 2021 Line Up For Its Return July 30 - Aug 1
Preview festival line-up on LAH's Spotify playlist - https://spoti.fi/3ijeSrE

Western Canada's decibel-breaking festival LOUD AS HELL is proud to announce its line-up for its return in 2021 at the roaring Dinosaur Downs Stampede Grounds in Drumheller, AB from July 30th to August 1st.
The 2021 line-up features an assortment of Western Canada's top-tier artists over three headbanging days with main headliners Into Eternity (Saturday, July 31st), Planet Eater (Friday, July 30th) and Arrival of Autumn (Sunday, Aug 1st). This year's line-up is scaled down to only Canadian bands due to international artists being unable to perform in the country because of border restrictions and guidelines stated by the federal government for Covid pre-cautions.
Loud As Hell organizer Geoff Bourrie comments:
"We are overwhelmed with the positive response we have been getting for the festival this year. We are very proud to offer the platform to help kickstart the live metal scene here in Western Canada. This will be a special year for us coming back from such a challenging 2020. Loud As Hell lives! We are back! And we are ready!"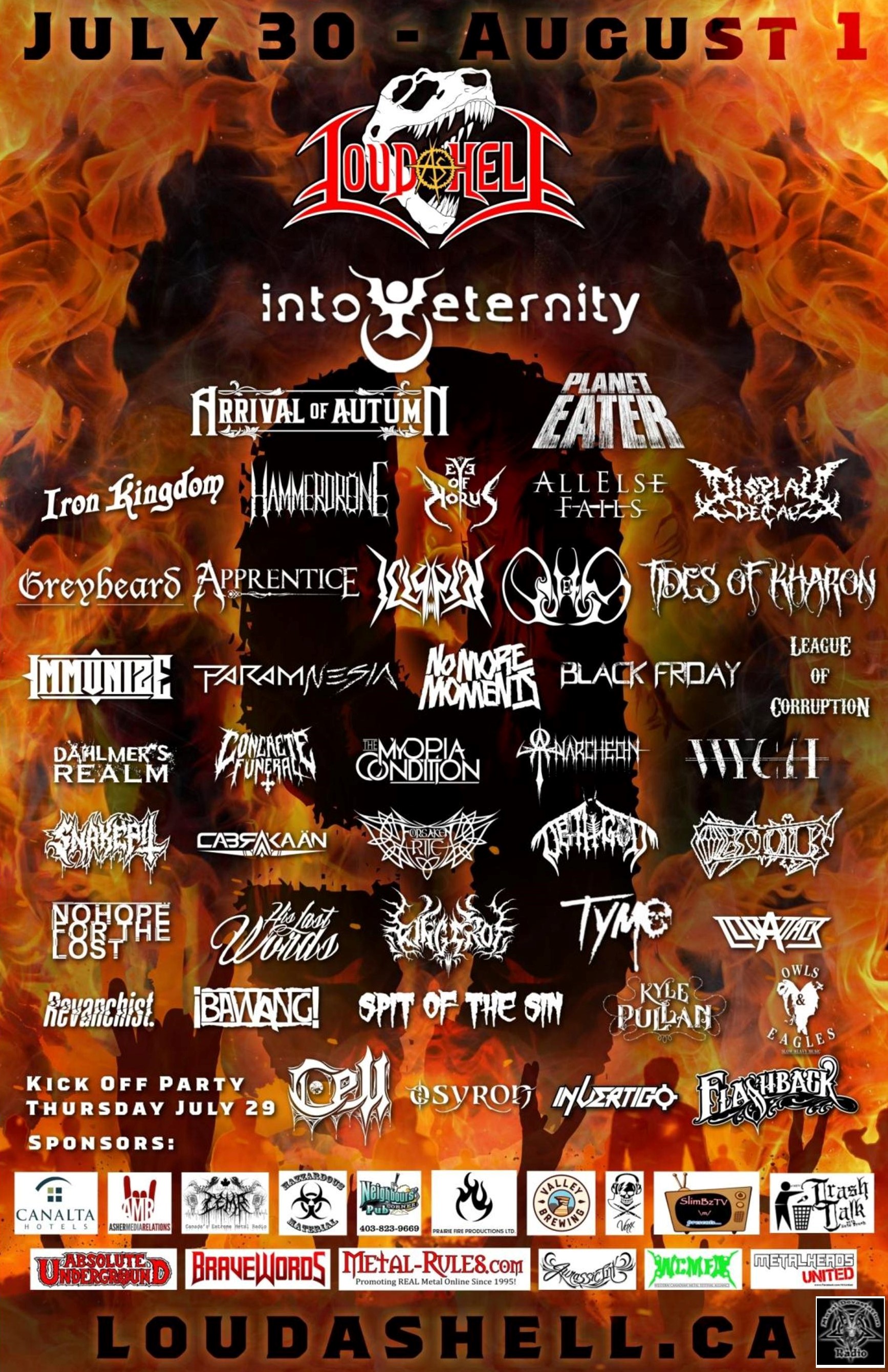 Loud As Hell Line Up 2021
Thursday, July 29
Kick-Off Party @ Neighbours' Corner Pub - Drumheller, AB
Cell (Winnipeg, MB)
Osyron (Calgary, AB)
In/Vertigo (Calgary, AB)
Flashback (Calgary, AB)
Friday, July 30
Planet Eater (Regina, SK)
Eye Of Horus (Edmonton, AB)
Tides Of Kharon (Edmonton, AB
Black Friday (Edmonton, AB)
Concrete Funeral (Calgary, AB)
Obsidius (Red Deer, AB)
Dethgod (Morley, AB)
 
Saturday, July 30
Into Eternity (Regina, SK)
Iron Kingdom (Vancouver, BC)
Greybeard (Calgary, AB)
Illyrian (Calgary, AB)
Param-Nesia (Vancouver, BC)
No More Moments (Siksika Nation, AB)
League Of Corruption (Vancouver, BC)
The Myopia Condition (Red Deer, AB)
Wych (Calgary, AB)
Forsaken Rite (Edmonton, AB)
Tymo (Edmonton, AB)
King's Rot (Calgary, AB)
Owls N' Eagles (Calgary, AB)
LunAttack (Calgary, AB)
No Hope For The Lost (Medicine Hat, AB)
Sunday, Aug 1
Arrival Of Autumn (Grande Prairie, AB)
Hammerdrone (Calgary, AB)
All Else Fails (Edmonton, AB)
Display Of Decay (Edmonton, AB)
Quietus (Edmonton, AB)
Apprentice (Vancouver, BC)
Immunize (Edmonton, AB)
Dahlmers Realm (Edmonton, AB)
Anarcheon (Vancouver, BC)
Snakepit (Calgary, AB)
Cabrakaan (Calgary, AB)
His Last Words (Calgary, AB)
Spit Of The Sin (Calgary, AB)
Bawang (Canmore, AB)
Revanchist (Lethbridge, AB)
Ticket Info:
Advance weekend passes with camping included are available for $140 CAD at the following link: http://www.loudashell.ca/tickets 
Door Prices:
$175 Weekend Passes
Day Passes $80 (Friday, Saturday, Sunday)
2020 weekend passes that were purchased will be honoured for Loud As Hell 2021. (Proof of ID required)
Volunteers Wanted:
Volunteers are wanted for production and security. For full details email at loudashellfestival@gmail.com 
Like many music events across Canada, Loud As Hell's 2020 production was forced to cancel due to the COVID pandemic. It was scheduled to be their 9th consecutive concert since the first metal jamboree in 2012. Over the years, the festival has hosted hundreds of Canadian and international bands in the prairie badlands. The 2019 edition of Loud As Hell sold out and melted faces off of metalheads who assembled from across the country for its 40 band line-up, which featured Goatwhore, Anciients, Planet Eater, Untimely Demise, Arrival of Autumn.
Loud As Hell event organizers were closely monitoring guidelines and updates from Alberta's provincial government. The most recent announcement from officials to fully open up the province as of July 1st as part of their Stage 3 planning that states the following:
Stage 3: Two weeks after 70% of Albertans 12+ (born in 2009 or earlier) have received at least one dose. Effective July 1st.
All restrictions lifted, including the ban on indoor social gatherings.
Isolation requirements for confirmed cases of COVID-19 and some protective measures in continuing care settings remain.
The general indoor provincial mask mandate will be lifted, but masking may still be required in limited and specific settings.
More information will be shared prior to the start of Stage 3.
Source: https://www.alberta.ca/enhanced-public-health-measures.aspx

More info:
LoudAsHell.ca
Facebook.com/LoudAsHellFestival
Twitter: @LoudAsHellFest
Instagram: @LoudAsHellFestival
Social Media Hashtag #LAH9
Video – Goatwhore @ Loud As Hell 2019:
Video – Anciients @ Loud As Hell 2019:
About:
LOUD AS HELL 2021 will be celebrating its ninth festival event presented by Loud As Hell Productions, Jurassic Ink Custom Tattoo, Prairie Fire Events, and Asher Media Relations. LAH always works their hardest to deliver the best lineup in the West ready to melt your face off. Featuring bands from across Western Canada and beyond, you won't want to miss any of it. And don't forget about their freak shows, burlesque dancers, clinics, vendors and dinosaurs! 
LAH Partners:
Metal Devastation Radio
Town of Drumheller
WCMFA - Western Canadian Metal Festival Alliance
Asher Media Relations
Bravewords
Metal-Rules
Absolute Underground Mag
Swag Merchandising
Valley Brewing
Canalta Hotels
Canada's Extreme Metal Radio - CEMR
Neighbors' Corner Pub
Prairie Fire Productions Ltd
Jerry's Liquor Store
Decimate MetalFest
Hazzardous Materials
Trash Talk with Nate Trash
Wicked Wally Webcast
Gettin Late with Nate
Slimbztv
Voxx Promos
MetalHeads United
What the press is saying:
"Western Canada's loudest heavy metal festival brings fans to town more known for dinos than drum solos." - CBC Calgary
"Loud as Hell – one of Canada's top underground metal festivals – was a metal family reunion. If you walked around the grounds, where tents covered the landscape like flowers, you would experience concert goers laughing, hugging and just enjoying the moment. The music played non-stop and the people were some of the best you'll meet. What else do you need? If you're a metal head fan, mark it down for next year because this is a concert you don't want to miss." - Blackfalds Life
"Headbanger alert: Loud As Hell festival to ramp up the volume" - Calgary Herald
"Nevermind the bug spray and sun tan lotion, as August approaches Drumheller residents should stock up on earplugs." - Calgary Herald
"Loud As Hell returns to the southern Alberta city for its seventh year and as its name implies, will rock the city to its core." - Calgary Herald
"Loud as Hell has celebrated eight years in the Badlands to date, with acts from all over the world-shattering the peace and quiet of the hills in a camping and music extravaganza." - Hanna Herald
"Drumheller with its dinosaur bones is the site of the annual Loud as Hell heavy metal festival Friday through Sunday. Dozens of the heaviest bands known to Man will be taking the stage, many of them Canadian" - Gig City