Enslaved, Wolves in the Throne Room, Myrkur and Khemmis are set to dismantle North America as part of the 2018 Decibel Magazine Tour. And you can get your tickets  here  now (or at 10am your local time)! Decibel Metal & Beer Fest tickets are still available ("Metal & Beer" and "Just Metal" ticket options), but are going fast!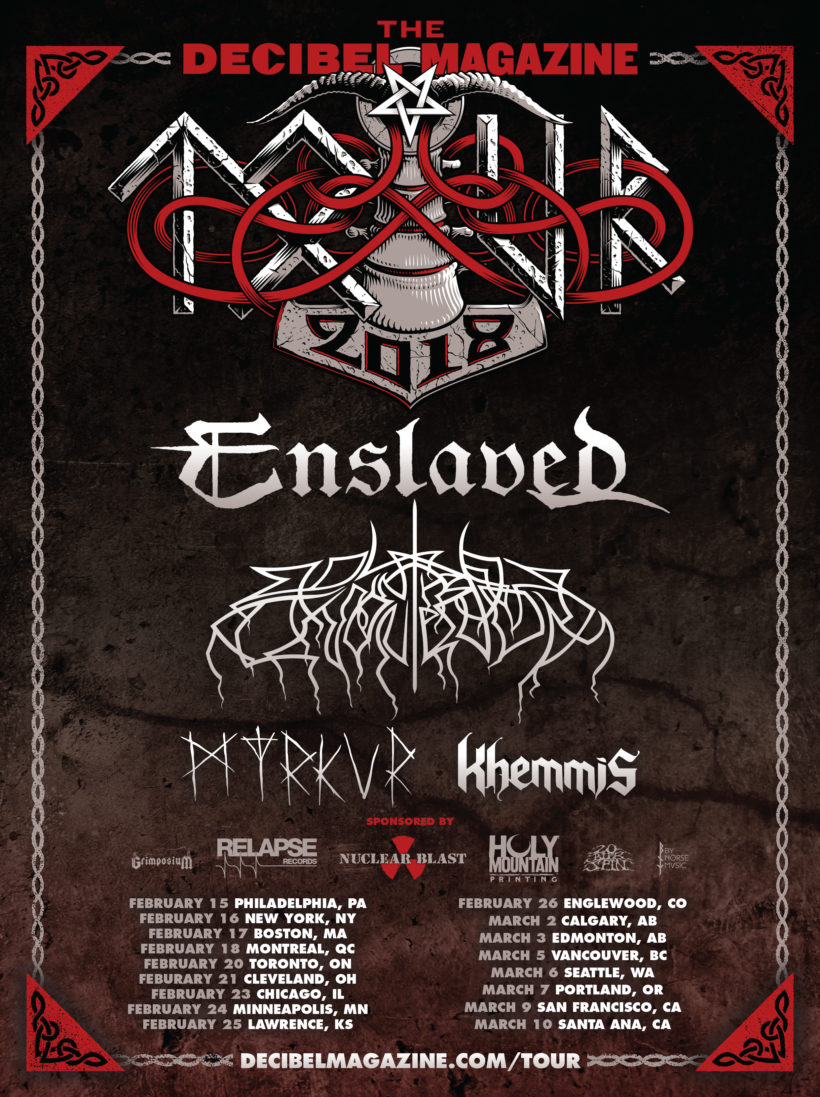 Since its launch in 2012, the annual Decibel Magazine Tour's ambitious curation has unified artists from around the extreme universe who would otherwise never have the opportunity to tour North America together. The lineup for the 2018 Decibel Magazine Tour continues that proud tradition, as Norwegian progressive metal legends Enslaved join forces with Pacific Northwest black metal heroes Wolves in the Throne Room, Danish post-black siren Myrkur and doomed rock 'n' crushers Khemmis (with regional openers in select markets to be announced next year).
"I have always wanted Enslaved to be part of the Decibel Tour concept," says Enslaved guitarist and co-founder Ivar Bjørnson. "Not only is Decibel an institution, and defender of the last line of resistance for the printed metal mag in North America (for a band started in 1991, printed magazines are no small matter), but the Decibel Tour has also become an institution and an icon for metal that we admire here on the other side of the pond. So, to be asked to headline, and to perform with these other very fine artists, is a great honor and a great pleasure. Be there or be trapezoid!"
Of 2018's four featured acts, three have released new LPs in late 2017 to coincide with the Decibel Tour: Enslaved, with their fourteenth full-length album, E; Wolves in the Throne Room, with sixth record Thrice Woven; and Myrkur, with sophomore release Mareridt. The former have already been honored with a pair of authoritative Hall of Fame features (on 1994's landmark Frost and 2003 groundbreaker Below the Lights). Wolves in the Throne and Myrkur each graced Decibel's cover in 2017, while in 2016, Khemmis took home Decibel's Album of the Year honor for their Hunted release. Additionally, Enslaved, Myrkur and Khemmis have each recorded and released exclusive tracks via the Decibel Flexi Series, and the 2018 headliners will return with their second flexi contribution, which will appear in the annual Decibel Tour issue of the magazine that hits stands February 2018.
Tickets for the 2018 Decibel Magazine Tour go on sale Friday, October 27 at 10 AM local time. All dates and venues are below.
Thursday, February 15 – Philadelphia, PA – TLA
Friday, February 16 – New York, NY – Irving Plaza
Saturday, February 17 – Boston, MA – Royale
Sunday, February 18 – Montreal, QC – Corona Theatre
Tuesday, February 20 – Toronto, ON – Phoenix Theatre
Wednesday, February 21 – Cleveland, OH – Agora Ballroom
Friday, February 23 – Chicago, IL – Metro
Saturday, February 24 – Minneapolis, MN – Cabooze
Sunday, February 25 – Lawrence, KS – Granada Theater
Monday, February 26 – Englewood, CO – Gothic Theatre
Friday, March 2 – Calgary, AB – MacEwan Ballroom
Saturday, March 3 – Edmonton, BC – The Starlite Ballroom
Monday, March 5 – Vancouver, BC – Rickshaw Theater
Tuesday, March 6 – Seattle, WA – El Corazon
Wednesday, March 7 – Portland, OR – Hawthorne Theater
Friday, March 9 – San Francisco, CA – Regency Ballroom
Saturday, March 10 – Santa Ana, CA – The Observatory