Skyliner - Dark Rivers, White Thunder - Reviewed By The Median Man ! Check it out here at this link: https://www.themedianman.com/skyliner-dark-rivers-white-thunder/
"Break The Surface," gets the blues all up and around. It turns the subtle incantations and breathes life into being.
"Dark Rivers, White Thunder," then kicks things off properly. It is a thunderous song and one that captures perfectly the intent of the band. Swanning around with growing swagger and patience for the world to know.
"God With No Heaven," swans through the darkened skies with perfect grace and rage. Turning the ground into darkness and light.
"The Singing Shaman," hits the chord with perfection, turning through the tide and demanding relief and darkness.
"Bleed," brings the heavy bass, turning the listener inside out and demanding to be heard through the turning of the chimes.
"I Walk Alone," is the grand finale. A song that captures everything that the band is about. Subtle vocal variations, pronounced variants of turning riffs and melody all for a glorious eight minutes.
Hailing from Jacksonville, Florida , SKYLINER is a wave of discontent and a voyage to freedom, with a progressive mind's eye at the center of the storm. Lyrically esoteric, insightful, or emotionally shipwrecked, a tide of vocal wails and roars collides with pure toned, high-volume guitars, bass, and drums, an alchemical marriage recalling the classic era of heavy and power metal while adding new stones onto that eternal foundation.
" Dark Rivers, White Thunder " also sees the band exploring some more earthy, tribal themes and underpinnings, both lyrically and musically, helping to define the feel and atmosphere of the record.
Fans of Devin Townsend , Royal Hunt , and Eternal Champion are going to love Skyliner ! Their new album, Dark Rivers, White Thunder, has progressive musicianship mixed with elements of traditional heavy metal. Skyliner has several ranges of vocal styles, starting with epic Iron Maiden -esque wailing, screaming that is reminiscent of Judas Priest , and sinister growls that will make any death metal head happy.  All of that is tied together with a thunderous rhythm section that will have you fist pumping the sky in no time! - Zach Moonshine
The new full length album " Dark Rivers, White Thunder " will be released January 30th!
Check out this lyric video from the upcoming record! 
Track Listing:
1. Break The Surface
2. Dark Rivers, White Thunder
3. The Ghost Messenger
4. God With No Heaven
5. Catch A Dream
6. The Singing Shaman (Fire Stomp)
7. Winter Witch Moon (Spell Of Ice)
8. We Of The Shadows
9. Bleed
10. Night Gypsies
11. I Walk Alone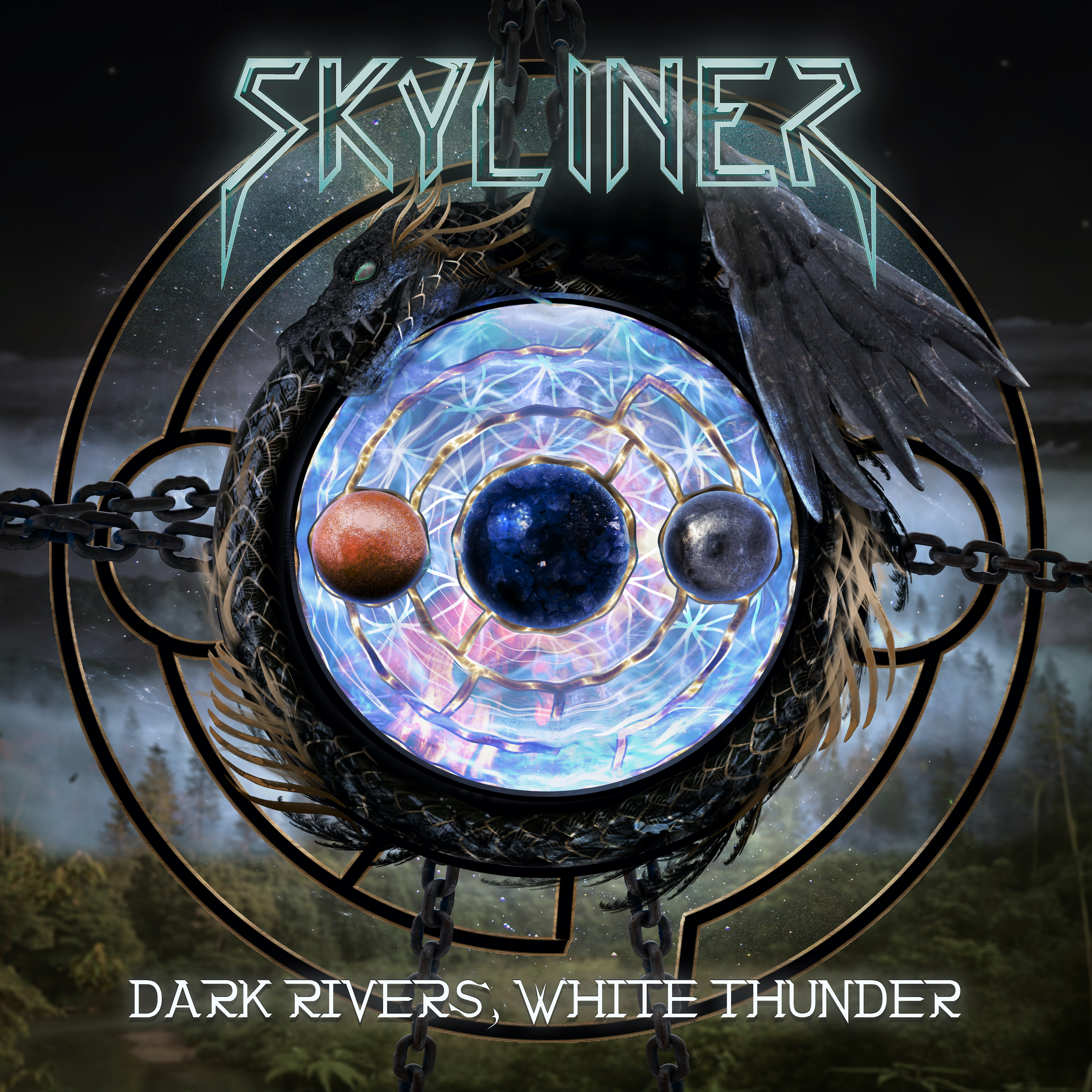 Also check out the previously released single 'The Age Of Virgo, Pt. 2 (The Deluge, The Birth)!
Follow the band at these links:
https://www.skyliner.bandcamp.com
https://www.youtube.com/c/skylinerband
https://www.instagram.com/skylinermusic
https://www.facebook.com/skylinermusic
https://www.alchemicvisions.com