KING WITCH have released a video for their song 'Return to Dust ' 
 
Critically acclaimed by the international press for their new album 'Body of Light ' , King witch unveil today their new brand video " Return to dust "
Laura Donnelly explains the making of this supernatural video :
"I created the video during lockdown in our local forest and at home. I hope it conveys a sense of fragility whilst engulfed in heavy riffage. I think the colour and mood suits the song very well - helping to give a supernatural vibe. My neighbours however will totally think I'm a complete weirdo after hearing me almost drown in my bath several times and being caught in the woods digging a hole and burying myself
Laura Donnelly comments  "When Jamie first let me listen to the original ideas for "Return to Dust" I was immediately dropped into a Clint Eastwood/Ennio Morricone Spaghetti Western. The song however quickly changes to become something a lot darker. I had not long read the graphic novel Preacher and really liked the idea of mixing the supernatural with dusty desert tales. "Return to Dust" is basically about someone dying and crossing over to the other side. They are confused and frightened but the reality of the situation soon becomes clear, there is nothing to mourn. They know what they must do - return to dust."

Read more and watch the video for "Return to Dust " courtesy
of The Sludgelord  HERE 
"If I have any say in it, King Witch will go down in history nearly unrivaled in terms of skill, showmanship, prowess, and embodiment of the heavy metal spirit." 
Everything is Noise
"Body of Light is a reminder of why you wanted to be metal in the first place".
The Obelisk
"KING WITCH secure at least one of the top spots in the eternal list of doom metal albums that are always recommended."
Neckbreaker
 
To order the album in various physical formats visit our e-shop 
- LTD EDITION 6 PANEL DIGIPACK CD
- LTD EDITION TRANSPARENT BLUE VINYL 
- LTD EDITION TRANSPARENT YELLOW VINYL OF 120 COPIES WORLDWIDE 
LISTENABLE SHOP EXCLUSIVE
 GRAB IT NOW 
----->  HERE   <-----
Formed in late 2015 in a dark cavern beneath the streets of old Edinburgh, Bristling with dark majesty, KING WITCH draw comparisons ranging from Black Sabbath and Candlemass to Mastodon and High On Fire. The band quickly earned themselves a reputation as a formidable live act and have toured the UK and Europe in support of their first full length debut album "Under The Mountain" which was released on Listenable in 2018 .
KING WITCH 's highly anticipated second album "Body of Light" further focuses their ability to fuse dense riffage with haunting yet powerful vocal lines and melodies. "Body of Light' wider dynamic range takes the listener on an electrifying journey from dark, brooding passages through to full-tilt Heavy Metal glory !. 
The band comments : « Musically, inspiration came from the same directions as always - the classic doom of Trouble and Candlemass alongside the ever-present influence of Sabbath, Purple and Rainbow. "
Laura Donnelly (vocals) has delivered an amazing artwork once again as she develops : « The cover art depicts a woman floating in space with her skeleton/soul leaving her body. Our title track "Body of Light" is about Astral Projection and having the ability to straddle between different worlds. I felt the concept represented the album well in different ways by illustrating themes such as the occult, myth and legend, the human condition, escapism and, primarily, the question of what lies beyond. »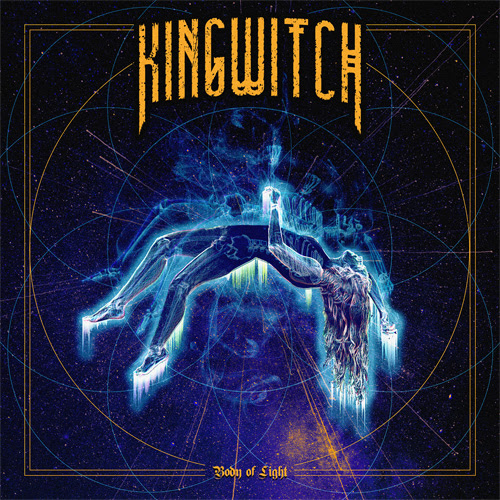 KING WITCH 's 'Body of Light' was Recorded at Deep Storm Productions, produced and Mixed by Kevin Hare and Jamie Gilchrist and mastered by Tom Dring.
Tracklisting
1. Body Of Light 05:49
2. Of Rock And Stone 08:26
3. Call Of The Hunter 06:31
4. Return To Dust 08:22
5. Order From Chaos 05:37
6. Solstice I - She Burns 10:16
7. Witches Mark 03:43
8. Solstice II 01:29
9. Beyond the Black Gate 09:55
 
King Witch are :
Laura Donnelly - Vocals
Jamie Gilchrist - Guitar
Rory Lee - Bass
Lyle Brown – Drums