Venom Inc. Massacre Featured Interview & The Zach Moonshine Show
Jeramie kling from Venom inc, massacre, The Absense, Wombbath, Ribspreader, Fore and more joins us on the show to talk about his bands, playing drums, the covid pandemic and much more! This episode also features brand new music from FORE, Prosanctus Inferi, Static X, Aal, AL Yeti Bones, Moonlight Desires, And He Never Came Back, Sagtikos, Blazon Rite, Butterfly, Hræ, INISANS, SEPULCHRAL FROST, Theotoxin, Unholy Vampyric Slaughter Sect, Joecephus And The George Jonestown Massacre, Wazmo, Nothgard, Graves Of Giants! Plus we play some classics from Venom Inc, Massacre, Ribspreader, Totally Over Rated Sell Outs, NIN and the Absense. This episode also features a surprise live call in from Seth and Totally Over Rated Sell Outs!
Track List
1 - Dark Scarp of Hell/Pulpit Sycophants/Sheol Below - Prosanctus Inferi
2 - The Zach Moonshine Intro
3 - Terminator Oscillator/My Destruction/Dead Souls - Static X
4 - Dreamwielder - Aal
5 - Kill Cult Kill - AL Yeti Bones
6 - Hungry Eyes/Circle in the Sand/Hungry Like The Wolf - Moonlight Desires
7 - Venom Inc Interview featuring Ave Satanas/Forged In Hell/Metal We Bleed
8 - Pet/Song For A Friend - FORE
9 - Back From Beyond/Corpsegrinder [Death Cover]/Mutilation [Death Cover] - Massacre
10 - Breeder Of The Dead/Horrid Ascension/ - Ribspreader
11 - Walking Shadows/Do What You Want (Bad Religion cover) - The Absence
12 - Thought I Was - And He Never Came Back
13 - Walls - Sagtikos
14 - Diamond Daggyr - Blazon Rite
15 - Doorways of Time - Butterfly
16 - Lofsöngur hinna rotnu - Hræ
17 - Totally Over Rated Sell Outs - Live call in bullshit session
18 - Gave Up/Terrible Lie/Last - Nine Inch Nails
19 - Cesspool - Totally Over Rated Sell Outs
20 - Holocaust Winds - INISANS
21 - Blessed by Fire - SEPULCHRAL FROST
22 - Through Hundreds of Years - Theotoxin
23 - Forced Genuflection on Adoring Gored Knees - Unholy Vampyric Slaughter Sect
24 - Hit The Road - Joecephus And The George Jonestown Massacre
25 - Hands at Work - Wazmo
26 - Lightcrawler - Nothgard
27 - Chernobyl Circus - Graves Of Giants
Listen to the full show below on the Mixcloud App!
Listen to the full interview alone on YouTube!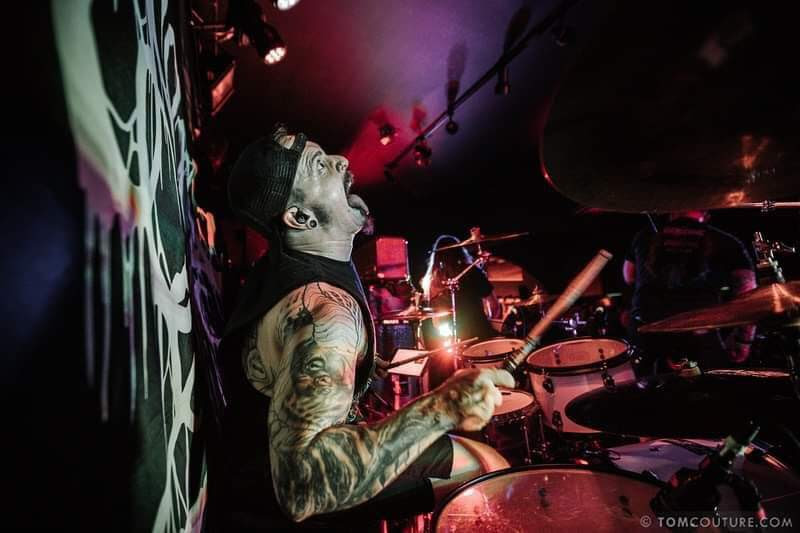 Jeramie Kling  is a Drummer, Singer, Producer, Recording engineer, Front of house engineer, Tour manager. He plays drums in many projects  Venom   inc/Massacre/The Absence/Wombbath/Ribspreader   and more. He also sings  and plays guitar for death metal band " Goregäng ". Front of house for  Sepultura/Exodus/Soilwork  to name a few. He has built a solid career in the metal community.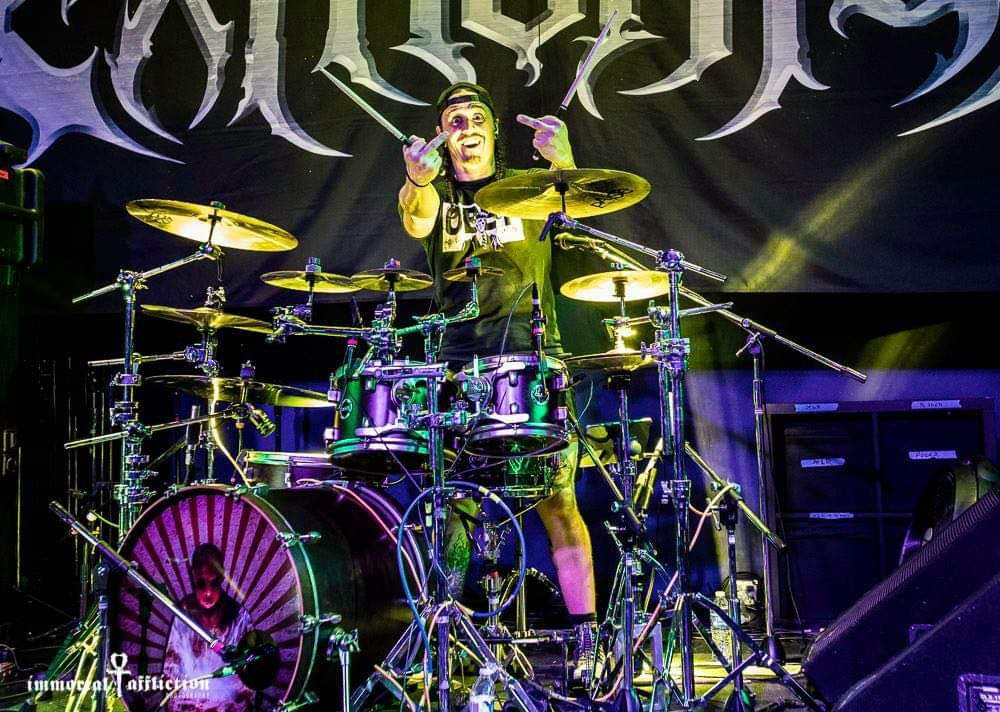 Personal words;
I have been playing since I was 2-3 years old, My father played killer 70's progressive/jam guitar and started me quite early. He was looking to have a "built in" jam drummer I suppose!! … As I got older I started jamming with friends (around the ages 12-14) eventually forming a band at 16 years old. That early band led to another band and then I ultimately started the Absence in 2004 (with Pete, Pat, Jamie and Nick). It was at this point I really started to "up" my practice regime. Heavy amounts of rudiments and drills (Drills for days). My main goal has been fluidity, always trying to "become water". I really respect drummers like Tim Alexander (primus) and Stewart Copeland (the police), as they look effortless while being so concise. That thinking (fluidity) has influenced all aspects of my life.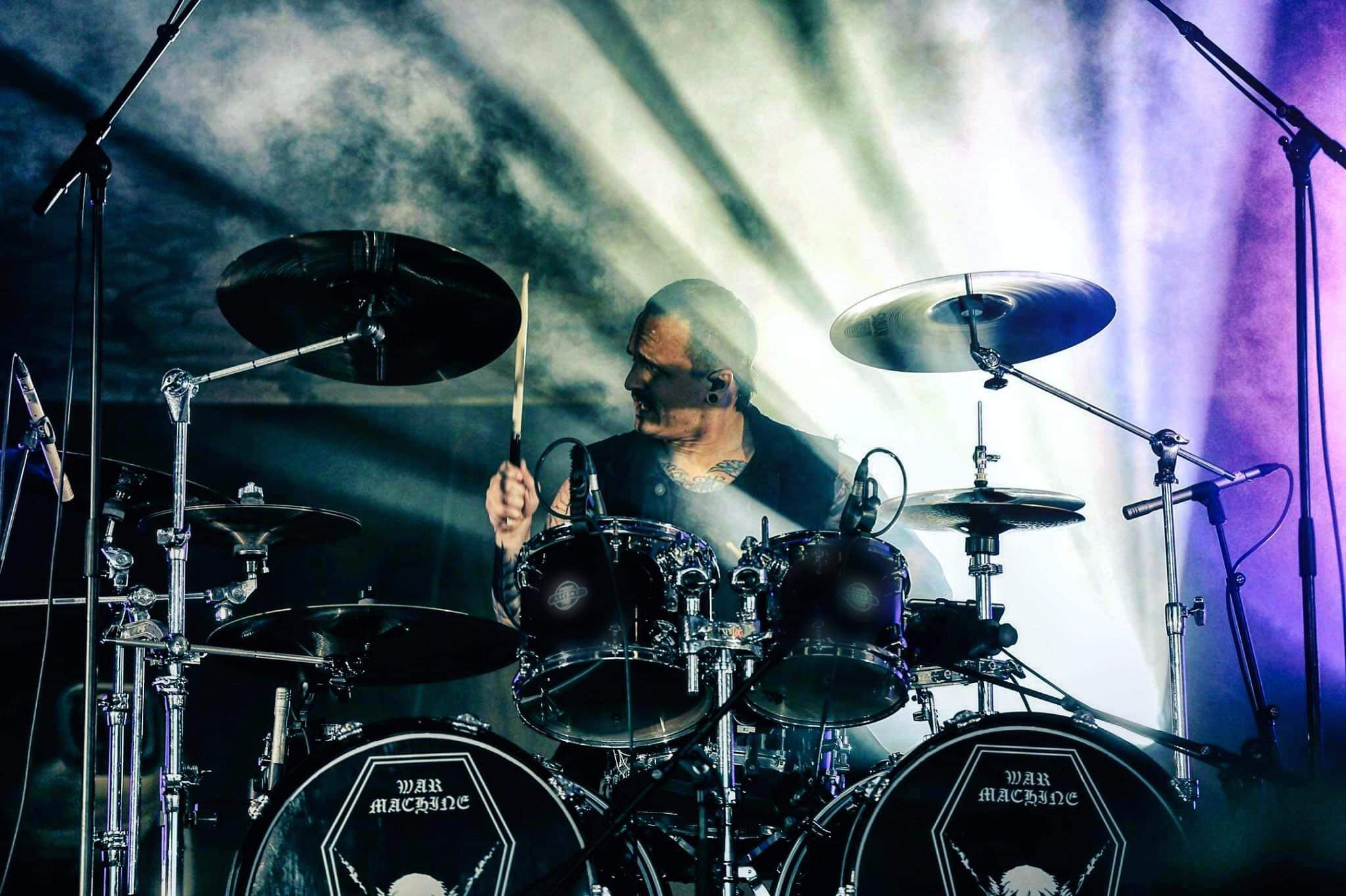 FORE
, the punk band featuring 
Christian "Speesy" Giesler

 
(ex-KREATOR)
, 
Jeramie Kling

 
(VENOM INC, MASSACRE, THE ABSENCE), Taylor Nordberg (MASSACRE, THE ABSENCE)

 
and
 

Brian Stephenson (OLD JAMES, SKULL
FIST)
, have released two new songs, "Song For A Friend" and "Pet" on the band's Bandcamp page.
The group previously released their debut songs "
What's Right For You
" and "
Today We Rise (No Tomorrow)
" last month to a positive and response.
Regarding the first stages of the band's existence and the response so far, 
Stephenson
 said: "So inevitably stoked to be on board with such fine gentlemen on a project I'd never have imagined could have come to fruition. A real punk rock group with heavy metals A-team. DIY, in your face. More than a band. A movement. Stoked is not even close to how this feels for me. Surrounded by legends, and to be a part of something so special is truly and uniquely a gift. The riffs and playing on these songs are in a league of their own. Only something the finest craftsmen in their respective fields could create and to put my voice to it is a high honor. Punks not dead."
Kling
 added, "The world needs a punk, it has been far too long without. If you know a punk, then hand them this music. They will rejoice, I know because I was there."
The debut 
FORE
 album is being mixed and mastered by 
Nordberg
 and 
Kling
 at their own 
Smoke & Mirrors Productions
 in Spring Hill, Florida.
Connect with FORE:
forepunk.bandcamp.com
https://www.facebook.com/FOREpunk/