New Jersey Blackened Death Metallers HATH will hit the road this spring as part of the "Fragmented Perception Tour" with tech-death band COGNITIVE and death/math mindbenders CRYPTODIRA.
Headliners COGNITIVE said this about the tour, "After taking some time off to write our new record, we wanted to scratch the itch of getting back on the road. We focused hard on our new songs and we're glad we did. It's been a while since we did a headliner, so we decided to make it special and do a diverse lineup of bands. We have been a fan of Cryptodira for a long time, and their brand of death and math metal is inspiring to say the least. We took Hath out last January prior to them releasing their critically acclaimed album "Of Rot And Ruin," so we're thrilled to bring them out now that everyone knows who they are. We're excited to hit some new cities, and just thankful to be on the road again. Keep an eye out for us being in a town near you!"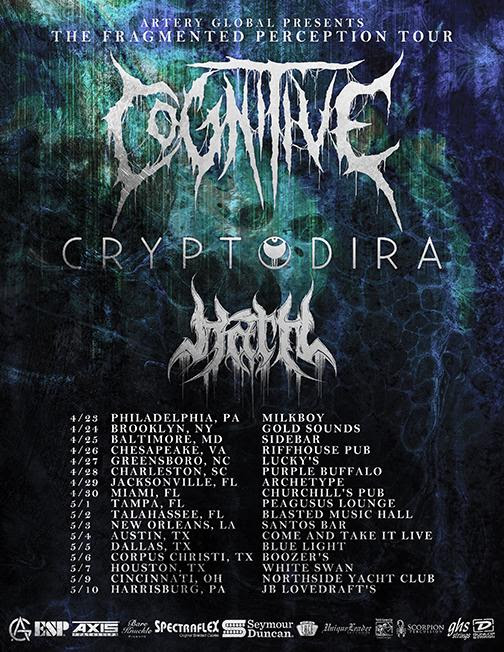 Tour dates are as follows:
April 23 @ MilkBoy - Philadelphia, PA
April 24 @ Gold Sounds - Brooklyn, New York
April 25 @ The Sidebar - Baltimore, MD
April 26 @ RiffHouse Pub - Chesapeake, VA
April 27 @ Lucky's - Greensboro, NC
April 28 @ Purple Buffalo - Charleston, SC
April 29 @ Archetype - Jacksonville, FL
April 30 @ Churchill's Pub - Miami, FL
May 1 @ Peagusus Lounge - Tampa, FL
May 2 @ Blasted Music Hall - Talahassee, FL
May 3 @ Santos Bar - New Orleans, LA
May 4 @ Come and Take It Live - Austin, TX
May 5 @ Blue Light - Dallas, TX
May 6 @ Boozer's - Corpus Christi, TX
May 7 @ White Swan - Houston, TX
May 9 @ Northside Yacht Club - Cincinnati, OH
May 10 @ JB Lovedraft's MicroPub - Harrisburg, PA
HATH released Of Rot and Ruin April 12, 2019 on Willowtip Records. The album received widespread critical acclaim, with Metal Injection praising the album's "eloquent mix of brutal precision, endearing melodies and infectious grooves" and called a "masterpiece" by Heavy Blog is Heavy.
Order Of Rot and Ruin on digital, CD and 2xLP formats at tinyurl.com/y9l5hxhs
"A truly seamless work. Hath thrive in the blending of otherwise-discrete genre elements, rejoicing in the inclusive bounty of their boundary-crossing."
- Invisible Oranges
"An enormous (and enormously good) surprise, not a step forward but an extravagant leap ahead."
- No Clean Singing
"Of Rot And Ruin is one hell of a debut full length!"
- Technical Music Review
"Expect an evolved HATH with monstrous growth shown between their debut EP Hive and now."
- Heaviest of Art
"If you are looking for a unique and interesting band, then do yourself a favor by picking up a copy Of Rot And Ruin."
- Canadian Assault
 
HATH is:
Frank Albanese - Guitar/Vocals
Greg Nottis - Bass/Vocals
Peter Brown - Guitar
AJ Viana - Drums
facebook.com/HathNJ/

willowtip.com
willowtip.bandcamp.com/
facebook.com/willowtip/
 
HATH Bio:
Hath started in 2014 as a project between Frank Albanese and AJ Viana. Greg Nottis joined on bass during the writing of their first EP Hive, which released in 2015 to generally high praise.
In early 2017 Hath began recording their first full-length record. 2018 saw a lot of changes for the band. Hath signed a deal with Willowtip Records, added guitarist Peter Brown to the band, and finished Of Rot and Ruin.