HOLYCIDE's new album "Fist to Face" is ready and in pre-promotion phase to be released on February 14th simultaneously through Xtreem Music (Worldwide), MDD Rec. (Germany G/A/S) and Spiritual Beast Rec. (Japan).
Link to the campaign: https://vkm.is/holycide
We would like to get your direct support through this pre-order campaign, in order to try to get back as much as possible of everything we have invested in recording, cover art, video clips, promotion... it's been quite some money, hehe!! We know that we are not going to retrieve everything, nor are we asking for money in a lost way, but through the different formats and other articles we offer exclusively, you can support HOLYCIDE in the most direct way that exists: from fan to band.
Once the campaign is finished, we will manufacture the items according to the demand, so everyting would be ready before February 14th, the release date and then we will start to mail out the orders (if not before).
"Fist to Face" has been recorded again in the Cadillac Blood Studios with Andy C. and the cover art has been made by Akirant Illustration, who currently work with IRON MAIDEN for many of their designs.
It has been three years of hard work composing and recording, and we can tell you that the result has been incredible! We hope that the advance song gives you an idea of ?? How everything goes!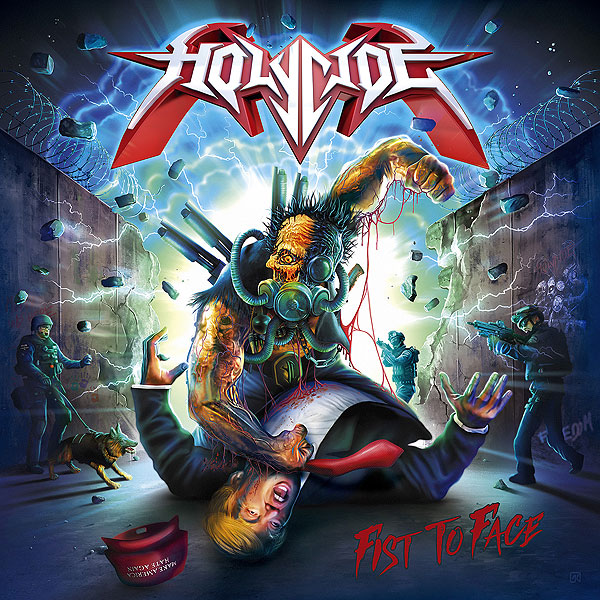 Track list for Fist to Face" is as follows:
01. Intrump
02. Fist to Face
03. Empty Cyber Life
04. Vultures
05. Nuclear Fallout
06. Trapped by the Crappy Trap
07. Mentality Packs
08. The Aftermath (Recipients of Death cover)
09. Napalm Sweet Napalm
10. Innocent Hate
11. Fake Libertarian
In this pre-order campaign, we offer you the possibility of directly supporting the band and receiving the album before anyone else, along with exclusive articles!
There are different packs, each repeated three times depending if you come from Spain, Europe or Rest of the world, since the shipping costs vary from one to another, so, choose the one for you and if you choose one with a shirt, no forget to indicate the size!!
On January 10th we will release the 2nd advance of the new album, it will be the song "Trapped by the Crappy Trap", in the form of a curious lyric-video that will raise blisters and by January 31st, the 3rd advance with the song "Empty Cyber Life" in the form of a brutal video-clip!
Don't forget to follow HOLYCIDE on Spotify to hear the new songs before anyone else in:
https://open.spotify.com/artist/4e4vOPepbl336uVhffH6VU
You can now listen to the song "Fist to Face" here:
https://open.spotify.com/embed/album/0IjLgOXe0EEzb9YIq9kr16
Thank you for supporting HOLYCIDE with this new album that we are 100% sure will not disappoint you! Follow us on any of our social networks!
Facebook: https://www.facebook.com/holycide
Instagram: https://www.instagram.com/holycide_official
Twitter: https://www.twitter.com/holycide
Youtube: http://www.youtube.com/holycidethrash
Bandcamp: http://holycide.bandcamp.com