MEGADETH 's Dave Mustaine is taking part in the 2019 edition of the "Experience Hendrix" tour. The 30-date trek, a celebration of Jimi Hendrix 's legacy and musical genius, kicked off in Pompano Beach, Florida on March 3 and will run through April 6 when it finishes in Wallingford, Connecticut.
Along with Mustaine , shredders like Joe Satriana , Zakk Wylde , Eric Johnson , Jonny Lang and Dweezil Zappa are performing with the all-star tribute led by Jimi 's BAND OF GYPSIES bandmate Billy Cox .
Fan-filmed video footage of the first two shows of the tour can be seen below.
Asked by "The Opus" podcast how he got involved with "Experience Hendrix" , Mustaine said: "Just like doing the classical performance with the [San Diego] Symphony [in April 2014], it's getting out of my wheelhouse. When these guys asked me to do this, I myself was very flattered, because, to me, Jimi is the status which I aspired to be my whole life. I wanted to be a guitar legend, and granted, I am considered a legend right now, but I still think Jimi is so much more grand than I am. I love his legend, I love how people revere him, and this is one of the, if not the most flattering thing outside of MEGADETH I've ever been able to do."
Mustaine admitted that he didn't immediately jump at the opportunity to take part in the trek.
"I think when you look at the people who are playing here, paying respect to Jimi , it can't help but pique your curiosity," he said. "It certainly piques my curiosity. I was a little bit apprehensive to take this gig, because knowing how extremely talented Joe Satriani is, and I've been a fan of Eric Johnson 's for years — ever since the 'Cliffs Of Dover' song came out. So I was a little bit nervous, but then I thought, 'God, I'm gonna be in the presence of these guys walking the earth and the spirit of Jimi Hendrix . How can I lose?'"
Since its inception as a single tribute show at the Rock And Roll Hall Of Fame in 2000, "Experience Hendrix" has become an anticipated fan experience.
"The tour is more than a series of concerts," Experience Hendrix LLC CEO Janie Hendrix , Jimi 's stepsister, said in a statement. "It's a celebration of a man whose amazing gift changed the face of music and informed an entire culture. His influences were varied and diverse. And this year we're shining a light on that diversity with artists who represent it across cultures and who also share a love for Jimi and his music. It's exciting to be able to honor Jimi 's enduring legacy in this way."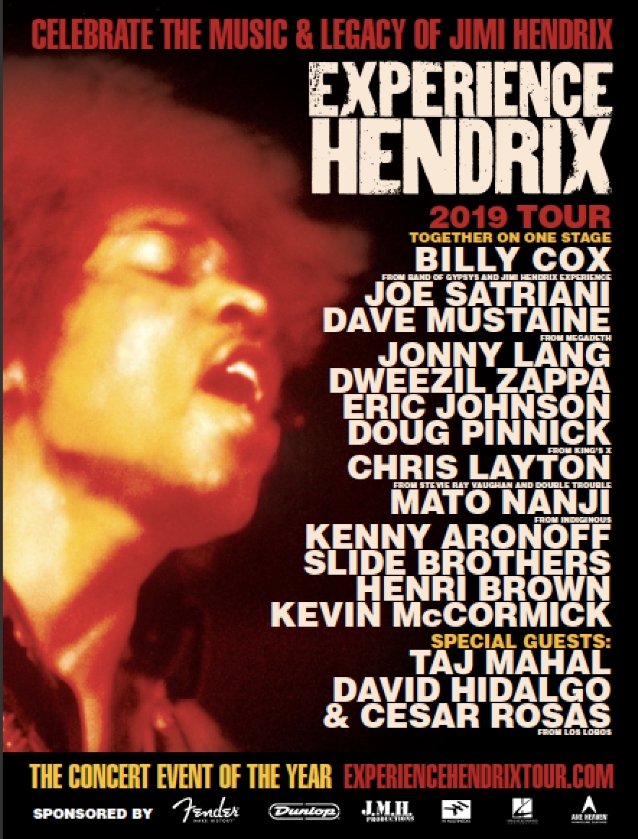 Via Blabbermouth