Inverse Records - Finnish Northcore - ATLAS - "Primitive" + on Tour Now! w/ Monuments
ATLAS have just released their first full length album entitled "Primitive" and their aptly coined genre branding of 'northcore' is a suiting term representing their interpretation of metalcore from the northern wilds of Finland. This nine track album challenges genre standards encompassing the heavy technicalities of hardcore as well as melodic harmonies and shattering vocals.
The 5 piece have been working on this album since 2015, but it is well worth the time in the end, according to the band:
"The process was long and one of the hardest things we've ever set out to do but we're all extremely happy and proud of how it came out in the end. Working with Tuomas and Buster was great from start to finish and I don't think we could have picked better people to make this album with. We also had the absolute pleasure to work with George Christie (Winds of Plague, Shields, A Night In Texas, etc.) who did most of the synth production on the album. Unfortunately George passed away earlier this year but he left behind some of the best music we've ever heard. It was an honor to work with him and his memory will live on through his music. '
The album was recorded at Sonic Pump Studios in Helsinki with audio engineer and producer Tuomas Yli­Jaskari (Lost Society, Valkeat, etc.). The mixing and mastering took place in Sweden at Impact Studios by Buster Odeholm (Born of Osiris, Sworn In, Humanitys Last Breath, etc.). The album was released October 5th through Inverse Records and is available on Spotify, iTunes, Google Play and RecordshopX.
Music Video "On Crooked Stones" here.
In additional news, ATLAS are currently on European tour with Monuments, Vola and Kadinja until November 11, 2018.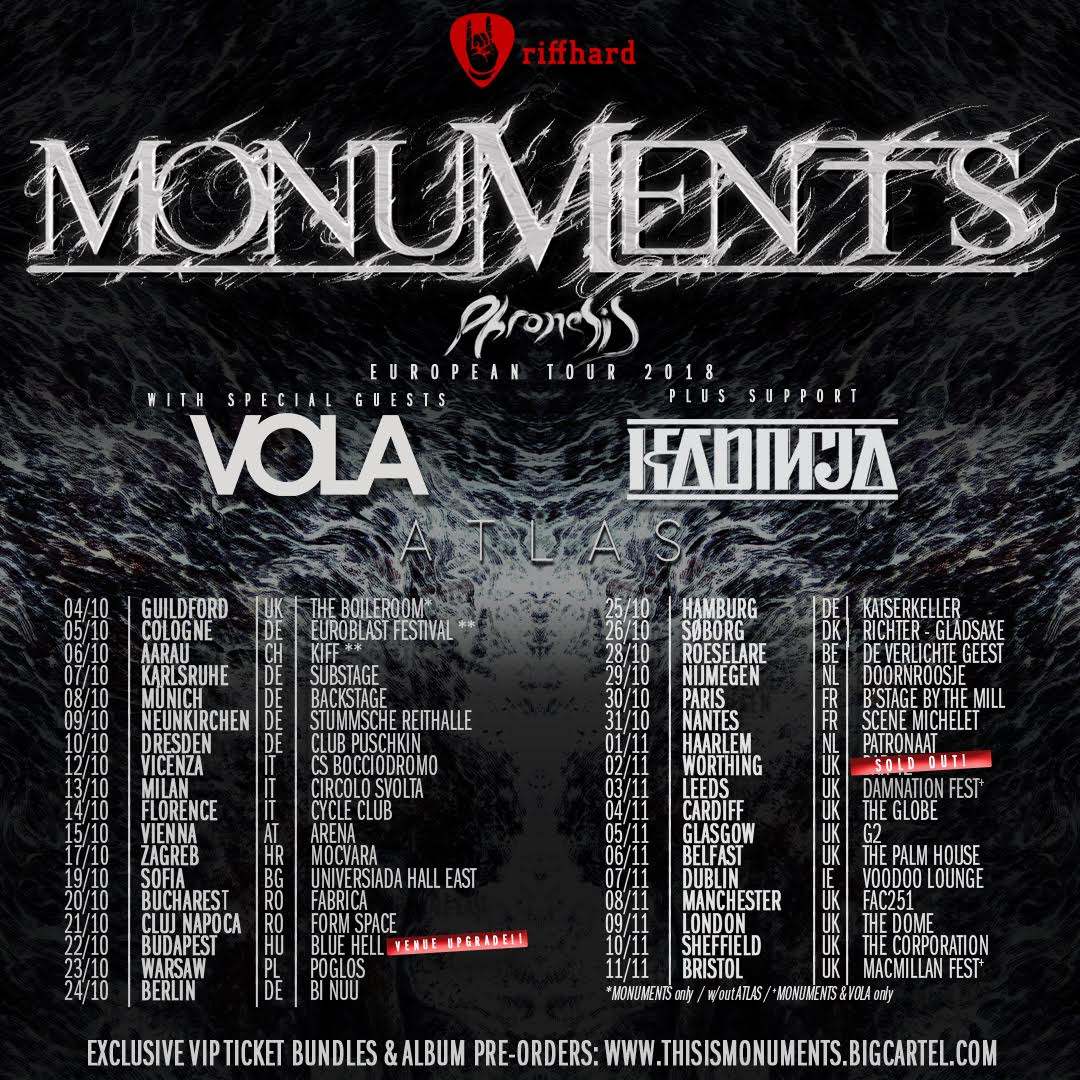 08.10. – MUNICH (DE) Backstage09.10. – NEUNKIRCHEN (DE) Reithalle
10.10. – DRESDEN (DE) Club Puschkin
12.10. – VICENZA (IT) CS Bocciodromo
13.10. – MILAN (IT) Circolo Svolta
14.10. – FLORENCE (IT) Cycle Club
15.10. – VIENNA (AT) Arena
17.10. – ZAGREB (HR) Mocvara
19.10. – SOFIA (BG) Universiada Hall East
20.10. – BUCHAREST (RO) Fabrica
21.10. – CLUJ NAPOCA (RO) Form Space
22.10. – BUDAPEST (HU) Blue Hell *VENUE UPGRADE*
23.10. – WARSAW (PL) Poglos
24.10. – BERLIN (DE) Bi Nuu
25.10. – HAMBURG (DE) Kaiserkeller
26.10. – SOBORG (DK) Richter Gladsaxe
28.10. – ROESELARE (BE) De Verlichte Geest
29.10. – NIJMEGEN (NL) Doornroosje
30.10. – PARIS (FR) Backstage By The Mill
31.10. – NANTES (FR) Scene Michelet
01.11. – HAARLEM (NL) Patronaat
02.11. – WORTHING (UK) Bar 42
04.11. – CARDIFF (UK) The Globe
05.11. – GLASGOW (UK) G2
06.11. – BELFAST (UK) The Palm House
07.11. – DUBLIN (IE) Voodoo Lounge
08.11. – MANCHESTER (UK) Fac251
09.11. – LONDON (UK) The Dome
10.11. – SHEFFIELD (UK) Corporation
11.11. – BRISTOL (UK) MacMillan Fest
More info:
http://inverse.fi
https://www.facebook.com/atlasfin/
https://www.instagram.com/atlasfin/
https://twitter.com/ATLASNORTHCORE
BIO:
"Where there's a will there's a way"
This is the mentality of the 5-piece modern metalcore band ATLAS, hailing from Nokia, Finland who are more than determined to make an impact on the genre. Labeling their sound as ''NORTHCORE' the band released a critically acclaimed debut EP "Northern Lights" in 2016.
After 6 years of hard work, the band has found its firm lineup with members who have dedicated themselves and their lives to the music. In that half a decade, the band's sound has developed and matured to the point where it is now a truly unique mixture of different genres and sounds.
"Our main influences vary from contemporary metal giants such as Architects and Bring Me The Horizon to rap, pop and ambient music that make our sound a mix of heavy hitting riffs paired with catchy melodies and immersive soundscapes. Outside music we draw inspiration from the northern gloom of Finland which bleeds into the music giving our band a cold and harsh sound'' says guitarist Tuomas Kurikka.
The band has played around Northern Europe with bands such as Adept, Eskimo Callboy, One Morning Left and We Butter The Bread With Butter. They are stocked to finally be releasing their first full length album "Primitive" on October 5th, 2018 via Invers Records.