DEICIDE and TORMENTOR (Hungary) have been added to MDF XVII. Deicide will perform on Saturday at Rams Head and Tormentor will perform on Friday at Rams Head. The Tormentor appearance at MDF will be an exclusive U.S. show.
Tickets are moving fast, particularly the 4-day pass. You can get your MDF 2019 tickets right here:
https://www.eventbrite.com/e/maryland-deathfest-2019-ticket…
2 more bands for the Thursday show at Rams Head will be announced at a later date.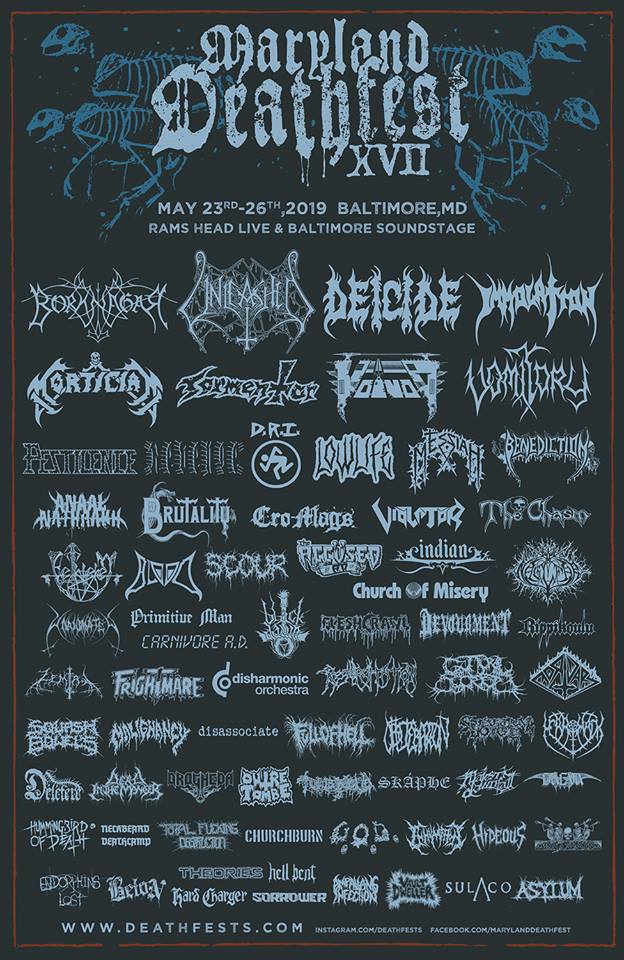 Thursday @ Rams Head Live:
Voivod
Church of Misery
Rippikoulu
Spectral Voice
Churchburn
+2 more bands to be announced
Thursday @ Soundstage:
Immolation
Guttural Secrete
Regurgitation
Malignancy
Outre-Tombe
Hideous
Inhumation
Friday at Rams Head Live:
Tormentor
Vomitory
Pestilence
Anaal Nathrakh
Naglfar
Disharmonic Orchestra
Zemial
Obliteration
Skaphe
Daeva
Friday @ Soundstage:
Cro-Mags
Carnivore A.D.
Indian
Full of Hell
Primitive Man
Tomb Mold
Disassociate
Ampallang Infection
Asylum
Saturday @ Rams Head Live:
Deicide
Borknagar
Revenge
Benediction
Scour
Brutality
Blood
True Black Dawn
Dead in the Manger
Deletere
Saturday @ Soundstage:
Mortician
Devourment
Frightmare
Squash Bowels
G.O.D.
Sulaco
TFD
Neckbeard Deathcamp
Drogheda
Sorrower
Endorphins Lost
Sunday @ Rams Head Live:
Unleashed
Messiah
Violator
Unanimated
Bethlehem
The Chasm
Fleshcrawl
Mortuary
Majestic Downfall
Merrimack
Sunday @ Soundstage:
D.R.I.
Lowlife (Cryptic Slaughter tribute featuring original members of Cryptic Slaughter/Repulsion)
Accused A.D.
Hummingbird of Death
Hell Bent
Beton
Theories
Ordeals
Hard Charger
Vault Dweller