AMKEN - PASSIVE AGGRESSION - Reviewed By Metal Digest ! Check it out here at this link: https://metal-digest.com/2023/04/07/amken-passive-aggression/
  Greece has always been a country happy to sit on the more extreme ends of the heavy metal spectrum. But in the last 20 years, its output of thrash metal has been excellent with Amken being one of their most recent exports and now, Amken are back with their latest release 'Passive Aggression'.
                It's easy to respond to an album called 'Passive Aggression' with 'I'm fine', but all joking aside, this sophomore release shows Amken upping the ante and taking in the more aggressive side to thrash and going for it. 'Passive Aggression' is an album which isn't afraid to take in elements of death metal into the thrash metal formula to really barrage this album along and therefore, with tracks such as 'Dead Man's Land', Somewhere Past the Burning Sun' and 'The Li(f)e We Lead' show a band with all the appeal of Warbringer and Strike Master, but also Sepultura and Nervosa particularly as the vocals bark and snarl their way through the mix like a rabid dog.

                'Passive Aggression' is the sound of a young band plying their craft well. There's still some work to do at tightening up a few tracks which begin to meander a little bit more than they should, but all in all, this is a good sophomore album that shows Amken are heading in the right direction. Metal Digest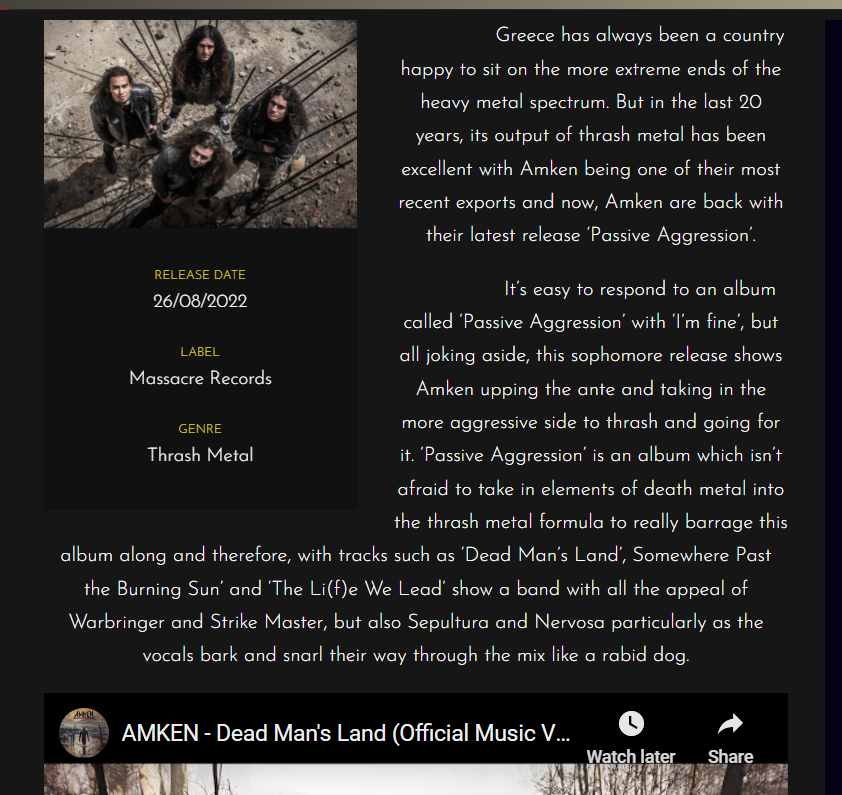 Release Date: 26th August 2022
FFO: Power Trip, Sepultura, Kreator
Location: Athens,Greece
AMKEN was formed in 2011 in Athens, Greece. Blood-pumping thrash metal that bridges the gap between old-school and the new-era, crafted by the band's unique style.
With the new album "Passive Aggression", out on August 26th 2022 via Massacre Records, AMKEN really elevated their game. A wall of sound is created by the constant "dialog" between their singers, the super tight rhythm section that the bass provides alongside with the relentless pummeling drumming, combined with intricate riffs and emotional melodies that the guitars unleash. Fotis Benardo (Sixfornine, ex-Septicflesh) was behind the mixing desk, inspiring the band to shape their new sound which blends originally their vintage roots with modern elements and influences. The mastering was completed by George Nerantzis (Abbath, Dark Funeral, Pain Of Salvation), and artwork fashioned by Adam Burke (Vektor, Fit for an Autopsy, Hooded Menace, Creeping Death).
Check out this video!
Follow the band at these links:
https://www.facebook.com/AmkenOfficial
https://www.youtube.com/channel/UCDVEGfo5JH6_M_RgoowBfLw?app=desktop
https://www.instagram.com/amkenofficial/
https://amken.bandcamp.com/