**Final Band Announcement**
We are SO excited to announce that Casket Robbery will be headlining this year's Tennessee Metal Devastation Music Fest!!! The fans asked, and we listened! Casket Robbery put on an amazing performance at last year's festival, and it is an honor to welcome them back!! Check out their newest album, "Rituals of Death", currently available on all major streaming services! The link to purchase the album is in the comments. The album won "Album of the Year" on Metal Devastation Radio, and they have been featured at KNOTFEST, Metal Injection, and Decibel Magazine!
"Emerging from the darkest and most desolate areas of the Midwest, Casket Robbery creates its own signature style of death metal by infusing horror and occult themes. Their trademark huge riffs and unstoppable grooves create the unrelenting, brutally catchy, and eerie sound that only Casket Robbery is known for. Death metal with a wink."
"CASKET ROBBERY's intense, high-energy shows have quickly surfaced a die-hard following. They continue to show a relentless work ethic and dedication to their fanbase."
The band has been touring non-stop across the United States, with several large festival performances coming up this spring and summer, including an upcoming performance at Milwaukee Metal Fest with Dark Angel Official, Anthrax, Lamb of God, and more. CASKET ROBBERY has shared the stage with Cannibal Corpse, Jungle Rot, Psycroptic, Immolation, Summoner's Circle, The Convalescence, Narcotic Wasteland, Malevolent Creation, Death Angel, THY ANTICHRIST, and so many others! They also recently signed with Blood Blast Distribution through Nuclear Blast Records.
They have been added to our festival Spotify playlist (link below), and several of their videos are linked below as well. Check them out and show your support!
https://www.eventbrite.com/e/tennessee-metal-devastation-music-fest-2023-tickets-542779246337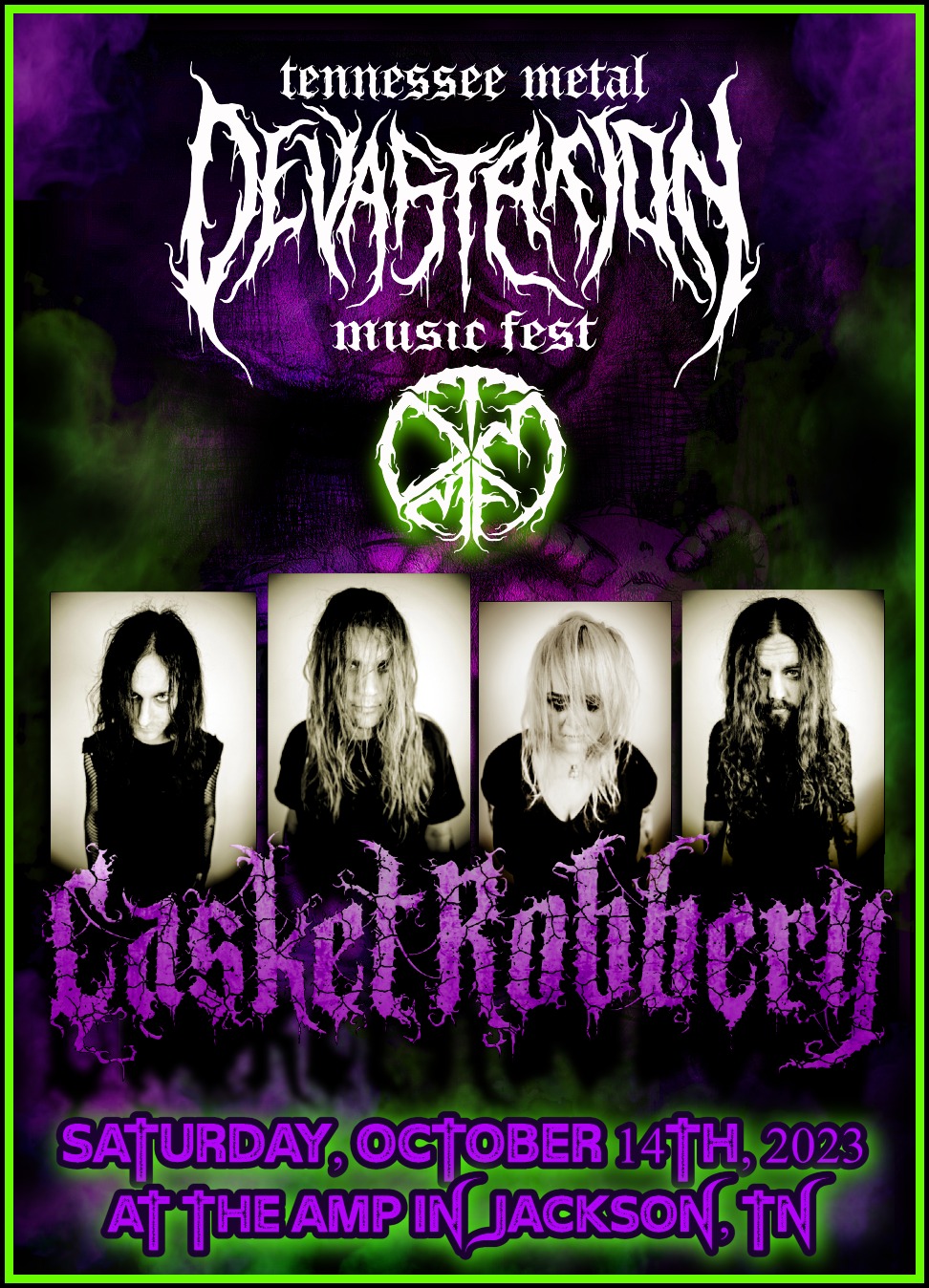 Check them out here in this playlist!
Check out these videos!