Grammy -winning hard rock band HALESTORM and Atlantic / Roadrunner band IN THIS MOMENT announced today a third leg of their all-female fronted tour, with NEW YEARS DAY supporting.
The new dates begin November 16 in Norfolk, Virginia and run through December 16, wrapping in St. Petersburg, Florida
"You asked for it, and now you're gonna get it," said HALESTORM frontwoman Lzzy Hale . "I'm so excited to announce the third leg with my empowering, beautifully Vicious women! Three tours and we don't show any signs of slowing! We are joined by our friends in IN THIS MOMENT and NEW YEARS DAY starting in November! Get your tickets now because you don't want to miss this!"
"We are so beyond excited to be announcing the third leg of such an empowering and beautiful tour," said Maria Brink of IN THIS MOMENT . "We knew after completing the first leg that this was something people were going to be paying attention to, and it felt strong, it felt powerful, and it felt liberating. I am so excited to see everybody at the upcoming shows!"
"Touring with Maria and Lzzy has been, by far, the best touring experience I've ever had," said Ash Costello of NEW YEARS DAY . "I am lifted up and supported by the amazing women of this tour, and everyone feels as if they are family who are rooting for each other to kill it every single night. The positivity is incredible on a personal level. Not to mention, the shows are absolutely ferocious. I am honored to be on stage with these incredible women of metal and rock once again! And honestly, I hope there's no end in sight!"
A special BLABBERMOUTH.NET presale will begin on Wednesday, July 25 at 10:00 a.m. EST and end on Thursday, July 26 at 10:00 p.m. local time. When prompted, type in the presale code "TRIPLETHREAT" to access tickets before the general public.
Tour dates:
Nov. 16 - Norfolk, VA - Constant Convocation Center
Nov. 17 - Camden, NJ - BB&T Pavilion
Nov. 20 - Evansville, IN - Old National Events Plaza
Nov. 21 - Ft. Wayne, IN - Allen County ExpoCenter
Nov. 23 - Syracuse, NY - Nicholas J. Pirro Convention Center
Nov. 24 - New York, NY - Hammerstein Ballroom
Nov. 26 - Cleveland, OH - Masonic Auditorium
Dec. 01 - Broomfield, CO - 1stBank Center
Dec. 02 - Park City, KS - Hartman Arena
Dec. 04 - Springfield, MO - Shrine Mosque
Dec. 05 - Lexington, KY - Rupp Arena
Dec. 07 - Hammond, IN - Horseshoe Casino
Dec. 08 - Minneapolis, MN - The Armory
Dec. 11 - San Antonio, TX - Aztec Theater
Dec. 12 - Dallas, TX - South Side Ballroom
Dec. 14 - Orlando, FL - Amway Arena
Dec. 16 - St. Petersburg, FL - MahaffeyTheater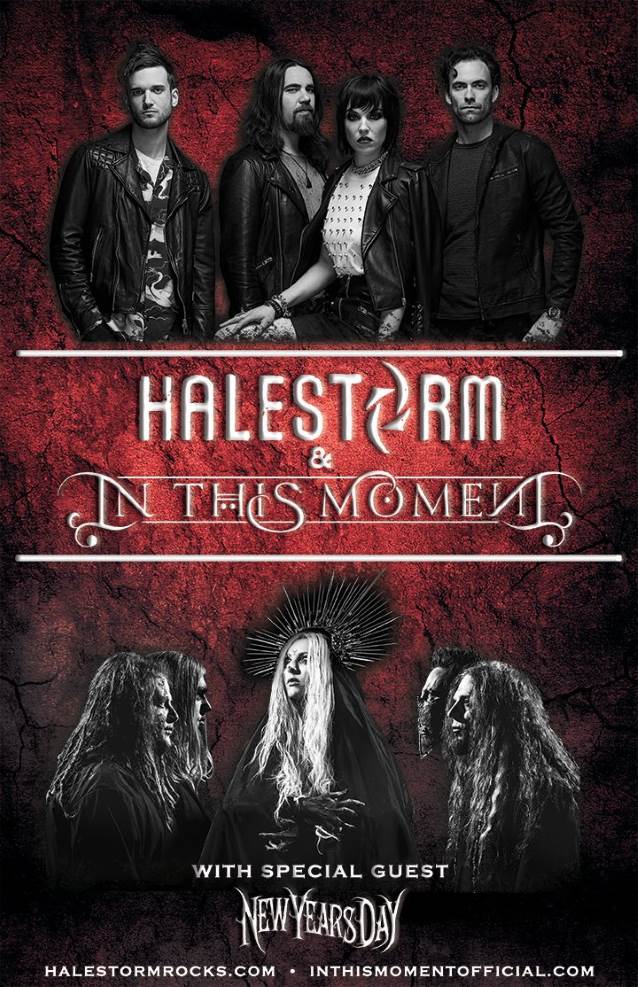 HALESTORM 's fourth album, "Vicious" , will be released on July 27 via Atlantic .
Recorded last year at Nashville, Tennesse's Rock Falcon recording studio with producer Nick Raskulinecz , "Vicious" is available for pre-order at all DSPs and streaming services.
Deluxe album packages are available for pre-order exclusively at the band's official webstore, including the new album on standard vinyl, plus a limited-edition opaque purple colored double vinyl with enhanced cover art and bonus tracks, limited to 1500 units worldwide. Also exclusively available at the webstore are a limited edition t-shirt, dog tag necklace, autographed poster, and a free album cover magnet with physical album purchase while supplies last.
Raskulinecz is an acclaimed producer who has previously worked with RUSH , KORN , ALICE IN CHAINS and DEFTONES , in addition to having produced HALESTORM 's third covers EP, "ReAniMate 3.0: The CoVeRs eP" , which came out in January 2017.
IN THIS MOMENT 's latest album, "Ritual" , was released in July 2017 via Atlantic / Roadrunner . The disc, which included the band's eerie cover of Phil Collins 's "In The Air Tonight" , was produced by IN THIS MOMENT 's longtime collaborator — and multiple Grammy Award nominee — Kevin Churko ( FIVE FINGER DEATH PUNCH , OZZY OSBOURNE ).
IN THIS MOMENT is preparing to begin the songwriting process for its next studio album, tentatively due in 2019. Via Blabbermouth