'Scum Giant' joins The Zach Moonshine Show, to talk about their latest release 'Space Vampire', and much more! We also played new and old tracks from Space Hamster, Yagon, Cheyne Stokes, Stone Nomads, Smoke, Denim Cobra, Bobby Liebling & Dave Sherman Basement Chronicles, Temple Of The Fuzz Witch, Murder Method, Necrotion, Never Reborn, Carcass, Jack Ire, The Red Mountain, Zach Moonshine's Brutal Death Fuck, Fires in the Distance, Sermon, VILEDRIVER, and Wesele!
Track List:
1 - Only We Remain - Space Hamster
2 - Shadow and Light – Ronen - Yagon
3 - The fire (Inside your heart) - Cheyne Stokes
4 - The Zach Moonshine Intro
5 - Fiery Sabbath, Gallows Walk, Sign of the Wolf - Stone Nomads
6 - Scavenger - Smoke
7 - Berserker - Denim Cobra
8 - All Lit Up - Bobby Liebling & Dave Sherman Basement Chronicles
9 - Scum Giant interview featuring Anathema, I Am God, Deadbeat
10 - A Call To Prey - Temple Of The Fuzz Witch
11 - Casket Screams - Murder Method
12 - Son Of Dog - Necrotion
13 - Children of Fire - Never Reborn
14 - No Love Lost - Carcass
15 - Morphine (feat. Dave Frost) - Jack Ire
16 - Hey Man - The Red Mountain
17 - The Devils Whiskey/Alcohol - Remastered - Zach Moonshine's Brutal Death Fuck
18 - Wisdom of the Falling Leaves - Fires in the Distance
19 - The Distance - Sermon
20 - No Light Shall Penetrate - Blood Stained Dusk
21 - Modern Welfare - VILEDRIVER
22 - pustka - Wesele
Check out the full show on Mixcloud!
Check out the interview segment on YouTube!
Check out the interview segment on Spotify!
Check out the interview segment on Apple!
---
Release Date: March 7, 2023

FFO: Electric Wizard, Monolord, Uncle Acid & The Deadbeats

Location: Joliet, IL and Los Angeles, CA

Following up on their feature in the Weedian Trip To Illinois compilation, (

https://weedian420.bandcamp.com/album/trip-to-illinois

), the immortal SCUM GIANT returns with SPACE VAMPIRE, a 4-song dollop of gloopy sludge that finds grimy vocalist/guitarist DANIMAL teaming up with his moss-covered lifelong collaborator SQUACHEK on drums and production. From heartbreak and betrayal (Anathema) to devastating loss (Victim), ingrates (Deadbeat) and twisted killers (I Am God), Scum Giant slathers the innards of tortured spirits upon the decaying walls of society and demands we toast the artwork with a bottle of cheap whiskey and a bong rip. Dan and Dave made their debut in the early 90s as Cerebral Compression, signing their hilarious and brutal album Have A Seat on the legendary Wild Rags Records. Since then, the two depressed dirtbags have worked in genres ranging from heavy country to heavy house to even heavier metal. When you need your giants scummy and your music dirgey, look no further.

Follow the band on Spotify and add them to your playlists!

Also available on Apple!

Support the band on Bandcamp!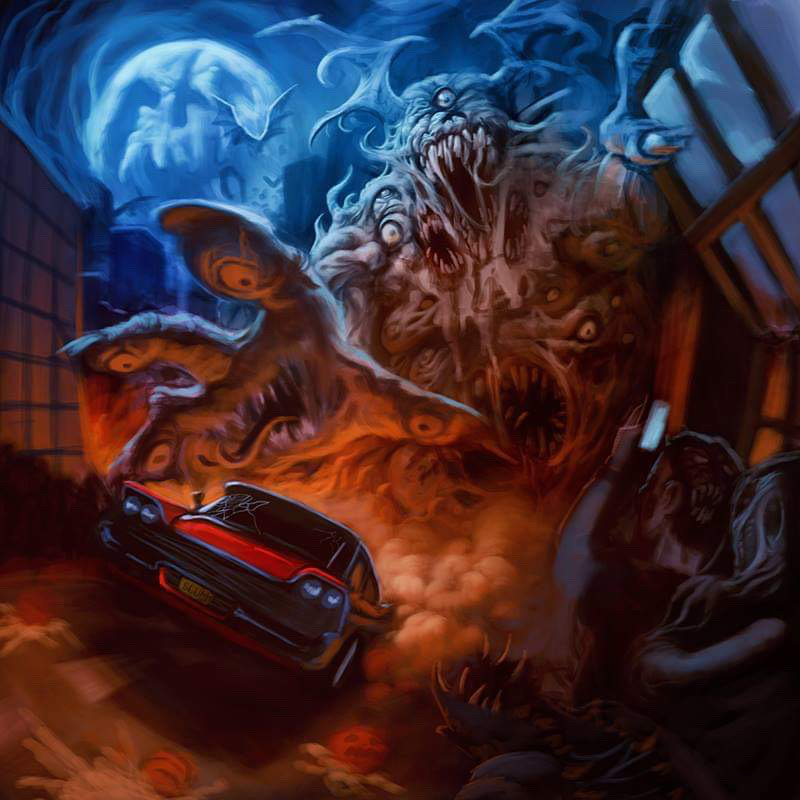 Follow the band at these links: