Methane - Kill It With Fire - Reviewed by Metal Temple ! Check it out here at this link: http://www.metal-temple.com/site/catalogues/entry/reviews/cd_3/m_2/methane-kill-it-with.htm
The Second Generation of Thrash Metal had many appreciable features: on one side, a part of the bands used a more violent form of the genre, even keeping its natural qualities of it (as the melodic care mixed with the aggressiveness), and VIO-LENCE, HIRAX, SACRED REICH are good names to example what these words mean; on other hand, there are those who brought the inner Groove inherited of North American Black Music genres (as Rhythm 'n' Blues and Soul Music) and Southern Rock (influences of acts as LYNYRD SKYNYRD, THE ALLMAN BROTHERS BAND, MOLLY HATCHET, BLACKFOOT, ZZ TOP, BLACK OAK ARKANSAS, THE OUTLAWS, to name a few) as PRONG, MORDRED and PANTERA. Both ways are extremely influential today, and the second way is the main core of influences of what is heard on "Kill It With Fire", the second album of the Swedish/North American quartet METHANE.
To label their musical work as Groove/Southern Metal is to be ingenuous, because their musical aggressiveness bears elements inherited directly of SLAYER (especially on the guitar riffs), and it's not focused solely slow tempos (take a bit on the rhythmic shifts heard on "Kill It With Fire" to heave a clear idea of what these words mean). It's a bit different of purely Groove/Southern Metal acts, but with an abrasive energy and aggressive hooks permeating all the songs. And it's hard to stay stopped as this album plays. Be prepared! The album was produced by Jonas Arnberg and the band, being recorded and mastered at Sellnoise Studios. And it's amazing as the whole sonority takes the best of the genre, being clear and understandable, but abrasive and rough at the same time. And the choice for the instrumental tunes was a wise one, because everything sounds alive and fresh, but aggressive as well. And the band has as an especial guest C.J. Scioscia, of North American legend BLOODFEAST on the guitar solo of "A Blood Red Sky".
As the album plays, its seven songs invite the fan to have a gross and massive experience against the 'conservative social values for the sake of the traditional family', so taste "Kill It With Fire" (a massive Groove/Thrash Metal song, with rhythmic contrasts between fast and slow moments, and with fierce snarls of the vocals filling the spaces, and what great chorus), "Accuser (of the Brethren)" (this one shows the massive and abrasive appeal of Groove Metal, what allows the rhythmic work of bass guitar and drums appear in a great way), "Declare Chaos" (this one is a fine combination of a very good set of technical tempos with massive Thrash Metal hooks, and what great guitars), "Shock and Awe" (if you want a catchy Groove/Thrash Metal song, this one is for you, with excellent contrasts on the rhythms and great chorus), "A Blood Red Sky" (it's not so fast, but's filled with excellent dirty melodic hooks in many moments, and what remarkable guitars), "Down in the Gutter" (a slower song focused on those traditional breakdowns of Groove Metal, but with aggressive vocals), and "Thin the Herd". Yes, all the songs are equally excellent.
If things go in the right way for METHANE, they can become as great as other acts of Thrash Metal, because "Kill It With Fire" enables the band to be at such a level.
Songwriting: 9
Musicianship: 9
Memorability: 9
Production: 10
Release Date: January 27, 2023
FFO: Onslaught, Pantera, Slayer, Kreator
Location: Stockholm, Sweden
Presave now! https://smarturl.it/methanepresave
The album reverberates unapologetic thrash metal guitar riffing courtesy of guitarists Jimi Masterbo and Markus Grundstrom paired with the intense drumming of newly inducted drummer Jonathan Fundin . The album also features a colaboration with CJ Scioscia from New York City area thrash legends Blood Feast , who shreds a solo on track 5 ' A Blood Red Sky '.
Tim commented in a press release "The lyrics for the album have a darkened tone of irony about our contemporary societal woes and some deeply personal songs as well, of life and all its miseries. The music on the album sounds brutal, we really got a sick mix of old school thrash and heavy pit provoking groove riffs."
Check out the videos!
The music video depicts today's society, social media junkies hopped up Facebook likes. The idea for the song came from a day Tim was going through his friends list, deleting people that had no reason to be there. " I was culling them, deleting someone from your page is worse than death for some people. I think we are all going fuckin' crazy. Its a virus and we're all infected"
Support the band on Bandcamp!
Follow on Spotify!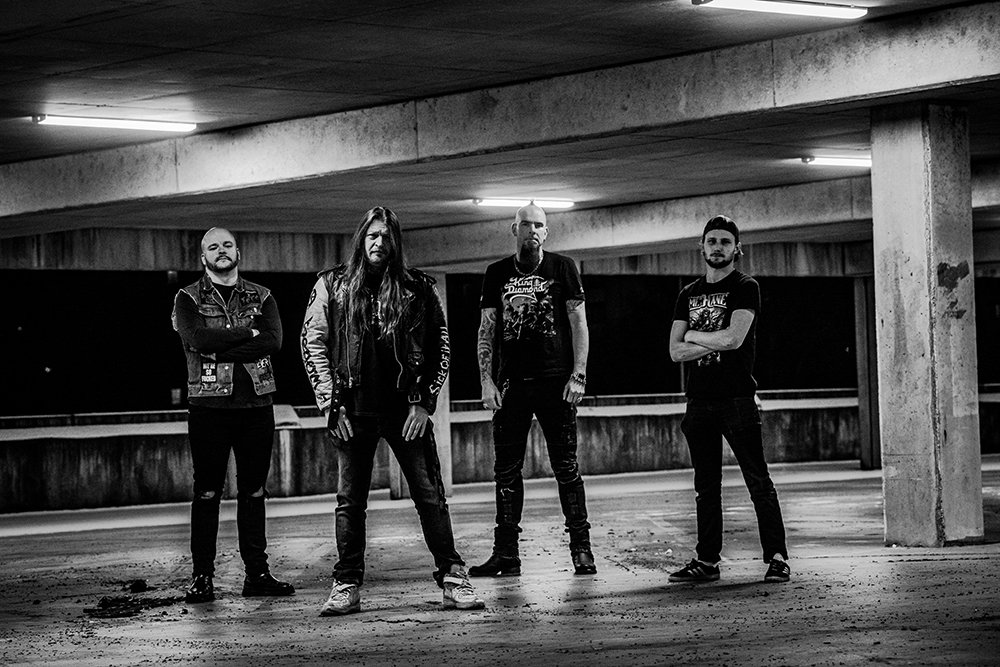 Follow the band at these links:
https://twitter.com/methanemetal
https://www.facebook.com/methaneband
https://methane.bandcamp.com/album/kill-it-with-fire
https://open.spotify.com/artist/2F5991oNfIR8cjD63Nbak2
https://www.youtube.com/channel/UCIut2PuGrMi3QP-ywnVw-aA