GRAVEHUFFER SIGNS TO BLUNTFACE RECORDS FOR VINYL EDITION OF THEIR LATEST ALBUM, YOUR FAULT
Joplin, Missouri's favorite Crossover/Crust/Punk/Metalheads, Gravehuffer, have finalized a deal with Bluntface Records for release of their latest album, Your Fault on vinyl.
The vinyl edition of Your Fault marks the first official vinyl release for BFR. The band is currently in the studio recording two brand new tracks for inclusion on this version of the release to commemorate their partnership with BFR, and the subsequent release of Your Fault on the vinyl platform. Carlo Regadas (ex- Carcass/current guitarist of Monstrance) will lend his talents on one of the bonus tracks for a guest solo spot.
Often hailed as "N.W.O.B.M. meets the early Earache catalog", Gravehuffer brings a unique blend of influences into their music and channels it all through a gritty honesty with a healthy disregard for genre boundaries and limitations.
With James Hiser on vocals, Ritchie Randall on guitar, and a rhythm section comprised of Mike Jilge on bass, and Larry Deardorff on drums, along with a collective style that blurs the lines between Punk, Metal, Grindcore, and down-tuned Sludge laden Doom; Gravehuffer should feel right at home on Bluntface Records for this release.
Presales of the Vinyl edition of Your Fault are currently tentatively scheduled for August with additional release information to follow.
For more information, contact us here:
bluntfacerecords.com/contact
For more information on Gravehuffer: https://bluntfacerecords.com/gravehuffer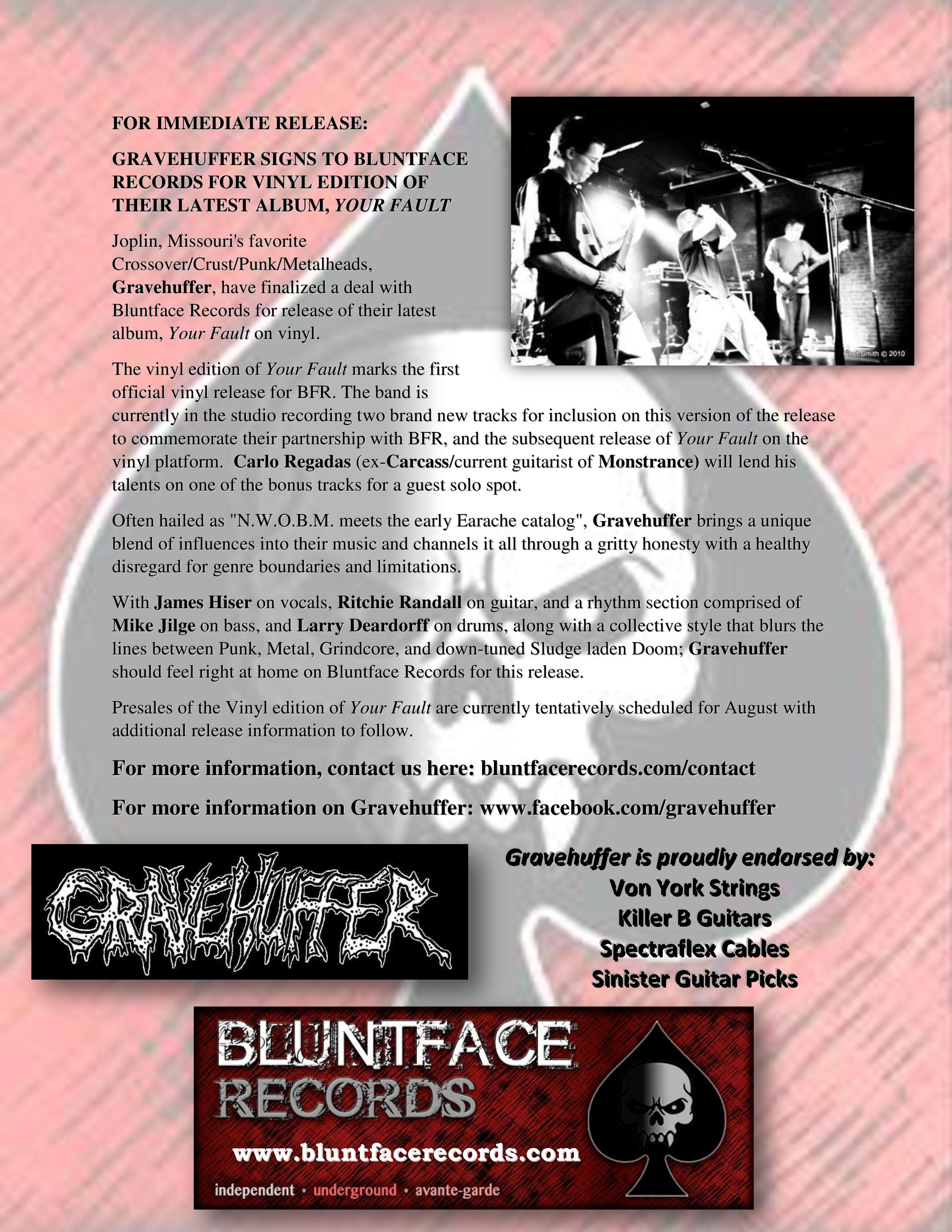 Follow Bluntface Records on Facebook and Twitter to stay tuned in.
www.bluntfacerecords.com
www.facebook.com/bluntfacerecords
twitter.com/bluntfacemusic