Psionic Madness - Mortality Salience - Reviewed By Metal Rules ! Check it out here at this link: https://metal-digest.com/2022/08/05/psionic-madness-mortality-salience/
          If you take elements of both black and death metal and sit there thinking: "this… this is still not extreme enough", then the one way to real give it some oomph is to add a shit ton of grindcore into the mix too. That is what is Psionic Madness did when they got together, wrote and recorded their debut album 'Mortality Salience'.
                Formed as a trio from members of Filtheater, Nothing is Real and Vølus, the American band decided to take things a breakneck pace. This is not a record for the faint hearted because Psionic Madness grab a hold of the listener and give them a lobotomy whether they like it or not because the band are going to delve into the darker side of the human psyche, from the realisation that death affects us all and into the paranormal before crossing the barrier entirely into the realms of insanity. Through tracks such as 'Cathartic Suicide Denied', 'Grotesque Laughter Consumes' and 'Sanity… a Euclidean Prison', 'Psionic Madness' thrashes forward with all the frenzied madness of Nader Sadek, Benighted and Murder Construct.

                This does mean that 'Mortality Salience' can be a bit of a headfuck at times as it assaults the listener like a jackhammer to the brain. There isn't anything here that is groundbreaking or new, but it is an enjoyable slice of death/black with enough grindcore to boot! - Metal Rules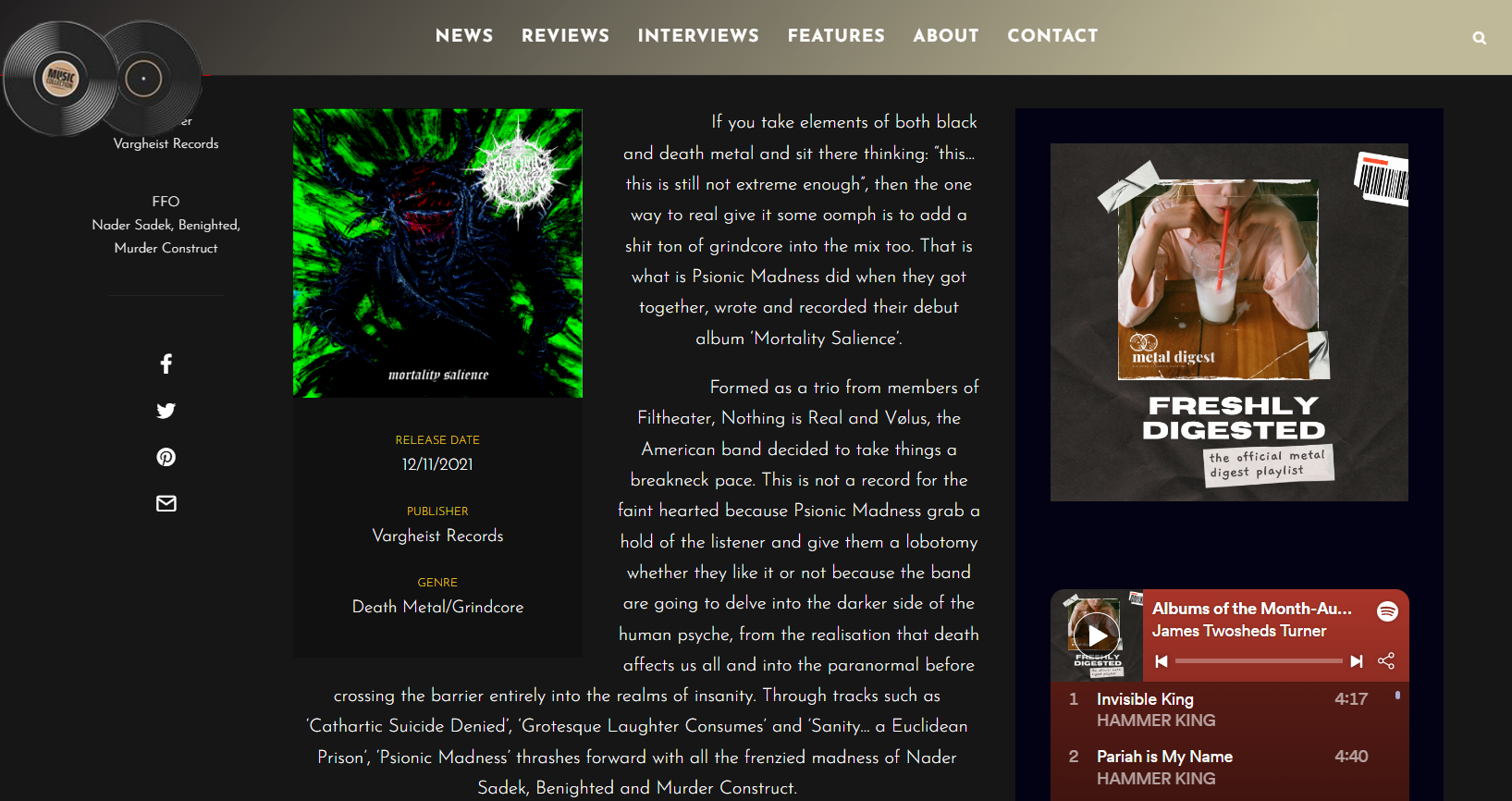 Release Date: November 12th, 2021
FFO: Nader Sadek, Benighted, Murder Construct
Location: South Carolina / California, USA
The debut album of Psionic Madness "Mortality Salience" is the realization of inevitable death that everyone faces, no one can escape.
Mortality Salience is the main lyrical theme driving the record, the side effects of this realization deal with the paranormal and insanity. 11 tracks of black / death / grind featuring members from Filtheater [Jared on Drums], Nothing is Real [Nick on Guitars] and Vølus [himself on Vocals].
Psionic Madness name was taken from Vølus's song "Under Psionic Madness" that was released on "Festering Anti-Cosmic Wound" in 2020. This record will be exclusively sold on CD via Vargheist Records and releases Friday November 12th.
Check out the video!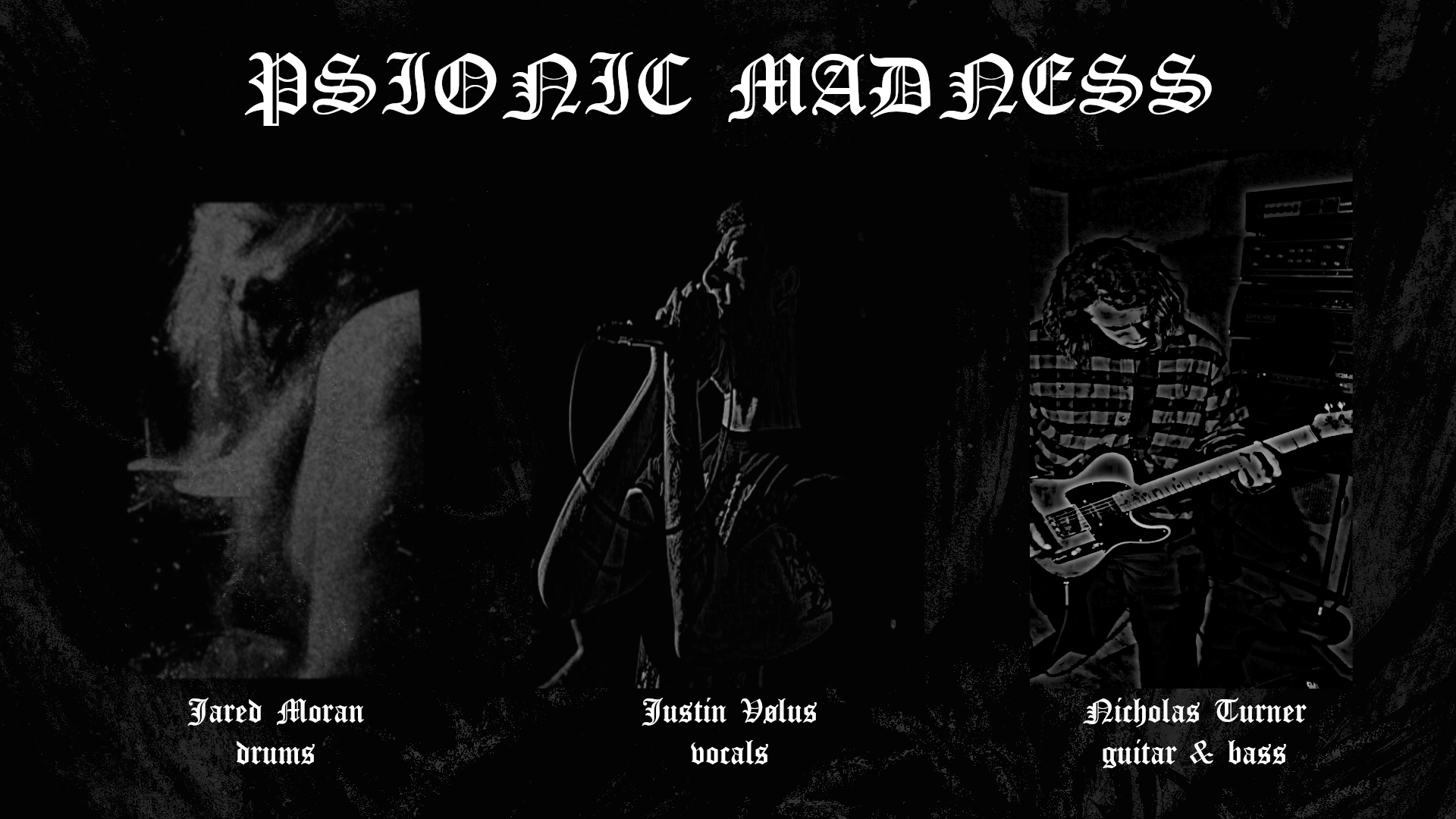 Line-up:
Vocals / Lyrics - Justin Vølus
Guitar / Bass - Nicholas Turner
Drums - Jared Moran  
Credits:
Nicholas Turner - Engineering and Mixing
Will at Dead Air Studios - Mastering
Dede Suhita - Artwork
Vargheist Records - Inlays  
Follow the band at these links:
https://www.facebook.com/psionicmadness/
https://psionicmadness.bandcamp.com/
https://www.facebook.com/VargheistRecords