HELIOS - Touch The Sun - Reviewed By druzynaspolszczenia ! Check it out here at this link: http://druzynaspolszczenia.pl/showthread.php?tid=3845&pid=112047#pid112047
Pittsburgh's HELIOS was known from 2016 to 2020 as STORM DRAGON. In 2020, the band parted ways with their previous vocalist Joey Torres, adopted a new frontman and changed their name to HELIOS. The new vocalist is not just anyone, it is Tim Aymar himself, probably best known from PHARAOH, but he is only one of the bands in which he performed.
In May, the group presented a digital version of the album "Touch the Sun", which featured recordings already known from their demo STORM DRAGON, but also mostly new, so far unreleased. The album met with critical and metal audience acclaim not only in the USA and now a physical version of this album is to appear soon.
The music of HELIOS must have aroused interest not only because of Aymar himself, but also and perhaps even primarily because of the high level of the compositions themselves. There are currently very few melodic heavy/power and USPM bands in the USA, and HELIOS is one of them and definitely from the top. Aymar is always an added value and here it is rough, predatory, dramatic, sublime and much more interesting than on the last PHARAOH album. He embellishes here, adds power to all these songs played with passion and Fire from the Sky is a showcase of style perfectly reflecting the overall character of this music. American, heroic heavy/power here with neoclassical elements, which in America in such playing appear rarely. Here are two guitarists feeling such atmospheres and solo plays in this manner are destructive. However, the album is not really neoclassical, heroic compositions prevail, very melodic, with emotional vocals and decisive guitar attacks. Touch the Sun and Keep It True look great in this category and you can feel the spirit of 80s metal, built with such reverence by dozens of outstanding bands. And in this style they play phenomenal, and yet based on well-known riffs, proud and heroic Kill Your Mother, and immediately after that absolutely excellent heavy power in Mystery, reminiscent of the most powerful DIO numbers, and the keyboardist Matt McGee invited here plays such a solo that makes every fan of vintage keyboards increase the pressure. Power, just power! Oh, what power once again in the proud and majestic That's What You Get. Melodiously tear to pieces, do not take prisoners. Ekstraklasa! Hellbender seems to be a song that could never be recorded ARMORED SAINT... what a load of emotions, what intricate salts flying towards the sky! Maybe only Ancient One of these stronger songs looks a bit weaker. They are both romantic and poetically tuned, as in the charming, exquisitely sung by Aymar male song Like a Gun. How beautifully solo guitarists play here, how beautiful the further plans sound... Powerful, proud drum parts are the decoration of this composition and anyway, not only this one. And if you don't have a romantic Aymar and strong dignified chords, you have here an excellent You Knew It All Along.
Classic sound with roaring guitars and a loud rhythm section, and over all this, without the slightest effort, dominates Dominator Tim Aymar, who also performed mix and mastering. Aymar sows devastation, Johathan and Jeff sow (an excellent guitar duo!), the thundering rhythm section eric and Jack sow! In this case, you can only say - "Long live the American heavy / power!" and listen to this album, hopefully soon also in the CD version.
I definitely recommend it! Championship! - druzynaspolszczenia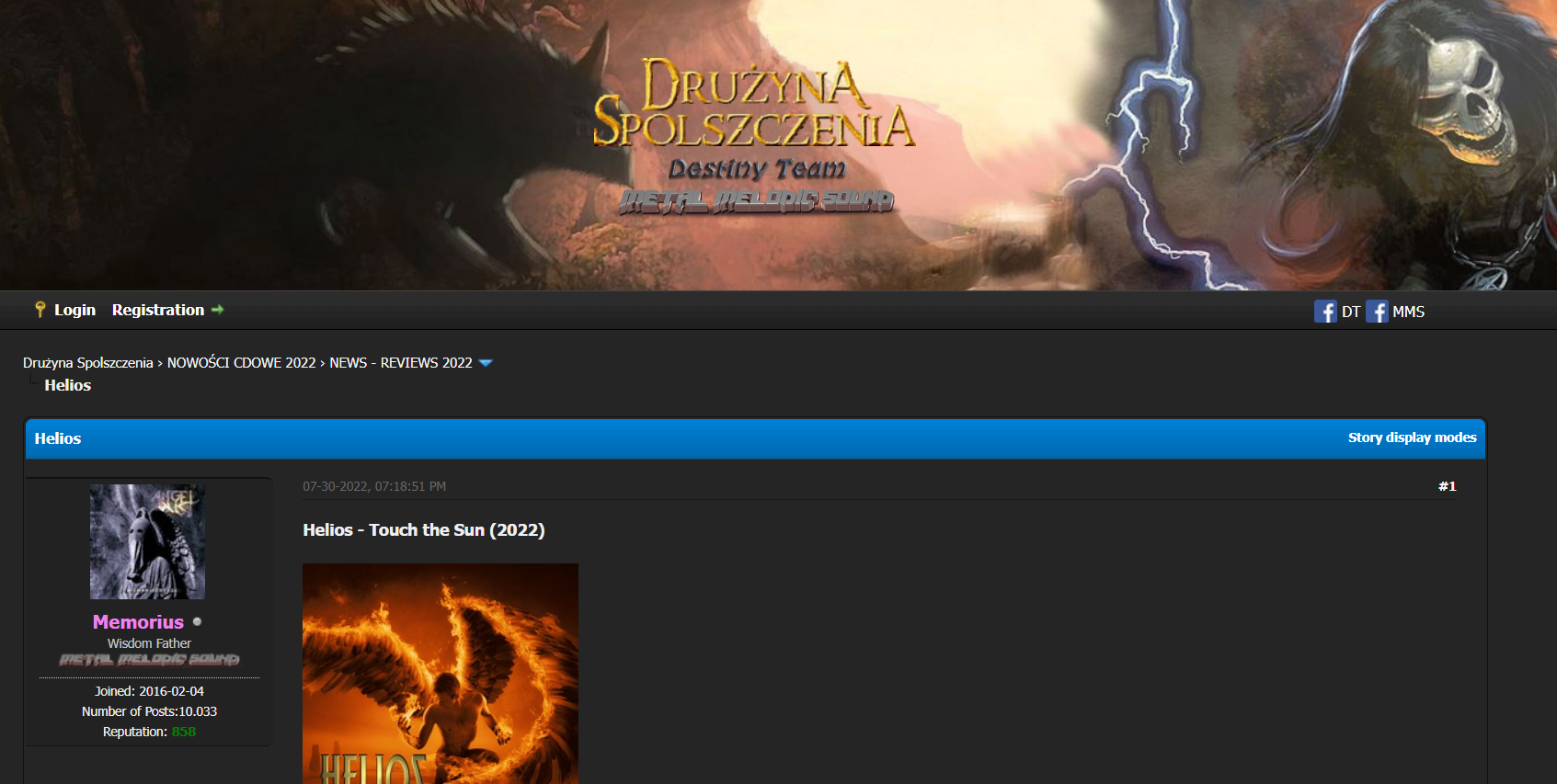 Release Date: May 13, 2022
FFO: Judas Priest, Dio, Iron Maiden
Location: Pittsburgh, PA, USA
Short Bio: Tim Aymar (singer from Control Denied and Pharoah ) has a new band! HELIOS is a NWOBHM -inspired heavy metal band who appeal to fans of Judas Priest, Iron Maiden, Dio, Yngwie Malmsteen , etc. They released a self-produced 4-song demo EP in 2020 and have released their debut full-length album, "Touch The Sun", on May 13, 2022. HELIOS has grown a fanbase of several thousand metalheads from their own self-promotion, social media, and word-of-mouth, and their fans in USA, Germany, Poland, France, Finland, Japan, and elsewhere around the world are anxiously awaiting the physical album copies and are ready to buy! Many have paid exorbitant shipping fees just to get their hands on the demo CD (which has sold out).
Check out this video!
Follow them on Spotify!
Support them on Bandcamp!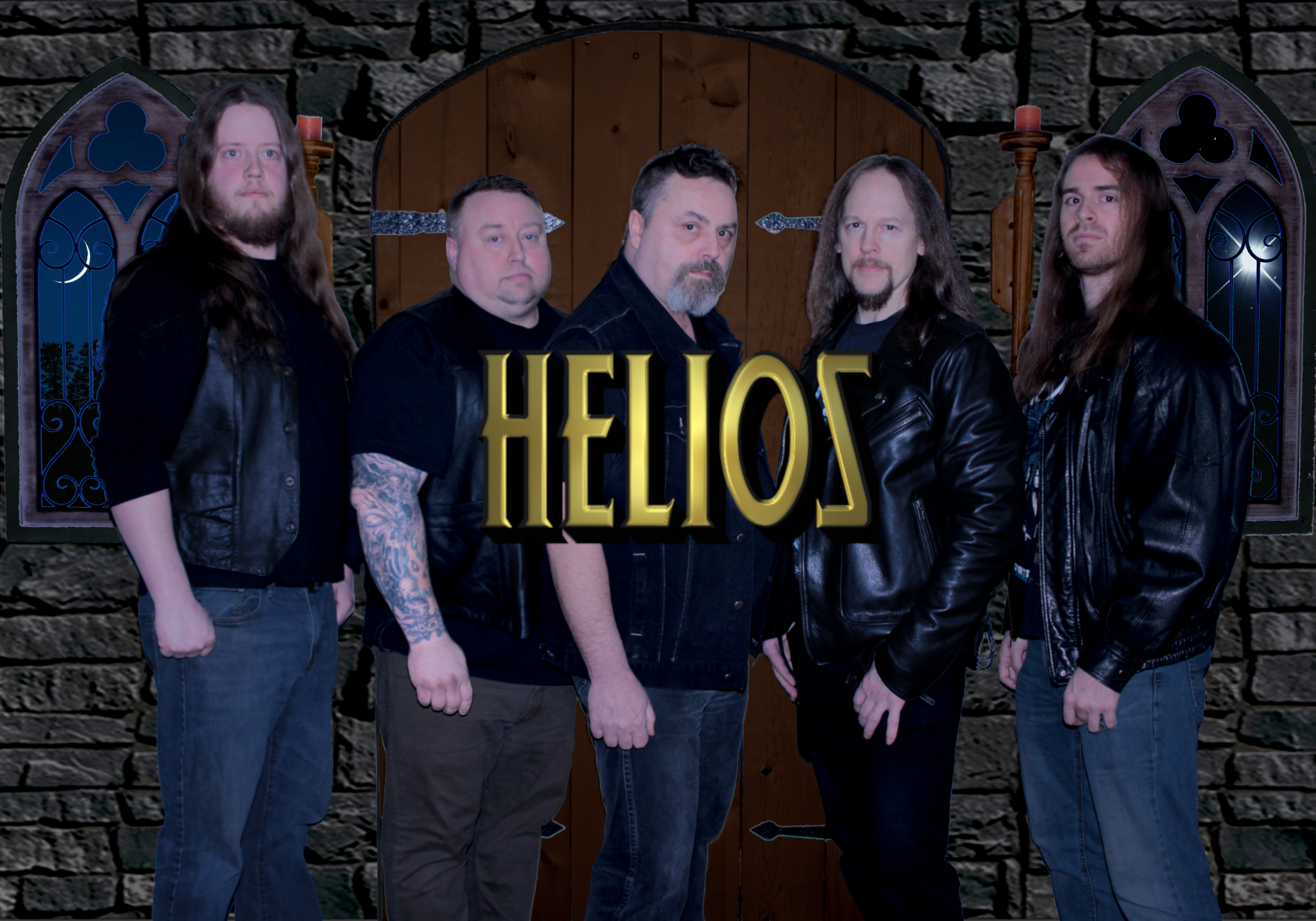 Follow the band at these links:
https://www.facebook.com/HeliosUSMetal
https://twitter.com/heliosusmetal
https://www.instagram.com/heliosusmetal/
https://www.youtube.com/channel/UCgm4ukh2VCdhc-wp_hvZXYg
https://www.reverbnation.com/HeliosUSMetal
https://distrokid.com/hyperfollow/helios4/touch-the-sun-2
https://heliosusmetal.bandcamp.com/
https://music.amazon.com/albums/B09YPTB4VZ
https://open.spotify.com/album/133NOteyzZ5ybIhbE0DYp3