HELLFIRE 76 - (Self Titled) - Reviewed By metal-integral ! Check it out here at this link: http://www.metal-integral.com/chronique.do?chronique_ID=8371&groupe=hellfire-76&album=hellfire-76
Coming from two distinct universes, two members respectively of BLOODY HAMMERS (Heavy Rock occulte, already six albums on the clock) and FACE THE WORLD (Industrial Metal) decided to combine their energies to produce music inspired according to their own biography by KYUSS, CLUTCH and KILLING JOKE . We could laugh at this evocation – or rather invocation! – such tutelary figures, but they can be used more profitably by checking the veracity and adequacy of such references.
Being an EP of six titles (themselves concise), it must be admitted that HELLFIRE 76 focused its efforts, with in the end a solid and credible result, impacting in a scenic perspective. Returning to the references mentioned in the biography, HELLFIRE 76 develops a taste for thick and bouncy rhythms; however, the duo never joins kyuss' taste for exploration and rambling, with a psychedelic background. For once, in the radius of bituminous rhythms, nevertheless animated by a Rock energy, we opt frankly more for the cousinage with CLUTCH, formation that has always been able to evolve between thickness, melody and conciseness. With as a bonus, these hints of greasy and oily Blues that inject a way of groove and sap within a Metal that should not silence or ignore its affinities with the severe and groovy Metal specific to PANTERA. On the other hand, as for KILLING JOKE, combo oh so British, cold, king and twisted, we will just note some hoarse vocals similar to the intonations of Jaz COLEMAN. However, it seems difficult to bring the bluesy and filthy Stoner Metal closer to the possessed and chilling Post Rock of the British of KILLING JOKE. Let's take this reference for a goal and a source of inspiration, rather than a proven artistic source.
Once explored, HELLFIRE 76 appears clearly as a project that plunges a Hard Rock and Southern Rock heritage into a bath of modern Metal, the latter marked by a concern for rhythmic efficiency and full-field power. There is enough to approach favorably the primordial course of the first album. Especially since HELLFIRE 76 is not just a muscular exercise of Metal tinged with scents of the southern United States. Behind an undeniable robustness, we hear an ability to generate more contrasting sounds. Thus, The Devil You Know sounds like a very heavy Blues that would emerge from the bayou and whose treatment would recall the good manners specific to DOWN. On the thick and tense mid-tempo Venom, the groove is a priority objective.
With no other perspective than to aim for efficiency, this first EP reaches the target by distributing six compositions that, from the point of view of style, are the most basic Hard Rock, and which, from the point of view of interpretation and production, incorporate muscular postures, typical of PANTERA Metal. In the perspective of a first album, HELLFIRE 76 will have to both preserve this raw and juicy personality, and give free rein to more psychedelic and contrasting developments. To be continued... - metal-integral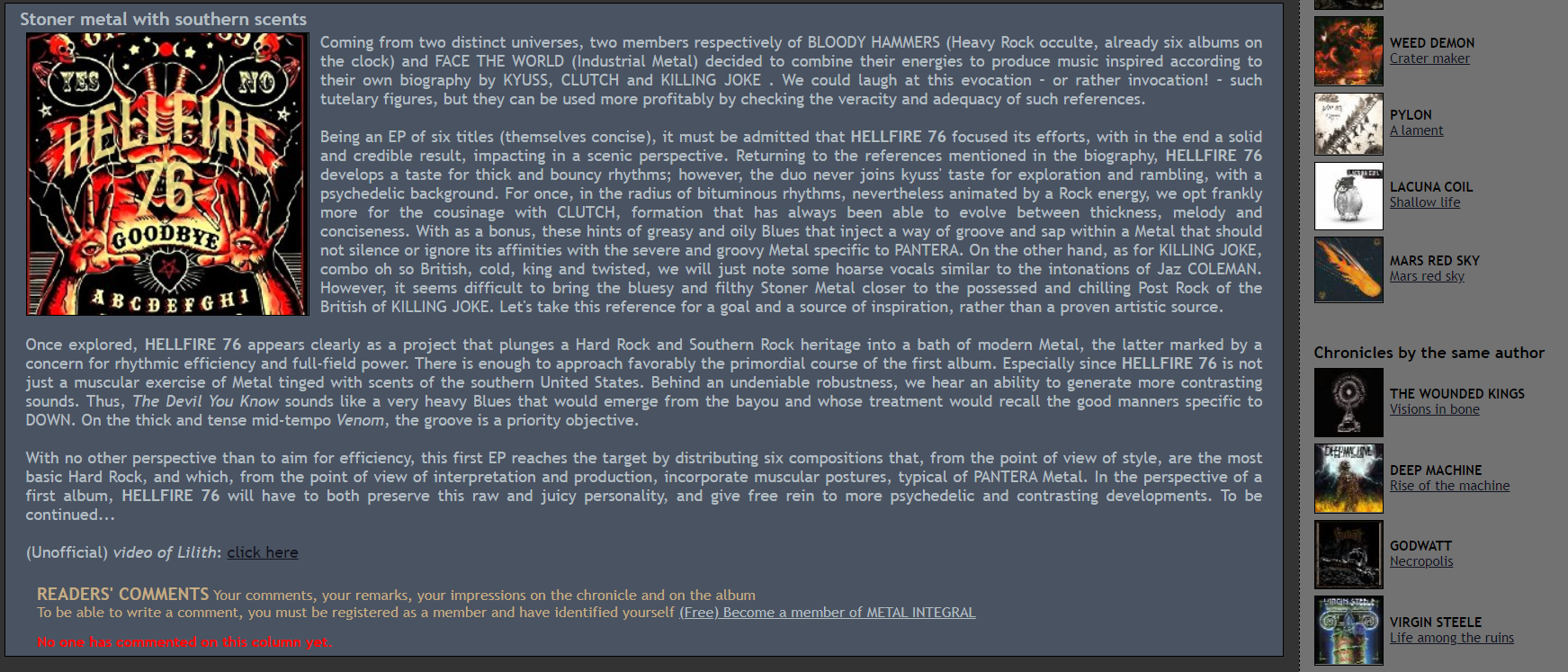 Release Date: May 2022
FFO: Kyuss, Clutch, Killing Joke
Location: Charlotte, NC
Short Bio: Taboo lyrics served over Blues-infected grooves! This is the unique blend of sounds that HELLFIRE 76 brings to the table. With influences raging from ZZ Top, Killing Joke, Kyuss to The Melvins, HELLFIRE 76 delivers a sound sure to satisfy Doom, Stoner and Psych Rock fans alike! Formed by founding members Von Bury (formerly of the Southern Gothic act LOVESUCKER and the Occult Rock act and Napalm Recording artist BLOODY HAMMERS) and Mike McGuiness (formerly of the Industrial Metal act FACE THE WORLD), HELLFIRE 76 set out to create a brand of Southern Metal that has been missing for quite some time. Starting as a 2 pc, the duo wrote and recorded about a dozen songs before the addition of Bolo Johnson. Sadly, Bolo had to leave the band due to health concerns. Rather than replace their brother, they decided to return to being a 2pc band until his return. Their 1st self-titled EP was produced and recorded by Rob Tavaglione at Catalyst Recording, Charlotte, NC.
Check out this video!
Check them out on Spotify and add to your playlists!
Also available on Apple!
Support the band on Bandcamp!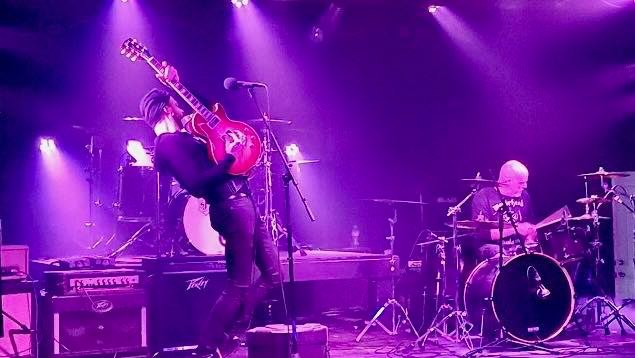 Follow the band at these links:
https://www.facebook.com/Hellfire-76-113430084275785
https://www.instagram.com/hellfire76nc/
https://hellfire76.bandcamp.com/releases
https://open.spotify.com/artist/1a6DjQd36TSbH5R4JHsuCc
https://music.apple.com/us/artist/hellfire-76/1622102581