Double feature! Dallas Toler-Wade from Narcotic Wasteland joins us to talk about whats going on with the band, the new single and more! 'Never Reborn' joins The Zach Moonshine Show; to talk about their latest release "What Darkness Brings" and much more! We play new releases and classics from Rotting Christ, NUNSLAUGHTER, FLUIDS, Act of Impalement, PROCESS OF SUFFOCATION, Storm Ritual, Jack Ire, Dave Frost, The Red Mountain, Pantheon, Nile, Last Retch, W.A.S.P., Metallica, Hamvak, Unpunished, Endgame, Matianak, Withermoon, DESTRUCTION, Metal Church, Overkill, Nuclear Assault, Slasher Dave, Rock N Roll Villain Society, Brutal Death Fuck (Zach Moonshine).
Track List:
1 - Astral Embodiment/Tormentor (Kreator cover)/Flag of Hate/Pleasure to Kill (Kreator cover) - Rotting Christ
2 - The Zach Moonshine Intro
3 - It's You I Hate/Raked Across the Coals/Into the Chasm - NUNSLAUGHTER
4 - Heaven-Sent - FLUIDS
5 - Disembowelment Rituals of Moloch - Act of Impalement
6 - YOG SOTHOTH (MUERTE) - PROCESS OF SUFFOCATION
7 - Follow the Flies - Storm Ritual
8 - Morphine - Jack Ire, Dave Frost
9 - Hey Man - The Red Mountain
10 - Never Reborn - Interview Featuring Doomrider/What Darkness Brings/Heaven Shall Forsake
11 - Blood The Bible Bleeds - Pantheon
12 - Narcotic Wasteland - Interview Featuring Victims of The Algorithm/Morality and the Wasp
13 - Black Seeds Of Vengeance/Sacrifice Unto Sebek/Annihilation Of The Wicked - Nile
14 - Dead As Fuck - Last Retch
15 - Take The Addiction/Ballcrusher - W.A.S.P.
16 - (Anesthesia) - Pulling Teeth/The Thing That Should Not Be/Creeping Death (Live / Seattle '89) - Metallica
17 - Storming Abhorrent Forces - Hamvak
18 - Ephemeral - Unpunished
19 - The palace is Burning - Endgame
20 - A Haunting Testimony - Matianak
21 - Abwhorror - Withermoon
22 - Diabolical - DESTRUCTION
23 - Metal Church/Start The Fire/Ton Of Bricks - Metal Church
24 - Who Tends The Fire/Skullkrusher/Drunken Wisdom - Overkill
25 - Something Wicked - Nuclear Assault
26 - Christmas Cookiez - Slasher Dave
27 - Outlaw Trucker - Rock N Roll Villain Society
28 - The Devils Whiskey - Brutal Death Fuck (Zach Moonshine)
Stream the show on Mixcloud!
Listen to the interview segments on YouTube!
Listen to the interview segments on Spotify!
Listen to the interview segments on iTunes!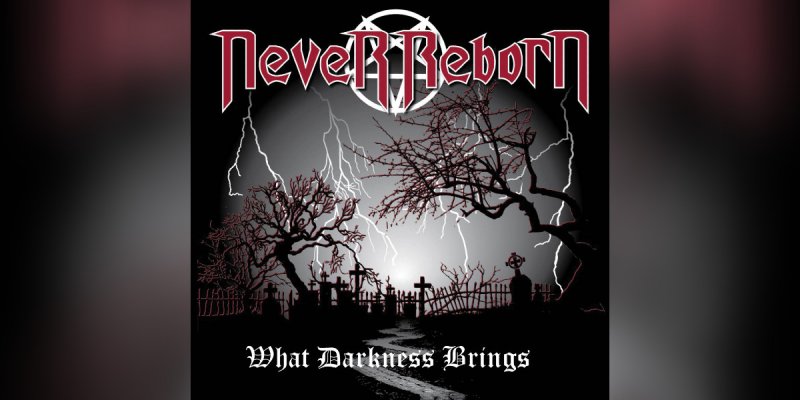 Release Date: January 18, 2020 
FFO: Kreator, Carcass, Dissection, Death
Location: Tucson, AZ USA
Combining elements of Blackened Thrash with touches of Classic Heavy Metal, this 3-piece outfit from Arizona has an unmistakable sound all their own.
Independently released in January of 2020, their debut 5-song EP "What Darkness Brings" was recorded at Homewrecker Studios, where it was engineered, mixed, and mastered by Ryan Bram of Gatecreeper fame. Their official video from the EP "Heaven Shall Forsake" can be found on YouTube.
Sharing the stage with bands such as Soulfly, DRI, Master, Warbringer, Enforcer, Claustrophobia, Taipan, and Phobia, Never Reborn have refined their live performances and songwriting skills and have returned to Homewrecker Studios to record a 10-song album, which will be released in early 2023.
Check out this video!
Support the band on Bandcamp!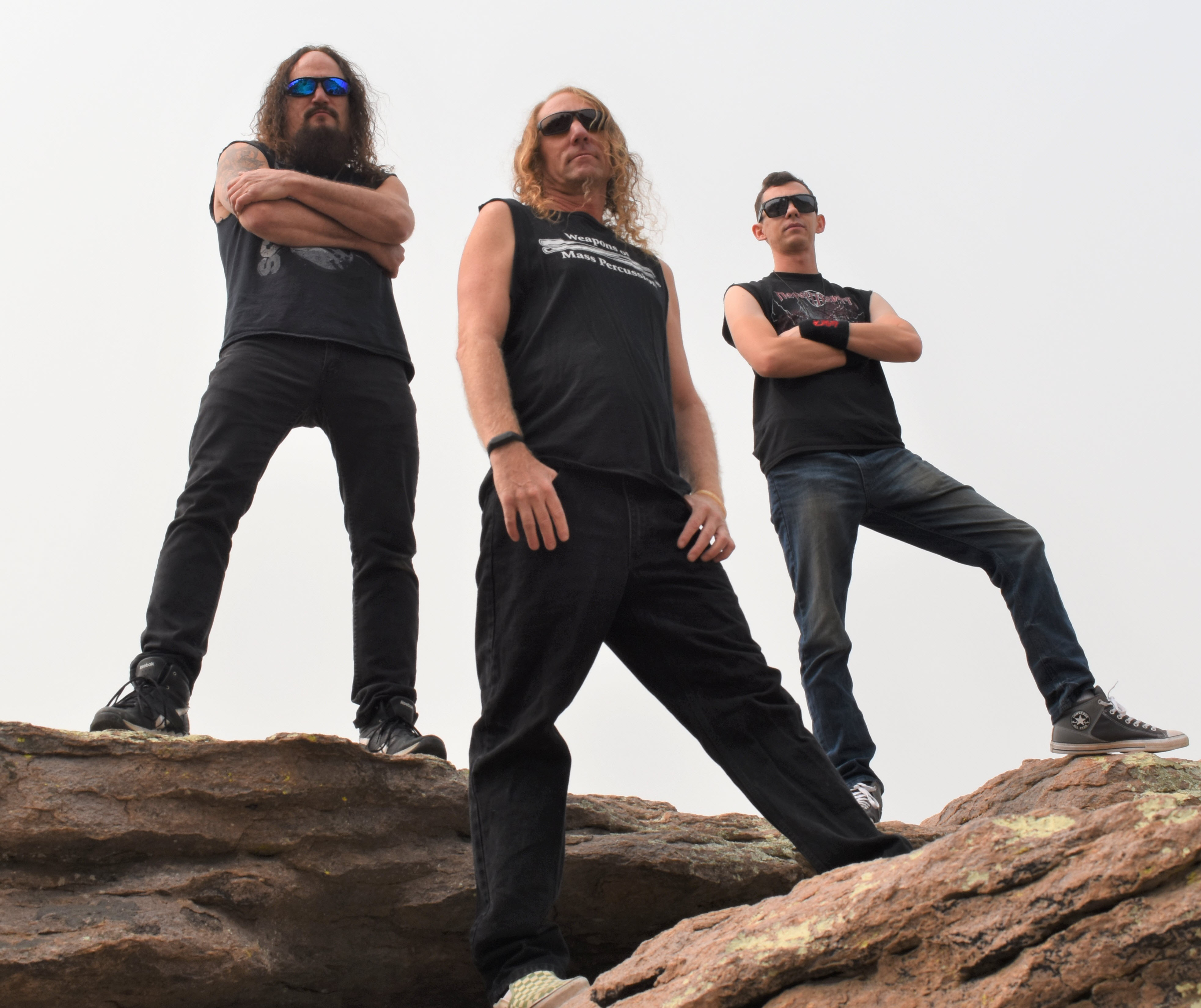 Follow the band at these links:
https://neverreborn.com/
https://www.facebook.com/NeverRebornBand/
https://twitter.com/neverrebornband
https://www.instagram.com/never_reborn/
https://www.youtube.com/neverreborn
https://open.spotify.com/artist/5iaBHSO6u2bnwpKSGObWZz
https://music.amazon.com.au/artists/B0841DYRYS/never-reborn
https://music.apple.com/us/artist/never-reborn/1495568353
https://www.deezer.com/us/artist/83639902
https://neverreborn.bandcamp.com/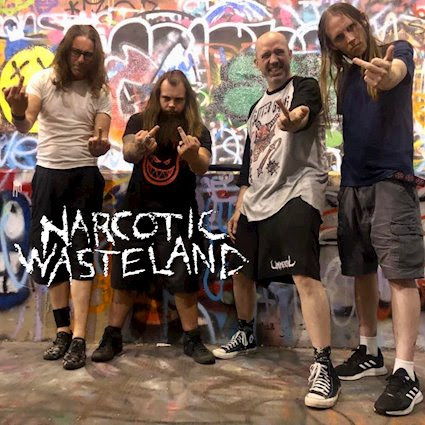 Photo by Andrea Roberts
We've got the latest and greatest from drug-themed death dealers Narcotic Wasteland, the new video for "Victims of the Algorithm." The song takes on lightning-fast and heavy riffs, in the tradition of the band, and the lyrics tackle our dependence on social media in the modern age.
"I am very excited to release this single," says guitarist Dallas Toler Wade, previously of Nile fame. "It is the first time collaborating with our drummer and vocalist Joseph Howard. I had the music and concept down already, and Erik Schultek and I had already tracked everything but the vocals. Then Joe showed me some lyrics for a song called 'Victims of the Algorithm,' and I was totally blown away. It was exactly what the song was going to be about. They fit in perfectly with the rapid-fire guitar picking and fast drumming.
"For the video, we went to Kenji at Tsunami films. This dude is killing the game! The first night of footage was shot at the Thirsty Axe in Ukiah California. The additional footage was shot at a rehearsal place in San Francisco. I think Kenji really captured our live prowess very well! It has a very gritty punk rock feel to it, and fits the song and its meaning perfectly. Put away your phone, and disconnect in the pit!" - Decibel Magazine
Follow the band at this link: