Check out the brand-new video from: RIG TIME! (USA) - for the single "Clean"!
QUOTE about the song "CLEAN" from Vocalist/Drummer Bryan W. Fleming:
"The lyrics are extremely blunt and self-explanatory in this track. I have never been so open and vulnerable in a song. I started writing this in the middle of a state park after visiting an area near where my brother used to live when I was young. I had to stop and write these words down because it all flooded into me. I have been sober since birth, and this song is my promise to remain that way until the day I die. Addiction, violence, abuse and dysfunction was a major part of my family life growing up and I refuse to ever give in to it. The deaths I mention are real, and the commitment I give is sincere. I never really understood why I was the odd person at parties as a teenager who refused to drink, but as I have gotten older, I have some understanding of it. I lived through what happens when you give addiction an open door to permeate. It damages those around you, and I won't let that happen to those around me. I will remain clean."
---
Link to physical media and digital: https://linktr.ee/RIGTIME
Release Date: July 29, 2022
FFO: The Acacia Strain, Left Behind, Twitching Tongues, Xibalba, Candlemass, Kublai Khan, Korn, Integrity, Disembodied, Division Of Mind, Dystopia
Order link: https://linktr.ee/RIGTIME
Location: La Crosse, WI
To be "Undeniable" is the objective and axiom that RIG TIME! irrefutably has avowed since their inception. Formed in Wisconsin, they quickly began touring relentlessly, performing coast to coast in 42 states and counting, executing a fierce live performance with precise and fearless transitions, always at astonishingly vulgar decibels. These two performers exhibit the mass of a full band aura as they implement a complete Vocal/Guitar/Bass/Drums/Synth performance without backing tracks, never suppressing their magnitude of raw energy and emotion through sincere lyrics and colossal stage presence.
Check out this video!
Boldly infusing primal ferocity and solid reverence for groove, RIG TIME!'s self-described "Wisconsin Heavy" sound draws influence from hardcore, doom, nu metal and other models of extreme music. Their dedication to innovation, carving their profoundly honest and unparalleled contribution to the heavy music world, is imperative. The highly anticipated follow up to 2017's full length "War" will be released in 2022 via State Of Mind Recordings.
Vocalist/Drummer Bryan W. Fleming heaves malicious power from behind the kit, scowling with every word retching from his diaphragm, while rendering strong in the pocket grooves and doom-laden analog synth soundscapes to reinforce the impact.
Guitarist/Bassist Rebecca Fleming enforces a cataclysmic onslaught of riffs through her unique live setup, devastating the listener with vast atmosphere, agile application and thoughtfully calculated compositions.
Outburn Magazine declared "...offers relentless rhythms with industrial precision as well as a smart beat changing sensibility" and "...guitar is mean, saturated and dogmatically singular.", also noting "...for fans of earlier, angrier Godflesh ."
New Noise Magazine said, "Puncturing their blend of sludge and hardcore – with a tight embrace on powerviolence – the band kicks fast and dirgy tones, manifesting unbridled hatred." and likened RIG TIME! to heavyweights Xibalba and Harm's Way .
In their ascending conquest of performances for the masses, they have pledged a true respect for the arts by only performing at all ages events, to raise awareness about the importance of live music being obtainable to everyone and its vitality to the rejuvenation of the music scene. This allegiance to the "All Ages or Nothing" movement has stood unyielding since their debut, gaining proponents in solidarity.
Follow them on Spotify!
Support them on Bandcamp!
They have shared the stage with: Integrity, King 810, Rotting Out, 200 Stab Wounds, Kublai Khan, Oceano, Internal Bleeding, Spite, Orthodox, SeeYouSpaceCowboy, Enterprise Earth, Within The Ruins, Filth, The Last Ten Seconds Of Life
Tour History:
https://rigtimeband.com/tour-history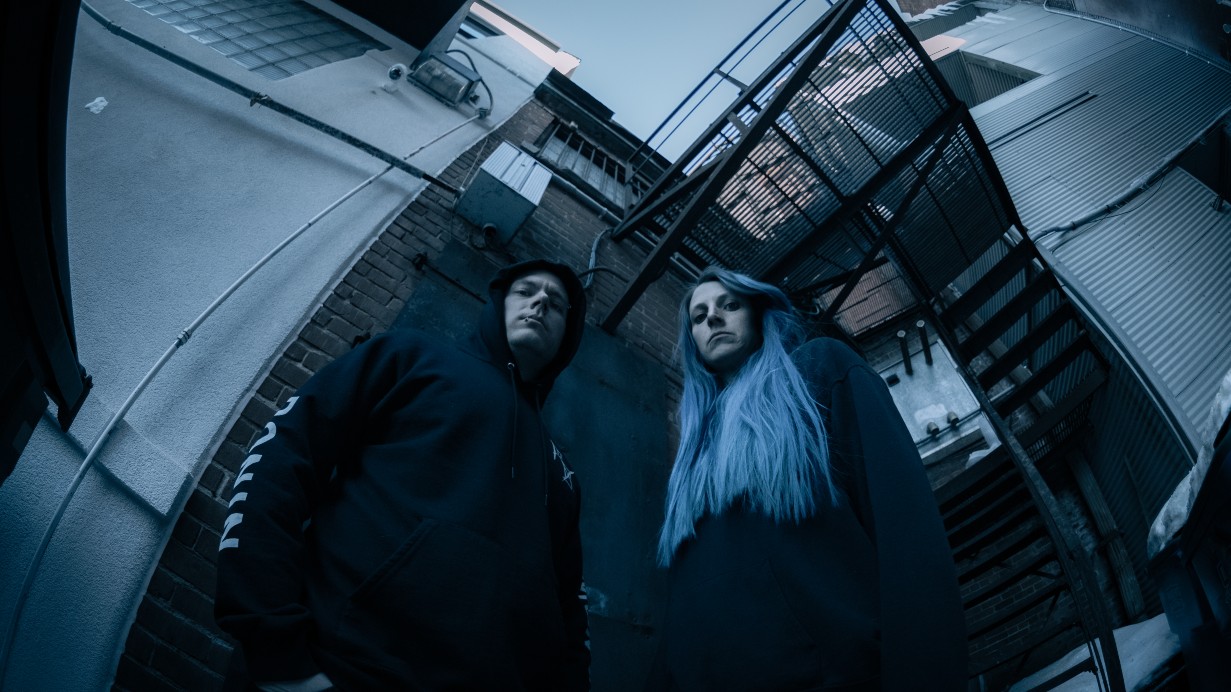 (Photo Credit: NO CHAINS VISUALS)
Follow the band at these links:

http://www.rigtimeband.com
https://linktr.ee/RIGTIME
https://www.facebook.com/RIGTIME
https://www.instagram.com/rigtimeband
https://twitter.com/rigtimeband
<a href="https://www.tiktok.com/@rigtimeband" target="_blank" rel="nofollow">https://www.tiktok.com/@rigtimeband
https://www.snapchat.com/add/rigtimeband
https://www.facebook.com/HardcoreOnTourPODCAST
https://rigtime.bandcamp.com
https://www.youtube.com/channel/UC4nzgM2bCam3yO5TIASkmTQ/featured
https://open.spotify.com/artist/0YBgRw4mXIHKwO1QAiDyBo
https://music.apple.com/us/artist/rig-time/1120835186
https://tidal.com/browse/album/232427491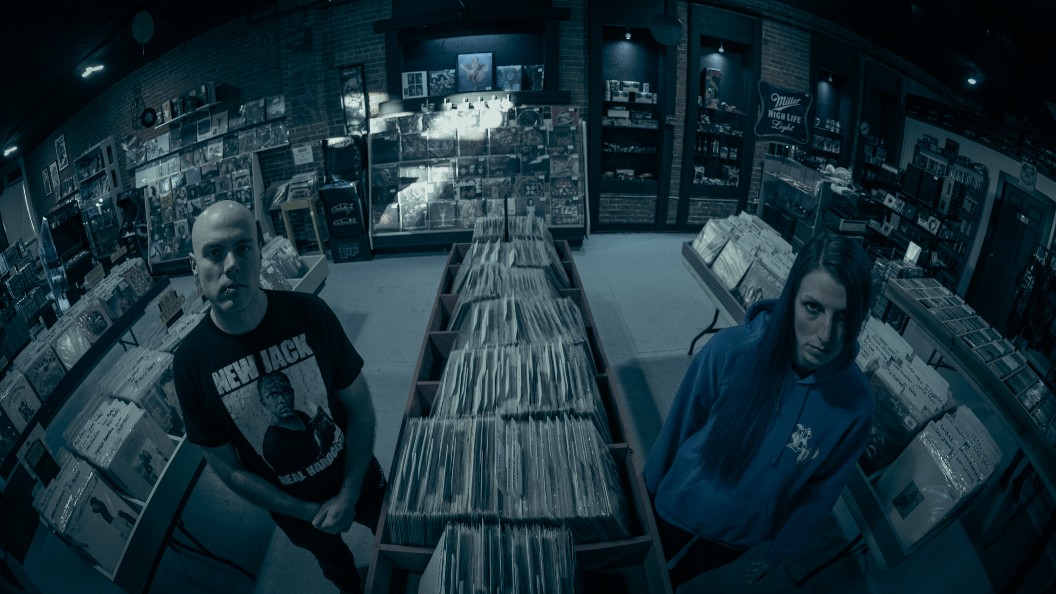 (Photo Credit: NO CHAINS VISUALS)
Also check out these features below!  
Metal Sucks: https://www.metalsucks.net/2016/06/29/unsigned-unholy-mountaineer-rig-time-absinthius/
Outburn Magazine: https://twitter.com/rigtimeband/status/959953173556457472/photo/1
New Noise: https://newnoisemagazine.com/reviews/review-rig-time-war-2/
New Noise: https://newnoisemagazine.com/premieres/video-premiere-rig-time-backstab/
Wonderbox Metal: https://wonderboxmetal.com/2017/10/22/rig-time-war-review/
All About The Rock: https://allabouttherock.co.uk/rig-time-war/
SkullsNBones: https://skullsnbones.com/rig-time-proven-war-album-review/
Mosh Pit Nation: https://www.moshpitnation.com/rig-time-war/
IdiotEQ: https://idioteq.com/sludgy-hardcore-duo-rig-time-covers-halloween-by-the-misfits-joins-state-of-mind-recordings/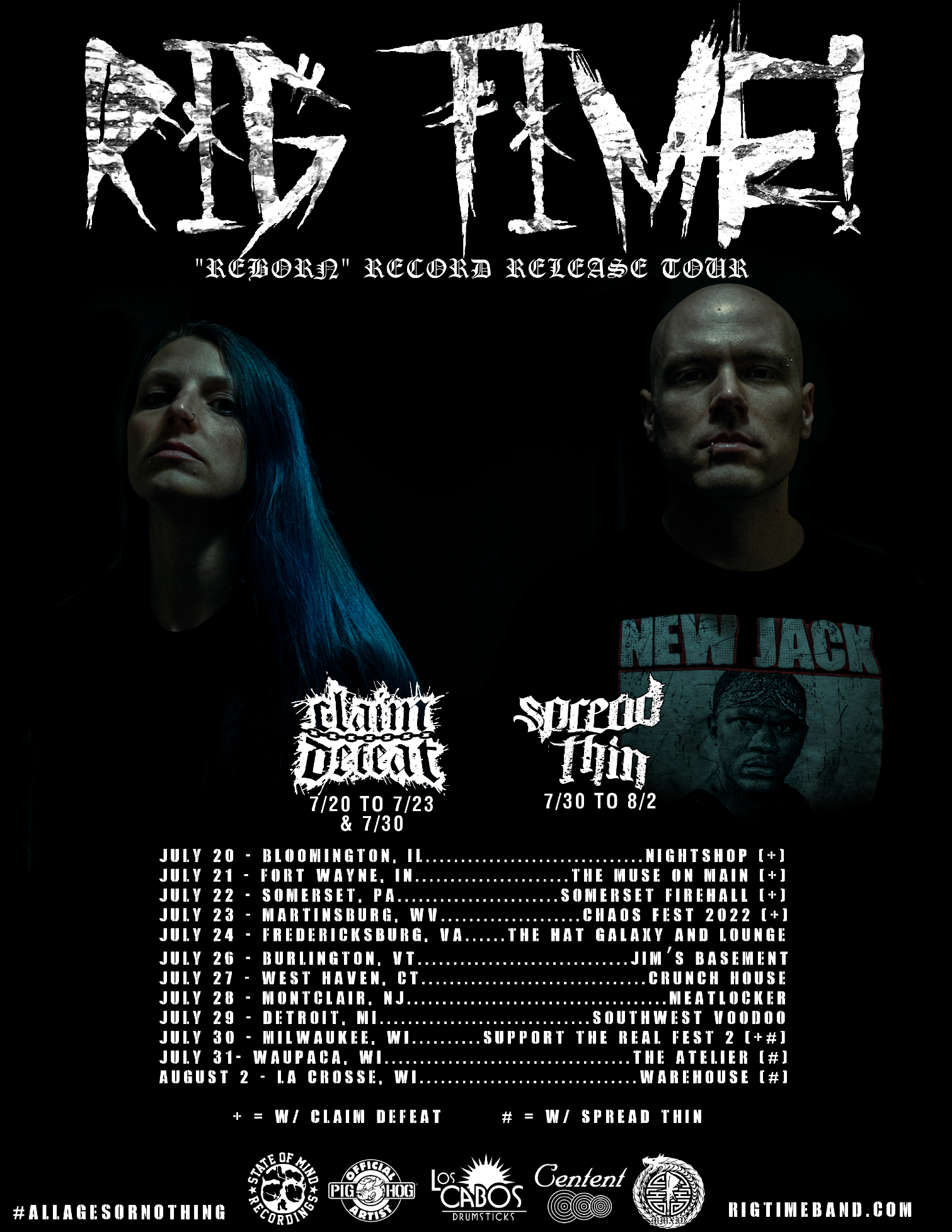 UPCOMING SUMMER TOUR DATES:
July 20 - Bloomington, IL - Nightshop (+)
July 21 - Fort Wayne, IN - The Muse On Main (+)
July 22 - Somerset, PA - Somerset Firehall (+)
July 23 - Martinsburg, WV - Chaos Fest 2022 (+)
July 24 - Fredericksburg, VA - The Hat Galaxy and Lounge
July 26 - Burlington, VT - Jim's Basement
July 27 - West Haven, CT - Crunch House
July 28 - Montclair, NJ - Meatlocker
July 29 - Detroit, MI - Southwest Voodoo
July 30 - Milwaukee, WI - Support The Real Fest 2 (+ #)
July 31- Waupaca, WI - The Atelier (#)
August 2 - La Crosse, WI - Warehouse (#)
+ = w/ Claim Defeat
# = w/ Spread Thin