HELSOTT Kicks Off Will of The West Tour w/ Malphas + New Album "Will and The Witch" Out Now! via M-Theory Audio
HELSOTT   – America's leading pagan metal band is hitting the road in support of their new album,   "Will and The Witch,"   released on May 20th via   M-Theory Audio . Joining them on their eight-show West Coast trek is Philadelphia's symphonic black metal mystics Malphas.
Will In The West Tour - HELSOTT w/ Malphas ​
06/16 – Viper Room – Hollywood, CA
06/17 – The Black Rat – Concord, CA
06/18 – Den of Sin – Sacramento, CA
06/19 – Dante's – Portland, OR
06/20 – The Fun House – Seattle, WA
06/22 – The Shredder – Boise, ID
06/23 – Aces High Saloon – Salt Lake City, UT
06/24 – Brick By Brick – San Diego, CA
HELSOTT 's new album,   "Will and The Witch,"   is a concept record that tells a fictional story about how Billy The Kid became the fastest gunfighter in the wild west.   HELSOTT   returns to its musical roots on   "Will and The Witch"   with heavier thrash overtones and less orchestral work than their prior record, while catching listeners off-guard with new influences befitting of the album's theme. thrash metal, power metal, and death metal all converge with acoustic campfire segments, Southern banjo and fiddle, and Native American-inspired hand drums and flutes. The end result is a record that is musically ambitious while remaining melodic, heavy, and true to the underlying sound of   HELSOTT .
The band's latest effort - mixed and mastered by   J-F Dagenais (Kataklysm, Misery Index, Ex Deo)   and featuring artwork by   Felipe Machado Franco (Blind Guardian, Rhapsody, Gamma Ray)   – is augmented by a who's who of heavy hitters. In addition to Owens,   HELSOTT   is joined on   "Will and The Witch"   by percussionist   Vladimir Reshetnikov (Arkona, Imperial Age), guitarist/bassist Freddie Vidales (Ashes of Ares, Iced Earth), violinist Lethien (Elvenking), guitarist Kevin Storm (Heidevolk, Autumn, Fleetburner), guitarist Bjorn Friedrichsen (Withered Moon, Sanguineus) and Whistlin' Rick Storey .
Available on CD, a limited-edition gold double vinyl, and digital editions are now available at retail or online now or check   http://smarturl.com/helsott .
Videos: ​
I'll Make Ya Famous -   ​
Independence Night ft. guest vocals Tim "Ripper" Owens (formerly of Judas Priest, Iced Earth, and Yngwie Malmsteen) -   ​
Babylon: Scarlett's Saloon -   ​
Since their formation, the California-based   HELSOTT   – whose name means "fatal illness" in Old Norse – has paid homage to pagan cultures, mythology, and history while keeping true to their American influences. The group's unique mix of folk metal, death metal, symphonic metal, thrash, classical, and rock was first unveiled to the world with the 2012 release of their debut EP "Fólkvangr." The band soon caught the attention of audiences on a larger scale during the 2013 Paganfest North American tour, where they performed with Ensiferum, Tyr, and Trollfest. That tour set the stage for the 2014 release of "Woven," which was supported by tours alongside Arkona and Heidevolk.
In the years since the original release of "Woven,"   HELSOTT   signed with M-Theory Audio, released another EP (2017's "The Healer") and a second full-length (2018's "Slaves and Gods"), and logged many touring miles worldwide with artists including Korpiklaani, Arkona, I Am Morbid, Necrophagia, Tengger Cavalry, Ashes of Ares, Felix Martin, Skyforger and Finsterforst. In addition, the band performed at major European festivals such as Wacken Open Air and Cernunnos Pagan Fest. "Woven" was also remixed, remastered, and re-released by M-Theory Audio in November 2020 in celebration of the group's 10th anniversary.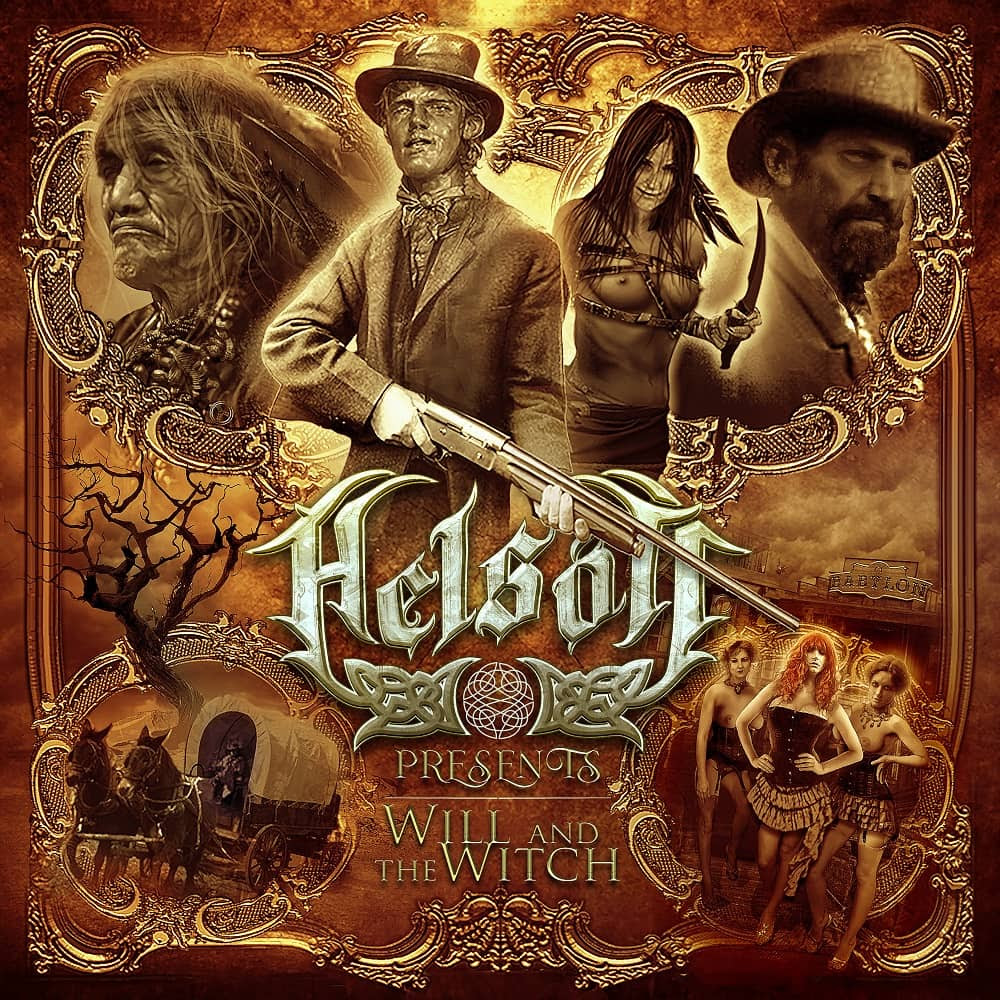 Track Listing: ​
1. I'll Make Ya Famous (3:41)
2. Southern Shine (3:30)
3. Will And The Witch (4:19)
4. Independence Night (5:38) ft. guest vocals Tim 'Ripper' Owens
5. Skin Out (9:45)
6. Babylon: Scarlett's Saloon (4:41)
7. Everything Hurts (3:35)
8. Spit Bucket Brawl (3:41)
9. Navajo Crow (6:08)
10. Welded As One (7:09)
11. Reap The Whirlwind (3:54)
12. Regulators (5:50)
Album Length: 1:01:55
HELSOTT   is:
Eric Dow – Vocals
Mark Dow – Guitar
Peter Truax – Guitar
Cooper Dustman - Drums
For more information: ​
​ www.facebook.com/helsott ​
​ www.instagram.com/helsott ​
​ www.twitter.com/helsott ​
​ www.helsott.com ​
​ www.m-theoryaudio.com​